Practical Meditation: Musings of a Non-Religious Academic Seeking Enlightenment
By Melissa Tombro on Litro

Although city therapy had done me a lot of good, much better than the grad school mental health center where a nice man told me my panic attacks were "in my head," or the suicide survivor's group where the closest survivor tried to relate to my father's recent shotgun to the head by recounting memories of a distant cousin's suicide ten years ago, I thought there must be another way to control my own patterns of worry and future projecting. I was tired of thinking five years ahead, trying to people-please, to succeed, teaching a method I believed in but wasn't open enough to embrace and obsessing about everything. I desperately wanted to live in the moment.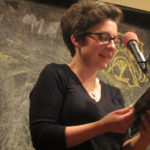 MELISSA TOMBRO is an Associate Professor at the Fashion Institute of Technology-SUNY in New York City, where she teaches writing. In addition to teaching, she leads NY Writers Coalition workshops for homeless, postpartum women in transitional housing. She lives in Sunset Park, Brooklyn with her husband Matt and their dog Lily. Melissa's work has appeared in Eclectica, Crack the Spine, StepAway Magazine, and What If Writing Is Dreaming Together?, a collection of poetry, prose, and art from NYWC Workshop Leaders.