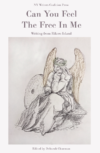 NY Writers Coalition Press is proud to present Can You Feel the Free in Me: Writing from Rikers Island, a collection of poetry and prose written in NY Writers Coalition workshops for women at the Rose M. Singer Center on Rikers Island.
Contributors
Astarra H. / Beverly Cole / Brianna Earle / Cherry / Chivona H. / Cee / Deborah Clearman / Dee-Dee / Elaina P / Elizabath Sheeley / Grey / Jazzy / Kay /
Kim Williams / Latrina Crocker / Nadine P. / Nicole Smith / Onyx Carter /
Selvaggia Pizzetti / Tamika Powell / Whitney Simmons / Zarah E. Coombs / Jacqueline Rodriguez
Editor: Deborah Clearman
Cover Image: Deborah Clearman after Dürer
Interior Images: Eder Pozo Pérez
READ ONLINE NOW! Or order a print copy by emailing us or via Amazon.