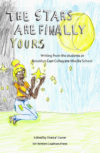 NY Writers Coalition is proud to present The Stars Are Finally Yours, a collection of art and writing by students at Brooklyn East Collegiate Middle School in Bedford-Stuyvesant, Brooklyn, New York.
Our Brooklyn East Collegiate writing group is made possible by the Art A Catalyst For Change Initiative, supported in part by public funds from the New York City Department of Cultural Affairs in partnership with the City Council. Created by Council Member Laurie Cumbo, Art A Catalyst For Change is part of a comprehensive, city-wide effort against gun violence.
Contributors
Arianna Smith / Asmielle Espinal / Bakari Cisse / Chad Jones / Christie Chevren / Daniel Mitchell / Franzlou Chevren / Gabby Jones / Isaiah Dawson / Iziah Langdon / Jasae Laliveres / Mordecai Dubois Lamothe / Nicolette Medford / Zaniya Selassie
Edited by Shanté Cozier
READ ONLINE or order a print copy (and donate to our future creative writing workshops!) by emailing us. or through Amazon.