Black Writers Program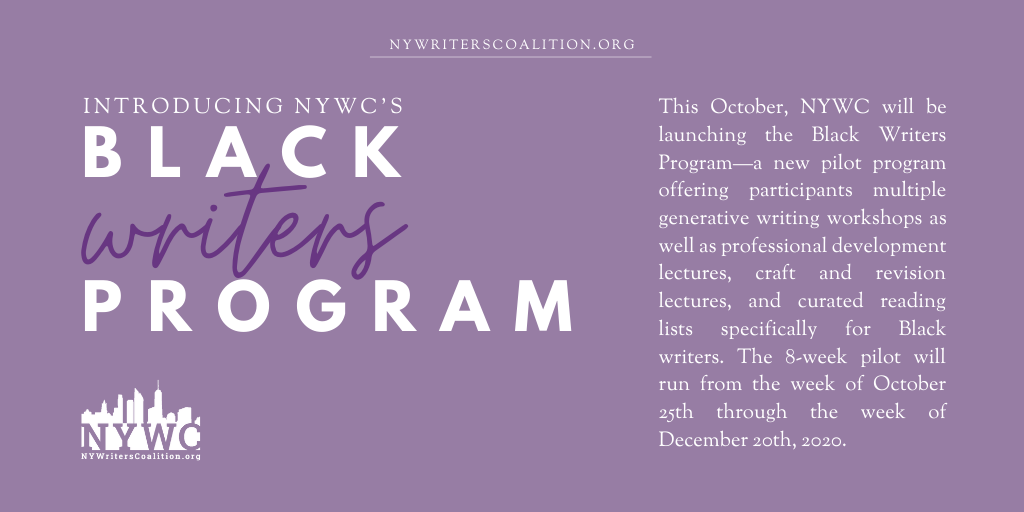 We're excited to introduce the Black Writers Program! This is a new program with expanded offerings specifically designed for Black writers. We want to provide curated and intentional space for enhanced development, opportunity, and growth for Black writers in ways that can often seem elusive or inaccessible to the Black community. Whether you're a seasoned writer with formal training, a new writer eager to dive further into your voice, a writer who has participated in their fair share of NYWC workshops, or somewhere in between—all Black voices are welcome and encouraged to sign up.
The Black Writers Program gives each participant access to at least one generative writing workshop, panels and/or lectures on professional development, craft, and revision, a monthly curated reading list, and a community of Black writers to share it all with. Sign-ups for all workshops are now closed, but we do have future events and panels in store soon.  Click here to join our email list to be the first informed on future workshops, events and updates!
☆ ☆ ☆ ☆ ☆ ☆ ☆ ☆
Future Black Writers Program Events
Capital B "Black": Writing about Blackness with Hari Ziyad*
Thursday, December 10 from 6-7:30pm
Join Editor-in-Chief of RaceBaitr and author of the upcoming memoir Black Boy Out of Time Hari Ziyad for an interactive lecture on all that it means to center Blackness in your work and professional career, particularly in a world where it can further marginalize the already marginalized. What are the unmistakable rewards? The challenges? How do you learn to be adamant and immoveable in that choice?
To register, CLICK HERE
CLICK HERE to look through our past workshops, panels, and events.
☆ ☆ ☆ ☆ ☆ ☆ ☆ ☆
NOTE: The Words Between Us Drop-In Workshop for all genders will continue to have week-by-week sign-ups. These workshops will begin on Sunday, October 25 from 2:00-4:00 p.m. EDT and run until Sunday, December 21 (excluding Sunday, November 22).
CLICK HERE TO LEARN MORE AND TO BE ADDED TO THAT MAILING LIST.
If you have any questions about the program, please reach out to our Interim Program Manager at calley@nywriterscoalition.org.
Want to be first in line for workshop placement and registration for future program offerings? Sign up for our Black Writers Program email list to get notified first!
The comments are closed.