Black Writers Program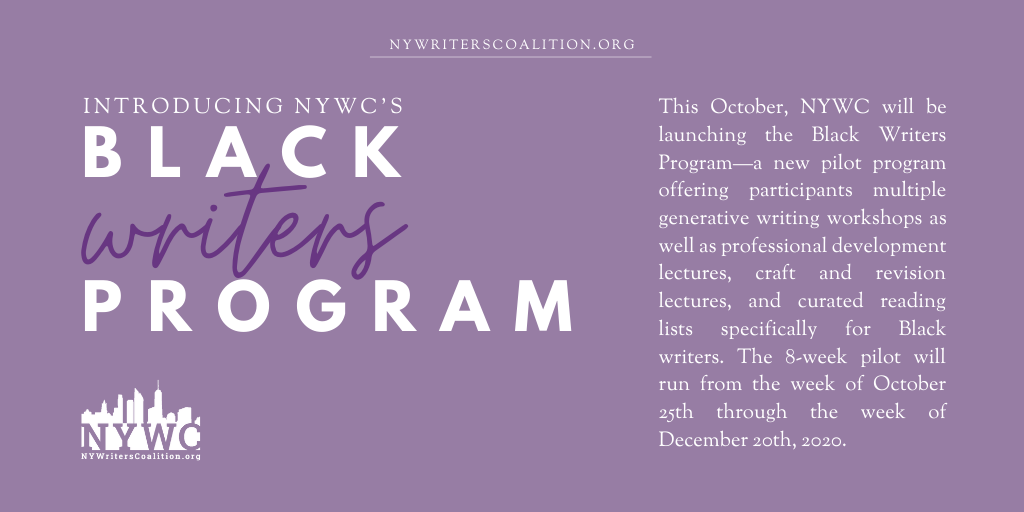 SUBMISSIONS ARE NOW CLOSED.
Thank you to all who applied!
We're excited to introduce the Black Writers Program! This is a new program with expanded offerings specifically designed for Black writers. We want to provide curated and intentional space for enhanced development, opportunity, and growth for Black writers in ways that can often seem elusive or inaccessible to the Black community. Whether you're a seasoned writer with formal training, a new writer eager to dive further into your voice, a writer who has participated in their fair share of NYWC workshops, or somewhere in between—all Black voices are welcome and encouraged to sign up.
The Black Writers Program gives each participant access to at least one generative writing workshop, panels and/or lectures on professional development, craft, and revision, a monthly curated reading list, and a community of Black writers to share it all with. Sign-ups for all workshops are now closed. Please click here to join our email list to stay informed for future workshops and updates!
Current program offerings:
TO TELL THE TRUTH: EXPLORING VOICE IN CREATIVE NONFICTION led by Takiyah Jackson
In this creative nonfiction-centered workshop, writers will explore how voice can be used to compel and pull readers into true and authentic stories. Writers will respond to prompts that focus on the voice and the structural craft moves of mentor texts including works by Nikki Giovanni, Damon Young, Jaquira Diaz, and Kiese Laymon. The final workshop will be guided by a theme that is prevalent in Black creative nonfiction: writing to the children of the future—inspired by James Baldwin's The Fire Next Time, Imani Perry's Breathe: A Letter to My Sons, and Ta-Nehisi Coates' Between the World and Me.
*Wednesdays from 7-9 p.m. EDT
*Runs October 28 – November 18, 2020
*Open to 12 participants
THE WORDS BETWEEN US: A WRITING WORKSHOP FOR BLACK WOMXN led by Alisha Acquaye
Black feminine wordplay is both the declaration of our existence, and the exploration of the complexity in our lived experiences. Our pens can be our greatest weapon of resistance. The Words Between Us is a 7-week creative writing series. Each week we'll write to a different theme revolving around Black womxnhood, and receive media lists filled with poetry, essays, music videos, photography, movies, tv shows and more from Black womxn creatives. The media lists will serve as a compass and conversation starter for our creativity, meant to be enjoyed on our own. As we write to original prompts in workshop, we'll imagine and unravel new realities within us.
*Mondays from 5-7 p.m. EDT
*Runs November 9 – December 21, 2020
*Open to 12 Black womxn
I AM MUSIC led by Alisha Acquaye
In this deep dive writing workshop, we'll interpret, analyze and pull inspiration from our favorite Black muses, and use their art as mirrors into self. Each week we'll zoom in on a specific artist who influences Black contemporary sounds. Through curated media lists (essays, music videos, performances, interviews, music reviews and more), group discussions and imaginative writing prompts, we'll use music as a guide to writing through our complex emotions, ideas and fantasies. Workshop title inspired by Timbaland and Magoo's song "I Am Music" featuring Aaliyah and Static Major.
*Wednesdays from 6-8 p.m. EDT
*Runs November 25 – December 23, 2020
*Open to 12 participants
BLACK LIVES IN PICTURES & WORDS led by John Maney
This is a workshop for poets and photography aficionados! Each week participants will look at esteemed Black photographers Gordon Parks, Jamel Shabazz, and Carrie Mae Weems; discuss their work in social contexts; and write in response to their photographs. Participants will also have the opportunity to learn basic photography principles and how to write ekphrastic poetry. By the final week, participants themselves will become the photographers of discussion and prompt writing responses for each other.
*Saturdays from 1-3 p.m. EDT
*Runs November 28 – December 19, 2020 
*Open to 12 participants
CLICK HERE TO LEARN MORE ABOUT OUR WORKSHOP LEADERS
☆ ☆ ☆ ☆ ☆ ☆ ☆ ☆
Here is some info on our first professional development panel:
INSIDE THE PUBLISHING INDUSTRY with Jennifer Baker, Kaitlyn Greenidge, and Quressa Robinson (Thursday, November 5, 2020 from 7-8:30 p.m. EDT)
The publishing industry can be hard to decipher from the outside looking in. But how do you "get in"? Where do you start as a writer? How do you get published in the first place? Join our panelists as they walk through their experiences as Black women navigating through the publishing world, their points of access, and what it means to be a "professional" in the industry today.
Registration for the professional development panel will be announced soon!
☆ ☆ ☆ ☆ ☆ ☆ ☆ ☆
NOTE: The Words Between Us Drop-In Workshop for all genders will continue to have week-by-week sign-ups. These workshops will begin on Sunday, October 25 from 2:00-4:00 p.m. EDT and run until Sunday, December 21 (excluding Sunday, November 22).
CLICK HERE TO LEARN MORE AND TO BE ADDED TO THAT MAILING LIST.
If you have any questions about the program, please reach out to our Interim Program Manager at calley@nywriterscoalition.org.
Want to be first in line for workshop placement and registration for future program offerings? Sign up for our Black Writers Program email list to get notified first!
The comments are closed.