NYWC's BWP Fall 2021 Events Week aims to entertain, inspire, and educate. From Monday, November 29th through Friday, December 3rd, we'll be presenting virtual readings and performances that showcase the work of participants in this cycle, as well as providing a virtual writing event open to all Black writers, hosting an incredible book talk between two fantastic authors, and moderating a panel for fiction and prose writers looking to find support for their writing projects.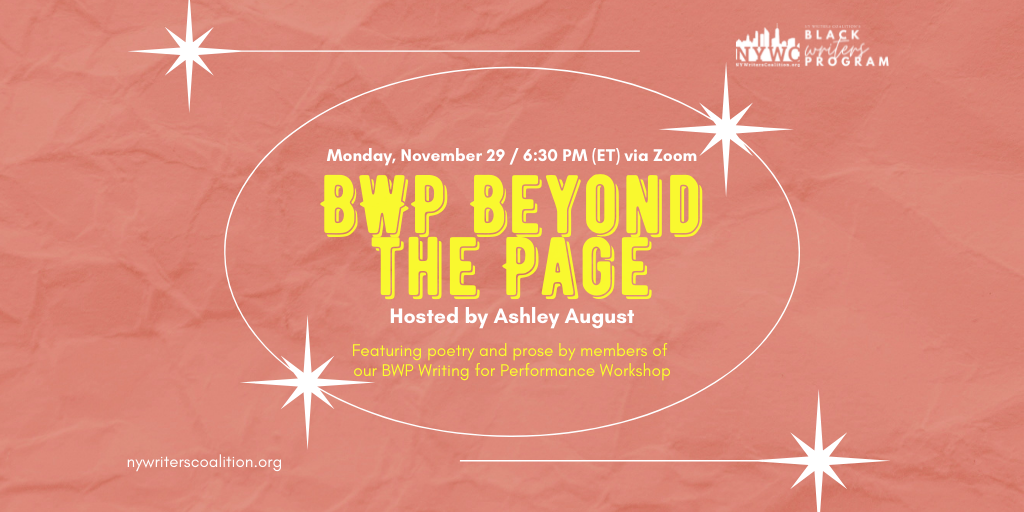 BWP Beyond the Page
Join Ashley August as she and her BWP Fall 2021 cohort present work they created in their Writing For Performance workshop. In Writing for Performance, participants constructed pieces that acknowledged their fantastical, radical truths while discovering their individual voices. They learned how to be present and authentic in their work—and are now ready to share their creations with the world!

Monday, November 29 | 6:30 – 7:30 PM (EST)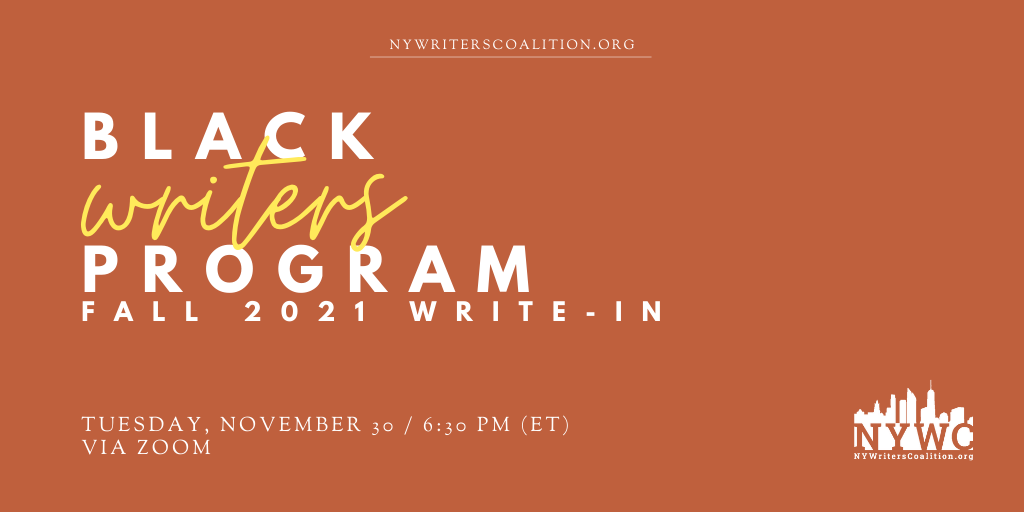 The BWP Fall 2021 Write-In Hosted by Timothy DuWhite 
The Fall 2021 Black Writers Program will end the way it began: writing in community! Black writers of all genres and levels of experience are invited to write and share work in response to optional prompts. This write-in will be hosted by NYWC's Program Director Timothy DuWhite. Space is unlimited and we look forward to experiencing the collective power of our voices. (You do not have to have participated in prior BWP workshops to attend.) 
Tuesday, November 30 | 6:30 – 7:30 PM (EST)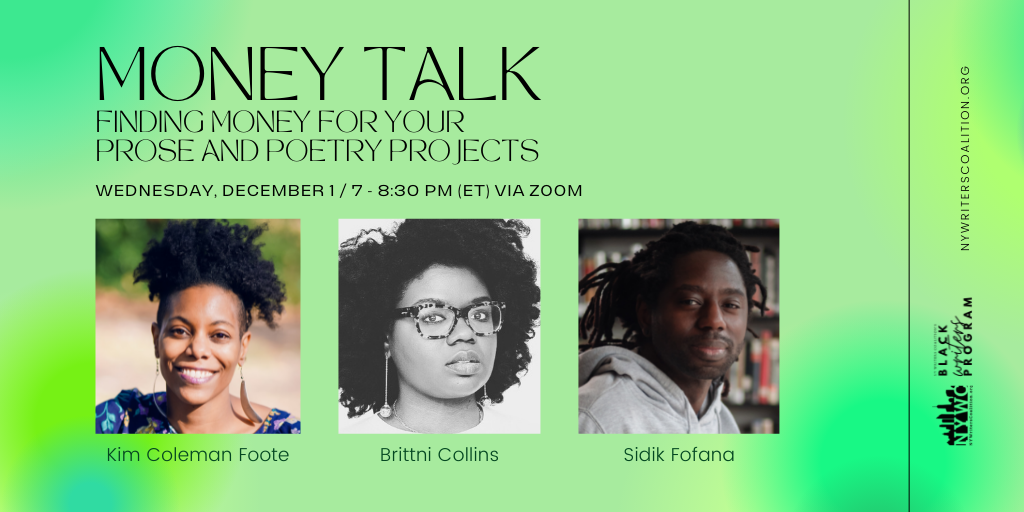 MONEY TALK: Finding Money for Your Prose and Poetry Projects
Being an artist requires cultivating a balance between doing work that supports you (even if it isn't directly related to your art) and leaving yourself enough time and energy to keep creating. The artist's life can definitely feel romantic—until all the practical concerns of the world come knocking.
One recourse that some writers make use of is seeking out grants and fellowships to support their projects. Those grants and fellowships usually come with monetary support, but may sometimes be supplemented with access to mentors, physical writing spaces, research assistance, or more. In this panel, writers on both sides of the fence—recipients of grants and/or fellowships as well those who have judged applicants—will help demystify the process.
Wednesday, December 1 | 7 – 8:30 PM (EST)
ABOUT THE PANELISTS
KIM COLEMAN FOOTE is the 2021-22 George Bennett Fellow at Phillips Exeter Academy and the recipient of several other fellowships, including from the NEA, NYFA, Center for Fiction, Illinois Arts Council, and Fulbright. Fellowship writing residencies include MacDowell, Hedgebrook, the Vermont Studio Center, and Hambidge. Her fiction, essays, and experimental prose have appeared or are forthcoming in Ecotone, The Rumpus, Iron Horse Literary Review, Green Mountains Review, Prairie Schooner, the Missouri Review, Black Renaissance Noire, Obsidian, and elsewhere. Kim is currently working on a story collection fictionalizing her family's experience of the Great Migration in the South and New Jersey, and a novel about Ghana and the trans­-Atlantic slave trade.
Born and raised in Atlanta, Georgia, BRITTNI COLLINS graduated with a degree in Economics from Emory University before studying the intersections of art history and visual culture at Columbia University. Currently, she's the Assistant Director of Times Square Arts and the Virtual MacDowell Production Manager at MacDowell. Previously, she managed artists' services and award funding at Creative Capital and spent three years producing an annual conference on street art and public space with Living Walls in Atlanta. She also serves on the board of Burnaway, an Atlanta-based magazine of contemporary art and criticism from the American South.

SIDIK FOFANA is a graduate of NYU's MFA program and a high school English teacher in Brooklyn. His work has appeared in the Sewanee Review and Granta. He was also named a fellow at the Center for Fiction in 2018 and has attended the Bread Loaf conference in Vermont. Stories from the Tenants Downstairs, his debut short story collection composed of eight narratives about residents of a fictional building in Harlem, will be published by Scribner in 2022.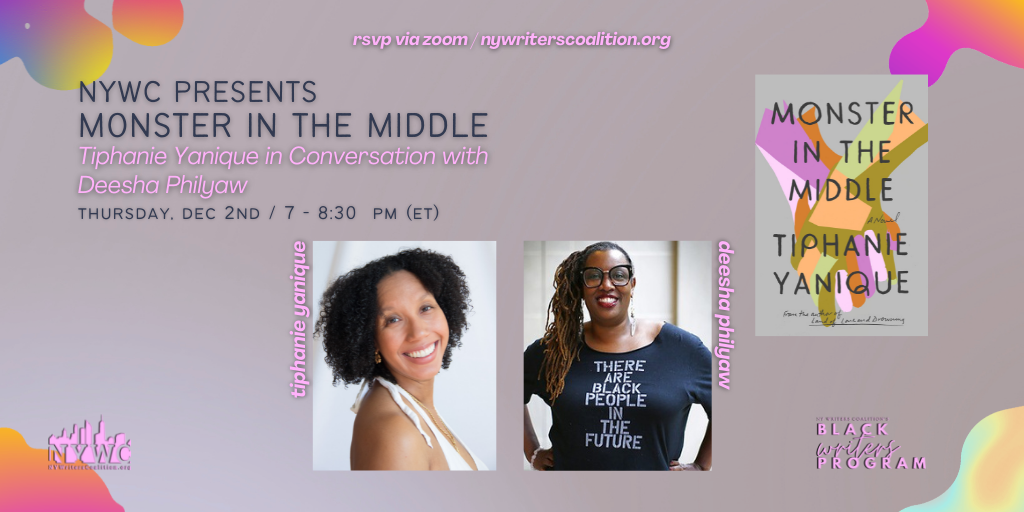 NYWC PRESENTS Monster in the Middle: Tiphanie Yanique in Conversation with Deesha Philyaw
Tiphanie Yanique's latest book Monster in the Middle is a deeply affecting novel and short story collection that "explores intimacy through a generational, historical and societal lens." As protagonists Fly and Stela meet and fall in love in 21st Century New York City, Yanique takes readers on a journey that spans decades and diaspora, "[positing] that in order to answer the question 'who are we meant to be with?', we must first understand who we are and how we came to be."
Deesha Philyaw, author of the acclaimed debut short story collection, The Secret Lives of Church Ladies (2021 PEN/Faulkner Award for Fiction, the 2020/2021 Story Prize, finalist for the 2020 National Book Award for Fiction), joins Yanique in this virtual book talk. A brief Q&A will follow.
Thursday, December 2 | 7-8:30 PM (EST)
ABOUT THE AUTHORS
TIPHANIE YANIQUE is that rare writer who has received critical acclaim and awards in three literary genres: poetry, the novel, and short stories. She is also an outspoken activist on behalf of the Caribbean Diaspora, having appeared on Democracy Now! With Amy Goodman, and published a passionate op-ed in The New York Times on the U.S. response to hurricanes in the Caribbean.
Her second novel, Monster in the Middle, will be published by Riverhead Books in October 2021. Her poetry collection, Wife (Peepal Tree Press UK, 2015), won the 2016 Bocas Prize in Caribbean poetry and the 2016 Forward/Felix Dennis Prize for a First Collection. Her debut novel, Land of Love and Drowning (Riverhead Books, 2014), won the 2014 Flaherty-Dunnan First Novel Award from the Center for Fiction, the Phillis Wheatley Award for Pan-African Literature, and the American Academy of Arts and Letters Rosenthal Family Foundation Award, among other honors. Her debut collection of stories, How to Escape from a Leper Colony, (Graywolf Press, 2010) was a 2010 National Book Foundation 5 Under 35 honoree. She has additionally been awarded the Boston Review Prize in Fiction, a Rona Jaffe Foundation Writers Award, a Pushcart Prize, a Fulbright Scholarship, and an Academy of American Poet's Prize. She has written for The New York Times, The Wall Street Journal, O Magazine, and other outlets.
She lives now with her family in Atlanta where she is a tenured associate professor at Emory University.
DEESHA PHILYAW is the author of the debut short story collection The Secret Lives of Church Ladies (West Virginia University Press, 2020), which won the 2021 PEN/Faulkner Award for Fiction, the 2020/2021 Story Prize, and a 2020 LA Times Book Prize: The Art Seidenbaum Award for First Fiction; the collection was also a finalist for the 2020 National Book Award for Fiction. She is also the author of Co-Parenting 101: Helping Your Kids Thrive in Two Households After Divorce, written in collaboration with her ex-husband.
The Secret Lives of Church Ladies explores the raw and tender places where Black women and girls dare to follow their desires and pursue a momentary reprieve from being good. Nine stories featuring four generations of characters who grapple with who they want to be in the world, the collection was praised as "luminous stories populated by deeply moving and multifaceted characters," by Kirkus Reviews and "addictive while also laying bare the depth and vulnerability of Black women," by Observer. Author Tara Campbell notes, "The love in Philyaw's stories runs the gamut from sweet to bitter, sexy to sisterly, temporary to time tested, often with hidden aspects. The word secret in the title is earned, and some of the secrets are downright juicy." The Secret Lives of Church Ladies is being developed for television by Tessa Thompson for HBO Max. Philyaw's work has been listed as Notable in The Best American Essays series, and her writing on race, parenting, gender, and culture has appeared in The New York Times, The Washington Post, McSweeney's, The Rumpus, Brevity, dead housekeeping, Apogee Journal, Catapult, Harvard Review, ESPN's The Undefeated, The Baltimore Review, TueNight, Ebony and Bitch magazines, and various anthologies.
Deesha is also a Kimbilio Fiction Fellow and will be the 2022-2023 John and Renée Grisham Writer-in-Residence at the University of Mississippi. She is a past Pushcart Prize nominee for essay writing in Full Grown People. Philyaw lives in Pittsburgh, PA.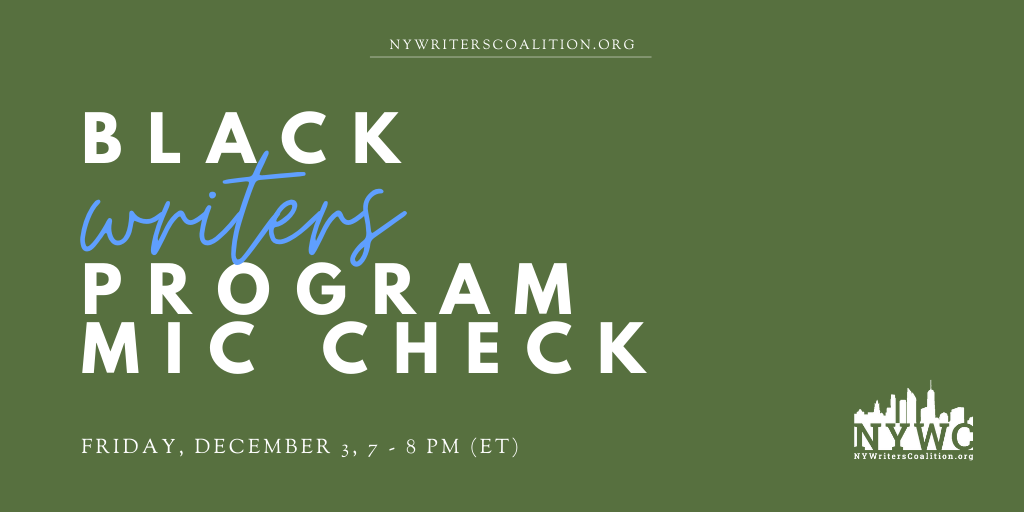 NYWC's BWP Fall 2021 Mic Check
NY Writers Coalition (NYWC) is giving our Fall 2021 Black Writers Program participants and leaders the opportunity to share writing they've created in our virtual workshops with the NYWC community—and the public. Come out and support as they approach the virtual mic! Each reader will share for roughly three minutes. Click the button below to register as a non-reading guest.
Friday, December 3 | 7 – 8 PM (EST)