NYWC Remembers Pat Schneider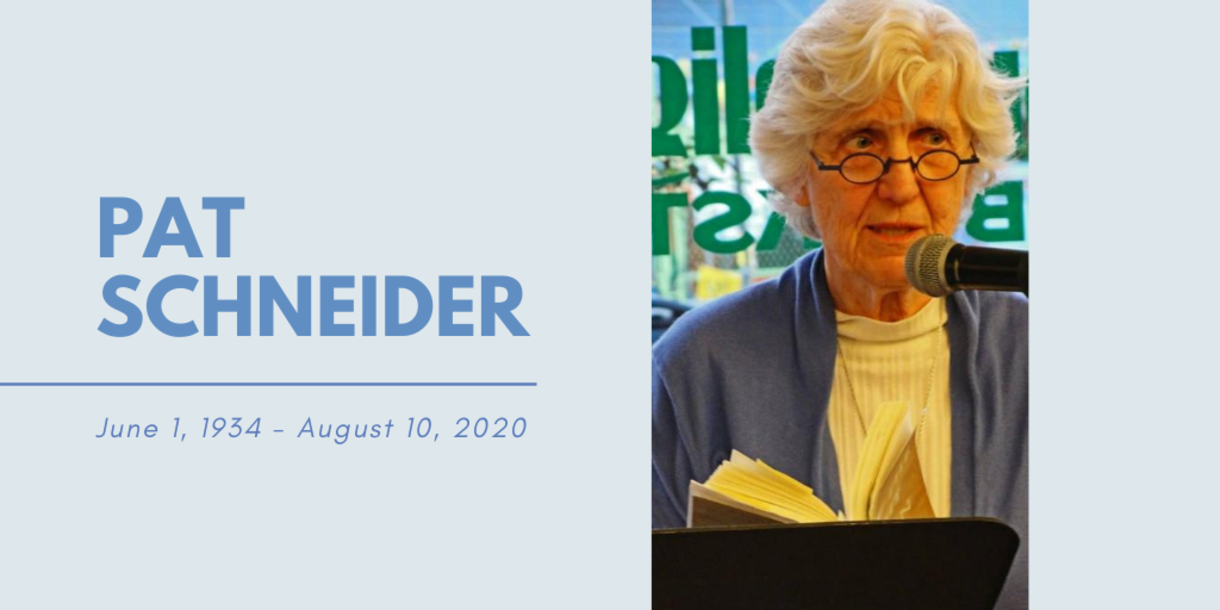 Pat Schneider (1934-2020)
NY Writers Coalition is celebrating the life and mourning the loss of Pat Schneider, creator of the Amherst Writers Method of writing workshops, which she describes in her book, Writing Alone and With Others. All of NYWC's workshops are based on this safe, supportive, craft-driven and deeply powerful model, so our organization is just one small piece of Pat's life-changing work. We join a worldwide community of people who've been impacted by Pat's life, and are deeply saddened to hear of her loss.
I like thinking about our piece of Pat's legacy, and how happy she would get when we'd discuss NYWC.  Pat's writing workshops with women in low-income housing and other groups for similarly underrepresented/oppressed groups inspired me to create NYWC.  So, if you've led or participated in one of our more than 20,000 workshops sessions over the past eighteen years, you are connected to Pat.
I also like thinking about the incredible work of like-minded writers leading workshops and organizations all over the world–all in one way or another connected back to the Amherst Writers and Artists movement that Pat, with her husband Peter, launched and continued to inspire, even after she "retired." (I have stories.)
Pat was a brilliant creative writer, across so many genres. (One of her poems is below.) For anyone interested in writing/creative and spiritual practices, I recommend her book How The Light Gets In: Writing as a Spiritual Practice. If you have any interest in creating or running writing workshops, Writing Alone and with Others is essential.
Pat's family has posted more information on her Facebook page. They request that, if you wish, you may honor her by making a donation in her memory to AWA, the organization she founded, nurtured, and sustained with love and boundless energy, either online at https://amherstwriters.org/honoring-pat/, or by check to Amherst Writers and Artists, PO Box 1076, Amherst MA 01004.  You may also post on her memorial blog here.
I feel lucky to have had Pat Schneider as a mentor and friend for more than twenty years. I have so much more to say than can go in an email.  I am thinking about the writing prompt that Pat used to give: "Close your eyes, get in touch with your body, and imagine yourself in a doorway, then write what you saw in your mind's eye." I like to think that maybe somewhere, on the other side of that doorway, Pat is already working on her next book.
Aaron Zimmerman
Founder & Executive Director
we tell stories, build
from fragments of our lives
maps to guide us to each other.
We make collages of the way
it might have been
had it been as we remembered,
as we think perhaps it was,
tallying in our middle age
diminishing returns.
Last night the lake was still;
all along the shoreline
bright pencil marks of light, and
children in the dark canoe pleading
"Tell us scary stories."
Fingers trailing in the water,
I said someone I loved who died
told me in a dream
to not be lonely, told me
not to ever be afraid.
And they were silent, the children,
listening to the water
lick the sides of the canoe.
It's what we love the most
can make us most afraid, can make us
for the first time understand
how we are rocking in a dark boat on the water,
taking the long way home.
— Going Home the Longest Way Around, by Pat Schneider