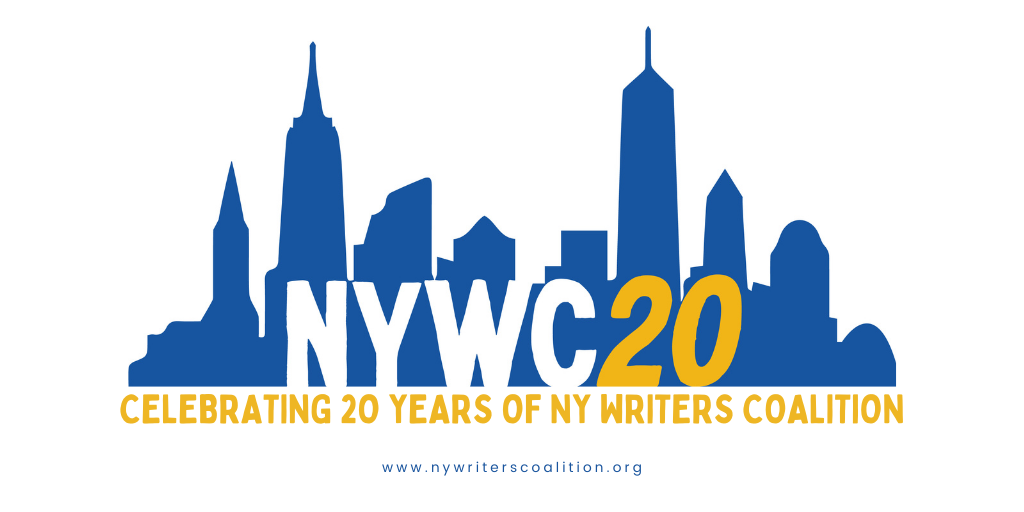 2022 is an exciting one for NY Writers Coalition: We'll be celebrating our 20th anniversary and we hope you will join us!
NYWC has grown from a grassroots organization run out of the homes of volunteer staff, board members, and workshop leaders into one of the largest community-based creative writing programs in the nation. We were founded on the deep belief that everyone has a voice and a story, and that everyone is a writer. From Fort Greene Park to Rikers Island (and everywhere in-between), our workshop leaders have created safe, supportive, and impactful writing communities in an unprecedented range of settings across NYC. 
As a toast to our decades-long efforts to champion writers from a wide array of backgrounds, the theme for our 20th anniversary year is
"This is What A Writer Looks Like."
Over the next 12 months, we will celebrate our history by showcasing our community members past and present through photos, videos, and flashbacks of great writing they have created. In February, our 16th annual NYWC Write-A-Thon will return for a day of workshops, community, and inspiration; and throughout the year, we will also offer extra workshops and special opportunities to write together. Finally, in October, we'll be hosting a blowout party to celebrate 20 years of writing and community—so stay tuned!
Our plans for the future are to continue innovating and making the power of creative writing accessible to even more people. Our free virtual workshops, born out of the pandemic, will continue to be a space for creativity and connection for anyone who would like to write with us. This spring, our Black Writers Program will enter its second year and again provide virtual workshops and special events that give Black writers a dedicated space to develop new material and get valuable resources. Our outreach workshops for seniors, people with disabilities, LGBTQ+ communities, people with cancer, and many others will continue virtually. And lastly, we are especially looking forward to gathering together in-person and relaunching our free public workshops across the city when it is safest to do so. 
So many of you have played an important role in making NYWC special. If you've attended a workshop or reading, volunteered, led a workshop, made a donation, or supported our work in any other way, this celebration belongs to you! We thank you and look forward to celebrating with you!
Aaron Zimmerman
Founder & Executive Director, NY Writers Coalition

☆ ⌒ ★ ⌒ ☆ ⌒ ★ ⌒ ☆ ⌒ ★ ⌒ ☆ ⌒ ★ ⌒ ☆ ⌒ ★ ⌒ ☆ ⌒ ★ ⌒ ☆
We'll be sharing photos and stories from our archives over time. Be sure to check here periodically for future stories:
☆ ⌒ ★ ⌒ ☆ ⌒ ★ ⌒ ☆ ⌒ ★ ⌒ ☆⌒ ★ ⌒ ☆ ⌒ ★ ⌒ ☆ ⌒ ★ ⌒ ☆
Our 20th-anniversary compilation video showcases former youth participant Carrissa Normil, workshop leader Victoria Cho, and Black Writers Program participant Queen Maria. Learn why they joined NY Writers Coalition and the impact our workshops had on them at different points in their lives.
FULL TRANSCRIPT
First Speaker: Victoria Cho
My name is Victoria Cho and I'm a writer and educator. I led New York Writers Coalition workshops at Isabella Geriatric Center, The Cooke School and Institute, and for the NY Writers Coalition Fort Greene Summer Literary Festival.
I'm inspired to work with youth because I understand that period that can feel tumultuous but also exciting. I remember some participants throughout the workshops feeling very reluctant to share their writing, or only sharing a few lines, feeling really shy. And then I saw them at the celebration event at the end of the summer, and I saw these same teenagers get up on stage and share their work before a large audience. Engaging with creativity and art can help somebody realize the power of their own voice.
I really feel like I've learned to be kinder to myself, to take more risks, and to think more about the kind of writing and community I want to create.
Second Speaker: Carrissa Normil
I'm Carissa Normil and I'm a speculative fiction writer, and I participated in NY Writers Coalition's workshop through the years 2015 to 2017 at Benjamin Banneker Academy. It was actually the first time I ever participated in a writing workshop. We had such amazing workshop leaders, and they were so nurturing and so supportive, and just fun. And now, as a writer, I'm really thankful because where else would I have gotten this very nurturing environment? I don't think I would be the writer I am today. I wouldn't take it so seriously.
I was new to the school—I had transferred—and I got to make these friends, I got close to other writers, and it kind of gave me a purpose at my high school because high school wasn't that great for me. I didn't love it so much. But being there, it gave me a home at Benjamin Banneker Academy.
Third Speaker: Queen María
My name is Queen María—well actually, my name is María and my pen name is Queen María—and it actually came with NY Writers Collective [sic]. I thought it was a way to show respect to my ancestors.
I never thought I would be a writer. I started writing because of the pandemic. I didn't know what to do. I live alone. I was desperate. I had so many things to say. And then the magic happened. I found NY Writers Collective [sic] and I said, 'Let me write one workshop'—and I was so scared. I was thinking, 'Oh my god, what am I doing here? So many people that write…' And I was hooked. Since that first workshop, I never stopped coming.
Through the writing workshops, I've been able to soften and I'm not scared to show that soft side of me. I still write in your face but the delicate part of me, the softness inside of me, is coming through. So people are able to hear better because especially when it comes about race, it's a very difficult topic for me. There's a lot of trauma involved in there. I have always lived mainly in a white community, being a Black woman—and a big, Black woman with a big voice and a big mouth—which is not something that people are accustomed to or able to tolerate.
I thought a way of motivating myself would be being hard on myself, which works for a while but after so many years, it breaks you. You need that softness and you are the best person to give it to yourself. And I learned this by writing.