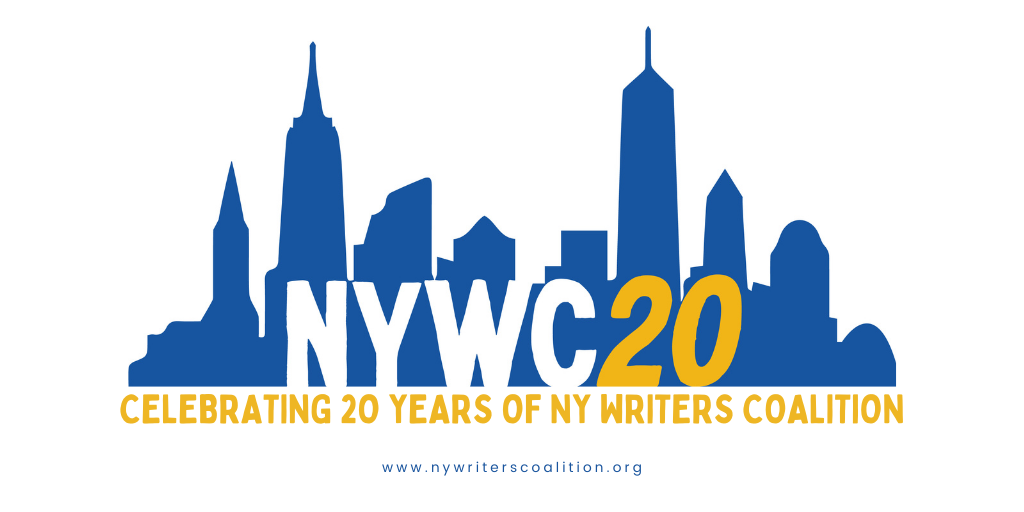 2022 is an exciting one for NY Writers Coalition: We'll be celebrating our 20th anniversary and we hope you will join us!
NYWC has grown from a grassroots organization run out of the homes of volunteer staff, board members, and workshop leaders into one of the largest community-based creative writing programs in the nation. We were founded on the deep belief that everyone has a voice and a story, and that everyone is a writer. From Fort Greene Park to Rikers Island (and everywhere in-between), our workshop leaders have created safe, supportive, and impactful writing communities in an unprecedented range of settings across NYC. 
As a toast to our decades-long efforts to champion writers from a wide array of backgrounds, the theme for our 20th anniversary year is
"This is What A Writer Looks Like."
Over the next 12 months, we will celebrate our history by showcasing our community members past and present through photos, videos, and flashbacks of great writing they have created. In February, our 16th annual NYWC Write-A-Thon will return for a day of workshops, community, and inspiration; and throughout the year, we will also offer extra workshops and special opportunities to write together. Finally, in October, we'll be hosting a blowout party to celebrate 20 years of writing and community—so stay tuned!
Our plans for the future are to continue innovating and making the power of creative writing accessible to even more people. Our free virtual workshops, born out of the pandemic, will continue to be a space for creativity and connection for anyone who would like to write with us. This spring, our Black Writers Program will enter its second year and again provide virtual workshops and special events that give Black writers a dedicated space to develop new material and get valuable resources. Our outreach workshops for seniors, people with disabilities, LGBTQ+ communities, people with cancer, and many others will continue virtually. And lastly, we are especially looking forward to gathering together in-person and relaunching our free public workshops across the city when it is safest to do so. 
So many of you have played an important role in making NYWC special. If you've attended a workshop or reading, volunteered, led a workshop, made a donation, or supported our work in any other way, this celebration belongs to you! We thank you and look forward to celebrating with you!
Aaron Zimmerman
Founder & Executive Director, NY Writers Coalition

We'll be sharing photos and stories from our archives over time. Be sure to check here periodically for future stories: