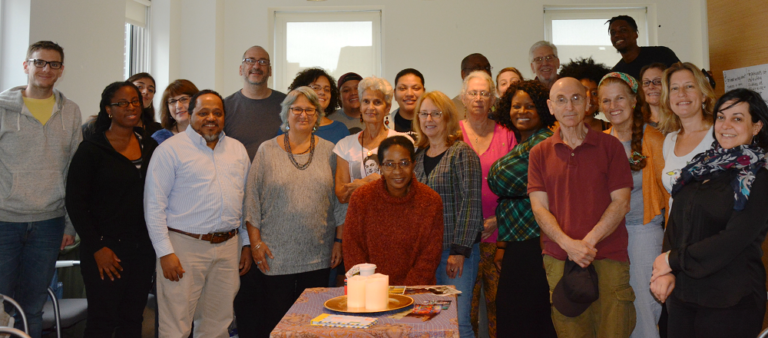 Volunteer Opportunities
Volunteer with Us!
NY Writers Coalition is made up of people passionate about the power of creative writing and the idea that everyone has a voice and an important story to tell.
We typically offer a variety of opportunities for those who are interested in volunteering, and it's a great way to give back to others and become a part of a friendly, positive and creative community. Common volunteer roles include transcribing for the visually impaired and helping us set up and maintain events. 
Currently, we have no need for any new volunteers, but if you would still like for us to have your information on file for any upcoming volunteer opportunities, you can fill out our volunteer application here. Please also note if you have a particular interest in a specific kind or area of volunteer work.
Want to be a NYWC Workshop Leader?
About Us
NY Writers Coalition (NYWC) provides free and low-cost creative writing workshops throughout New York City to people from groups that have been historically deprived of voice in our society. By creating a community of writers and leaders from all economic backgrounds, races, ages, and sexual orientations, we encourage people to gain confidence and a stronger sense of self, find and expand their voices, and discover the value of their own stories. Learn more here.
About You
Ideal candidates will have:
Prior experience facilitating or attending writing groups
A demonstrated history of community involvement
Facilitation, leadership, or teaching experience
A commitment to and understanding of NYWC's philosophy of creating a respectful and positive atmosphere for writers of all backgrounds and levels of experience
Flexible availability
Ability to commit to leading an ongoing weekly or biweekly workshop
Interests and passions that align with NYWC's programmatic needs
About the Position & NYWC Workshop Training
Volunteer workshop leaders are required to participate in our extensive training and support program before leading NYWC workshops. Accepted applicants are expected to:
Read Pat Schneider's Writing Alone and with Others
Complete 20 hours of NYWC Workshop Training over four days (See dates below.)
Plan and execute one NYWC Practice Workshop before his/her formal workshop placement
Attend quarterly meetings with NYWC staff and other workshop leaders
Maintain regular contact with NYWC support personnel
Complete any necessary paperwork for his/her workshop in a timely manner (Example: monthly attendance reports)
Because supporting each workshop leader requires a great deal of resources, workshop leaders are asked to commit to leading his/her weekly NYWC workshop for at least 9 months.