Become A Program Partner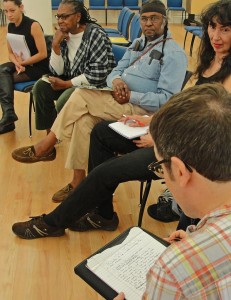 NYWC partners with programs and social service organizations throughout NYC that serve those who have been historically deprived of voice in our society. Your organization provides the space and participants, and we provide a trained leader to facilitate a weekly creative writing workshop. We also offer other opportunities for workshop participants such as publishing their writing via NY Writers Coalition Press and public reading events that feature workshop participants alongside established authors and poets.
NYWC's workshop method is designed to reduce competition among writers and allows writers of all backgrounds, ages, experience levels and genres to work together to grow as writers. Workshop size is limited to ensure that each member receives enough time and attention. Also, NYWC workshops are meant to be ongoing and meet once a week between one and two hours.
In the workshop, the workshop leader will provide a writing prompt or suggestion. Participants can choose to ignore the writing suggestions and write whatever they choose to for the allotted time. When time has been called, participants can either join the group or continue writing. Those who come back to the group have the option to read aloud only what they have written during the writing time. It is not mandatory for participants to read.
After reading, the group will only say what they liked or remembered about the piece as the writing we hear is brand new and thus it's too early in the writing process for critiques or suggestions. In addition, it is assumed that all writing done in the workshop is fictional and everything that is written or said in the workshop is confidential. These guidelines ensure that participants feel safe to write and read aloud even the riskiest material.
What Program Partners say about NYWC Workshops
I think one of the benefits of the writing group is that it has given the young people an opportunity to form bonds with their peers and also to form a relationship with and be heard by a stable adult presence, which many of our youth have lacked in their lives. It also is a good outlet for young people to experience their creativity and receive positive feedback.
Kate Barnhart, Director at New Alternatives
It is clear from the writing coming out of the class that many students have become more comfortable writing and sharing with the group. This has helped their participation in other parts of the program. The creative writing group has given them a place to communicate their emotions, ideas and dreams, so that they are ready to dive into the hard work of studying for the GED in other classes. It has also created a space for introspection. Many of our students are in a state of extended crisis, after the shock of arrest, conviction and incarceration. This group gives them an opportunity to think about their situation, share their emotions with their peers and begin to move on. One of the most successful aspects of the program has been the publishing of student work in chapbooks. Those students who have participated in readings have been very proud. It cemented their decision to become writers.
Eric Appleton, Director of Education at The Fortune Society
Interested in bringing a NY Writers Coalition workshop to your community?
Email us at info@nywriterscoalition.org
Please include your complete contact information and tell us a little bit about the
community the workshop would serve. We'll get back to you as soon as possible.