The heart of NYWC is our talented and diverse pool of writers and social justice activists. These dedicated members of our community volunteer their time to lead weekly writing workshops, edit and publish NYWC workshop participants' writing, and coordinate readings, book launches and other events that help bring unheard New Yorkers' stories to new audiences. Bios of some of our current and recent workshop leaders are below. 
Maritza Arrastia is a Cuban-Puerto Rican writer of fiction, poetry, and screenplays. She reads her writing in arts, community, and academic spaces; has written, produced and directed screenplays, is the author of the novel Exile; and was recently anthologized in Breaking Ground. She is a recipient of NYFA fellowships in screenwriting and playwriting, and in fiction. Her website thewritingroom.org makes public her ongoing novel Todos; a collection of microcuentos; and some of her poetry. She is a worker writer who thinks of writing as liberation art and is committed to brining writing into her work as an educator and social justice activist. She has been with NYWC since 2014 and has been working, along with Elena Schwolsky, to build workshops in Sunset Park Brooklyn.
Andrea Bozzo is a writing workshop leader who did extensive financial writing during her almost thirty year professional career.  Currently in retirement, she is working on her memoir and lives in downtown Brooklyn with her husband and her dog
Kimberly Bliss is Philippine-born, Buffalo-bred, and Brooklyn-burroughed. She is very excited to be the new workshop leader at The Ali Forney Center. When she's not killing it in fantasy baseball, she's working on her novel.  Visit kimberlybliss.com for more info, and check out one of her short stories here.
Barry Blitstein began as a playwright and stage director (MFA Brooklyn College). He has lived in New York, Southern California, Berlin. His work has been published in NYWC's "The Hidden Chorus" and "A Common Purpose," "Off The Rocks," "Hartskill Review," "The Inflectionist Review" and "East Bay Review."
Ashley Calloway-Blatch is a news editor living in Harlem. She was born and raised in Miami, and ventured up to New York City to pursue a career in journalism. When she is not journaling, you can find her going for a run along Central Park or trying (and sometimes succeeding at) a new Pinterest recipe.
A MacDowell Colony and Hawthornden Castle Fellow, Leland Cheuk is the author of the story collection LETTERS FROM DINOSAURS (2016) and the novel THE MISADVENTURES OF SULLIVER PONG (2015. Cheuk's work has been covered in VICE, The Millions,The Rumpus, and Asian American Writers Workshop, and has appeared in or is forthcoming in publications such as Salon, Catapult, Joyland Magazine, Electric Literature, The Rumpus, Kenyon Review, Prairie Schooner, [PANK] Magazine, among other outlets. He teaches at the Sarah Lawrence College Writing Institute. He is the fiction editor at Newfound Journal and the founder of the indie press 7.13 Books. He lives in Brooklyn. You can follow him on Twitter @lcheuk and at lelandcheuk.com.
Victoria Cho is a Korean-American writer who was born and raised in Virginia. Her writing has appeared in Smokelong Quarterly, The Collagist, Perigee, Quarter After Eight, Luna Luna, and Word Riot. She has been an NYWC workshop leader since 2009 and is also a VONA/Voices alumna. She lives in New York City.
Deborah Clearman led NYWC's workshop for seniors at the 14th Street Y from 2003 to 2011 and now leads a workshop for women in jail at RMSC (aka Rosie's) on Rikers Island.  Deborah served as NYWC's Program Director for about 8 years, and in that time helped build NYWC from a small grassroots organization into one of the largest community based writing programs in the world. She wrote and illustrated The Goose's Tale (Whispering Coyote Press) for children. Her short stories for adults have been published by various literary journals, including Beloit Fiction Journal, Connecticut Review, Ginger Hill, Oasis, and Quality Women's Fiction. She has also performed numerous public readings and story-tellings in New York City, at venues such as The Moth, The Pink Pony, Cornelia Street Café and others. Ms. Clearman has more than twelve years of experience teaching art and English as a foreign language, including a year in Todos Santos, Guatemala. Ms. Clearman has an MFA in painting from Indiana University and her paintings have appeared in galleries and exhibitions throughout the country. She is the author of the novel Todos Santos, published by Black Lawrence Press, and a story collection Concepción and the Baby Brokers and other stories out of Guatemala, by Rain Mountain Press. Check www.deborahclearman.com for info.
Shanté Cozier joined the NYWC team in the spring of 2015.  She leads various workshops all throughout the year in Brooklyn including Brooklyn East Collegiate Middle School, Fort Greene Summer Festival and a manuscript critique workshop for adults at 80 Hanson Place.  She has received her MFA in Creative Writing from the City College of New York, where she focused on fiction and the art of short stories and novel writing. This aquarius is currently working on her first full length collection of poetry.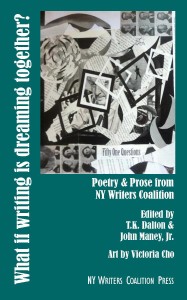 Mario de la Cruz is a graduate of the Master's of Science in Narrative Medicine program at Columbia University. With a background in adolescent and young adult health programming, he has developed multiple HIV/AIDS prevention programs and sexual health education programs for both healthcare institutions and non-profit organizations, with emphasis on at-risk youth groups. During his time with the New York Writer's Coalition he has been fortunate to work with the LGBT populations at both SAGE and New Alternatives. Mario is also one of the founding editors at The Intima, an online journal of Narrative Medicine, and a contributing author to the book, The Uncharted Path from Clinic-Based to Community-Based Research. His upcoming work will focus on exploring visual, oral and performance based narratives, and lately he has begun experimenting with very short fiction stories of illness and healing.
Ann Marie Cunningham is a science journalist who has written for print, broadcasting, and the Web. She is co-author of Ryan White: My Own Story and a correspondent of Women's eNews (www.womensenews.org). In November 2015, she launched a new writing workshop for teens at the Bloomingdale Branch of the New York Public Library.
T.K. Dalton has led a bi-lingual workshop with members of the Deaf community at Tanya Towers residence. Currently, he works with seniors at the Isabella Geriatric Center in Washington Heights. His fiction and nonfiction appears in Red Rock Review, Radical Teacher, Rain Taxi, and The L Magazine; drafts of his novel, More Signal, More Noise, have earned him residencies at the Montana Artists Refuge and the Vermont Studio Center. He holds an MFA in Fiction from the University of Oregon and is completing the ASL-English Interpreting program at Union County College. When not camped at his writing desk or frolicking in the Deaf community, Tim teaches composition at LaGuardia Community College.
Ben Dolnick leads a drop-in workshop for adults at the Brooklyn Public Library, Central branch. He lives in Fort Greene with his wife and dog, and is the author of three novels and counting.
Cata Elena Elisabeth is a mixed-race xicana queer from L.A., California. As a cultural producer, writer, and artist–Cata believes in the power of visionary fiction, as described by Walidah Imarisha, to change our world by challenging ourselves to create the world we want to see. Cata is also a passionate girls empowerment activist through a bike education group they launched called BiCi, which currently operates in Bushwick, NY.
Susan Fedynak is a native New Yorker excited to join NYWC in bringing free writing workshops to her hometown. She received a BFA in Creative Writing from Emerson College, where she was an Honors Trustee Scholar. She is a National Foundation for Advancement in the Arts merit award recipient. She is also the recipient of a World Learning scholarship, which sent her to South Africa to study arts and culture. Her work has appeared in Stork, Blood, and Thunder, and the speculative fiction anthology A Field Guide to Surreal Botany, published by Two Cranes Press. She lives in Queens with her music producer husband and their imaginary puppy named Tofu.
Frank Haberle's short stories won the 2011 Pen Parentis Award and the 2013 Sustainable Arts Foundation Award, and have appeared in the Adirondack Review, Smokelong Quarterly, Melic Review, Wilderness House Literary Review, Necessary Fiction, Cantaraville, Hot Metal Press and elsewhere. Frank is a proud parent of three kids and a development professional with New York City nonprofit organizations . A former NYWC Board member, Frank now leads the Moving Pen workshop at University Settlement.
Elaine H. Kim is a queer Korean American fiction writer born and raised in the Midwest. She won a Fulbright Foundation Research Fellowship Grant to South Korea, and has won grants from the New York Foundation for the Arts and the Jerome Foundation. She's been a resident with the Lower Manhattan Cultural Council Workspace program; the Edna St. Vincent Millay Colony for the Arts, where she was a Wallace Reader's Digest Fellow; the Edward F. Albee Foundation; and the Blue Mountain Center. Kim's fiction has been published in Guernica, So to Speak and upstreet. Kim has taught writing at CUNY York College and SUNY Purchase and regularly convenes a women of color writing group. She has an MFA from Sarah Lawrence College and has worked as an organizer, trainer and director for various social justice organizations. Kim lives in Brooklyn with her partner and their twins and is at work on a novel, And You, the Living, Follow.
Sammi LaBue is a fiction writer living in Brooklyn, NY. Her creative work can be found in [PANK] Magazine, Queen Mob's Teahouse, Body Parts Magazine, and elsewhere, while she has contributed to many non-fiction outlets including The Feminist Wire and Glamour Magazine. With a background in publicity and publishing Sammi is thrilled to be focusing on her passion of literacy advocacy leading the VISIONS NYWC workshop for visually impaired seniors. She is currently an MFA candidate with the Vermont College of Fine Arts.
Deb Levine's writing for children, adults, and everyone in between has appeared in books, magazines, and online. Her books include the middle grade novels "The Saturday Cooking Club #1: Kitchen Chaos" (Aladdin, 2015), "The Saturday Cooking Club #2: The Icing on the Cake" (Aladdin, 2015), "Love Miscellany" (Skyhorse, 2012), and "Parker Picks" (Simon & Schuster, 2002). Deb is also the head of content & marketing for the global education network, Teach For All, and and was the editorial director for Nickelodeon's award-winning website, Nick.com, for over a decade. She lives in Brooklyn with her husband, two kids, and two cats.
Derek Loosvelt has led an NYWC workshop at the Queensboro Correctional Facility in Long Island City, New York, the Osborne Association in Brooklyn, and at the RNDC Center at Rikers Island. He is a graduate of the Wharton School at the University of Pennsylvania and the MFA program at the New School, where he received the New School Chapbook Award for "Michigan Left." In 2008 he was named a One World Scholar by the Pan-African Literary Forum in Accra, Ghana. His writing has appeared in various magazines and journals. He lives in Brooklyn.
Alison Lowenstein is a native New Yorker and Brooklyn based writer and editor. She writes children's books, short stories, and plays. Alison is also a member of the 2018 New Perspectives Theatre Company Short Play Lab. In addition, she's published NYC guidebooks for Rizzoli's Universe imprint, and her work has appeared in The Washington Post, National Geographic Traveler, NY Daily News, Newsday, Fiction, Portland Review, Gothamist, The Hairpin, McSweeney's Internet Tendency and many other publications and websites.
John Maney is originally from St. Paul, Minnesota, where he attended Macalester College, majoring in Religious Studies, and Sociology. In 1995 John moved to New York to pursue writing. While in New York he has attended poetry workshops at the Frederick Douglas Creative Arts Center, as well as through Cave Canum. John is a member of the New York Writers Coalition, and The Writer's Room. He has published in the anthology HEAL, by Clique Calm Books; the anthology Testimony, by Free Spirit Press; and most recently in Art's Buoyant Felicity, by Evolutionary Girls. He's also had poetry appear in Sufi Magazine, and has a chapbook entitled Nkatie Wonu, by Broken Rose Publications. John has been featured in readings at several venues throughout New York City and State. Under the auspices of the New York Writers Coalition John has conducted creative writing workshops for formally incarcerated men and women at the Fortune Society, in Queens. He currently leads an ongoing workshop at the Port Morris Wellness Center, an addiction treatment program through Albert Einstein Medical College in the Bronx.
Matt Matros is a nine-year resident of Brooklyn, and a graduate of the MFA program at Sarah Lawrence College. His non-fiction has appeared in The Washington Post and on CNNMoney.com, while his fiction has appeared in Spectrum and in his high school literary magazine. Matt is the author of the instructional memoir The Making of a Poker Player, and he is desperately trying to finish his first novel.
Carla Murphy is a storyteller, and intrepid social justice journalist who for more than a decade has been telling stories that explore the interconnections of race, class, status and power in low-income communities of color. Born in Barbados, educated in New York and London, she has reported in Haiti and the Haitian diaspora in the wake of the 2010 earthquake, tracked economic development and labor organizing in the US and abroad, reported on police violence long before it became a major headline, covering criminal justice policies in New York, Baltimore and other cities, and addressed race and class bias in the press. She has been a fellow of The Investigative Fund of The Nation Institute, a staff reporter for Colorlines.com and a producer for the talk radio host Brian Lehrer. Her work has appeared in The Nation, Columbia Journalism Review, The Chicago Reporter, The Christian Science Monitor, O  and other publications. She is an editor for Echoing Ida, a project of Forward Together that aims to amplify non-mainstream voices of black women and non-binary writers in media.
Melody Nixon is a New Zealand-born writer living in Harlem. Her essays, fiction, and poetry have appeared or are forthcoming in Conjunctions, Cura Magazine, Midnight Breakfast, No, Dear Magazine, Hoax Publications, and The Appendix, among others. She is the Interviews Editor of The Common, Co-Founder and Editor-at-Large of Apogee Journal, and co-curator of the First Person Plural Reading Series–Harlem.
Judith Ohikuare is a Brooklyn-born and Brooklyn-based writer and editor. She has written about business, technology, health, and education for various outlets, including TheAtlantic.com and Inc., and she looks forward to expanding her practice of fiction, poetry, and creative nonfiction writing with others through NYWC.
Tasha Paley has participated in NYWC writing workshops since, as she puts it  "I was knee high to myself!" She loves  the power and joy of writing and sharing in a group, appreciates wholeheartedly the NYWC protocol; and writes plays, poetry, flash fiction, performance pieces,  and just maybe, a future novella. She has also written and illustrated two children's books. Because she also thrives on  acting, she is writing a solo show.
Tasha has worked as a creative arts therapist with all age groups, helpings others , along with herself, to find joy and healing through creative drama , writing, playfulness, and art.
Tasha is a member of Village Playback Theater which practices a form of improvisational theater that invites the audience to share their real life stories which are instantly woven into theatrical pieces using movement, spoken word, and music. The intention is to capture the heart of the story so that the audience can feel a sense of empathy and community with one another. Playback Theater, like NYWC,  works especially with marginalized groups,  honoring  the stories of those folks who too often go unheard in the larger society.
Because Tasha is now retired she has time to travel and lives part time in San Miguel De Allende, MX. She is tickled pink to be a facilitator with NYWC!
James Peele has been a writer for over 10 years. He was a participant of NYWC workshops for six years before becoming a workshop leader himself. The author of After an Eon, a collection of short stories, James is currently working on the second part: After an Eon and Beyond. He is also working on a cookbook with his sister and is collaborating with a fellow Andrew Heiskell Library participant on an action novel. As a visually impaired writer James believes that if he can do it, everyone can. He considers himself an enigma wrapped in a riddle, as an author who cannot read or write. James lives in Brooklyn, NY.
Melissa Petro is a freelance writer and instructor for Gotham Writers Workshop and Red Umbrella Project, a nonprofit organization that amplifies the voices of individuals with experience in the sex trades, and is the editor of PROS(E), a literary journal for current, former and transitioning sex workers. She has written for Salon, Daily Beast, Huffington Post, Jezebel, xoJane, Rumpus, Penthouse,Poets and Writers and elsewhere.
Paul Rozario-Falcone is a Singapore-born writer who calls Brooklyn home. He has published eight books of nonfiction, including a travel guide based on the 15th century voyages of Chinese admiral Zheng He. He was the co-founder of the first Singapore Literature Festival in New York, as well as the Second Saturdays Reading Series, both devoted to Singaporean and American literature in the city.
Cory Schneider is a teacher and writer living in Brooklyn. By day, he teaches middle school English in Manhattan. By night (or weekends…or whenever), he writes short fiction and personal essays. He's worked in the social justice space of education for several years, developing programming that helps students and schools build partnerships with nonprofit organizations. In a previous life, he worked in publishing. Since then, he's better off writing books and not editing others'.
Jason Schwartzman is a writer and editor who grew up in New York City. He edits for the experimental magazine True.Ink and the literary journal Claudius Speaks. His writing has appeared in the New York Times, nymag, Narrative.ly, Nowhere Magazine, Untapped Cities, Gothamist, River Teeth, among other places. You can read a selection of his work here.
Elena Schwolsky is a lifelong writer and social activist who joined NYWC in 2014.  She is currently co-leading, with Maritza Arrastia,  "Cosechando Cuentos." a Spanish language workshop for immigrant women who are members of worker-owned cooperatives in her neighborhood of Sunset Park, Brooklyn.  Elena's writing is informed by more than 30 years of work as a nurse and community health educator including 10 years spent as a pediatric AIDS nurse at the height of the epidemic. Elena currently works as a consultant and trainer for a variety of community health education projects in New York City and has trained peer educators in Cuba and Tanzania. Her essays and stories have appeared in the American Journal of Nursing, The Veteran, and the anthology Storied Dishes:  What Our Recipes Say About Who We Are, and she is at work on a memoir exploring the intersection of her personal and professional experience in the AIDS epidemic.
Micky Shorr, a new writing workshop leader, is a social worker/psychotherapist and a long time advocate for social justice. Born in Brooklyn, she has lived in California and the Hudson Valley. Micky is a poet whose work is in a number of literary journals and has been read on local radio in Kingston, NY. Since moving back to Brooklyn, Micky visits the ocean, misses her garden and plays with her grandson. She is hoping to get motivated soon to submit her poetry chapbook to competitions and have it published.
Rona Tamir is an Israeli born, Brooklyn based screenwriter for TV and film, writing—mostly comedy— in English and in Hebrew. Before moving to the US, Rona was a staff writer on various political satire and sketch comedy shows on Israeli TV and hosted Israeli radio shows. As someone who by definition works alone, Rona cherishes every opportunity she gets to write alongside other people.
Anthony Vasquez is a Brooklyn native and self-employed dog walker. When he isn't busy spending time with his furry pals, he enjoys a good brisket sandwich, writing poetry, and trying the latest DIY project.
Sasha Warner-Berry is a poet and fiction writer from Cambridge, MA. She has a background in community organizing and adult education, and currently works in hospitality. She works in Brooklyn, NY.
Arnine Cumsky Weiss teaches deaf and hard of hearing children. She is the author of two novels, The Undefeated and She Ain't Heavy and four books of non-fiction related to bar and bat mitzvah and converting to Judaism. Last summer she assisted with a workshop in the South Brooklyn's Children's Garden led by Nancy Sanchez-Taylor which had several future leaders of the free world and at least one future presidential hopeful.
Avra Wing is the author of the young adult novel After Isaac, praised in Publishers Weekly as a "complex story of life, love, grief, and recovery." Her first novel, Angie, I Says, was made into film Angie starring Geena Davis and James Gandolfini. Avra's poetry has been published in numerous journals, including Crab Orchard Review, Hanging Loose and Michigan Quarterly Review, and her collection, Recurring Dream, won the 2011 Pecan Grove Press Chapbook Competition. She leads a workshop at the Center for the Independence of the Disabled, New York, and has also led a NYWC poetry-writing intensive. You can find her at avrawing.com.
Marcie Wolfe is an educator who has written alongside adults and youth in a variety of settings including high schools, community-based programs, and universities. Formerly the director of the Institute for Literacy Studies at Lehman College, CUNY and writer of an endless number of reports, academic articles, grant proposals, and budgets, she is now somewhat retired and struggling to create mixed media art. Marcie is originally from Brooklyn, but since the 1990s her heart and home have been in Washington Heights.
Rhonda Zangwill is a writer and editor in New York City. She has led creative writing and storytelling workshops for a number of underserved groups, including incarcerated women and men, seniors, disabled adults, ESL students, and veterans.  She also has worked with people of many backgrounds in drop-in workshops at public libraries.  She has published her own work in several literary journals and given readings in venues in New York City and beyond. Rhonda currently leads a seniors workshop for NY Writers Coalition, and is delighted to help participants express their creativity and to build writing communities that are encouraging, safe and welcoming.
Kip Zegers is from Chicago, educated at John Carroll University and Northwestern University. He was a VISTA volunteer living and working in Central Harlem from 1966-67 and then attended Union Theological Seminary, applied for and received Conscientious Objector status. He has published four full length volumes and six chapbooks, most recently The Poet of Schools, Dos Madres Press, 2013 and The Pond in Room 318, Dos Madres, 2015. He taught at Hunter College H.S., a public high school for gifted students, for 33 years, and his work continues to grow out of New York City, school, and kids.