Here you will find information on any current, upcoming, and past NYWC events. 
For in-person events, COVID-19 precautions are at the discretion of the event locations, but masks will be on hand.
Current & Upcoming Events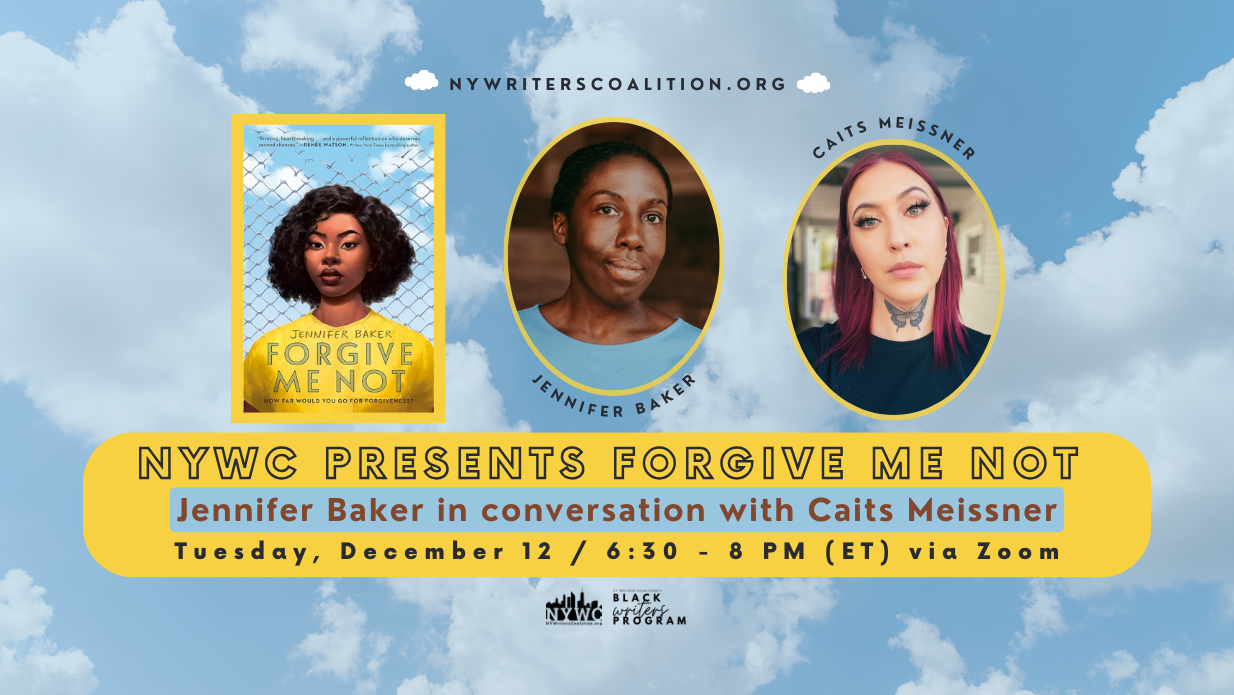 NYWC Presents Forgive Me Not: Jennifer Baker In Conversation with Caits Meissner
Join NY Writers Coalition's Black Writers Program as we host a virtual conversation between Jennifer Baker and writer Caits Meissner, editor of The Sentences That Create Us: Crafting A Writer's Life in Prison, and the former director of Prison and Justice Writing at PEN America. They'll discuss Forgive Me Not and its themes and will open up for an audience Q&A at the end!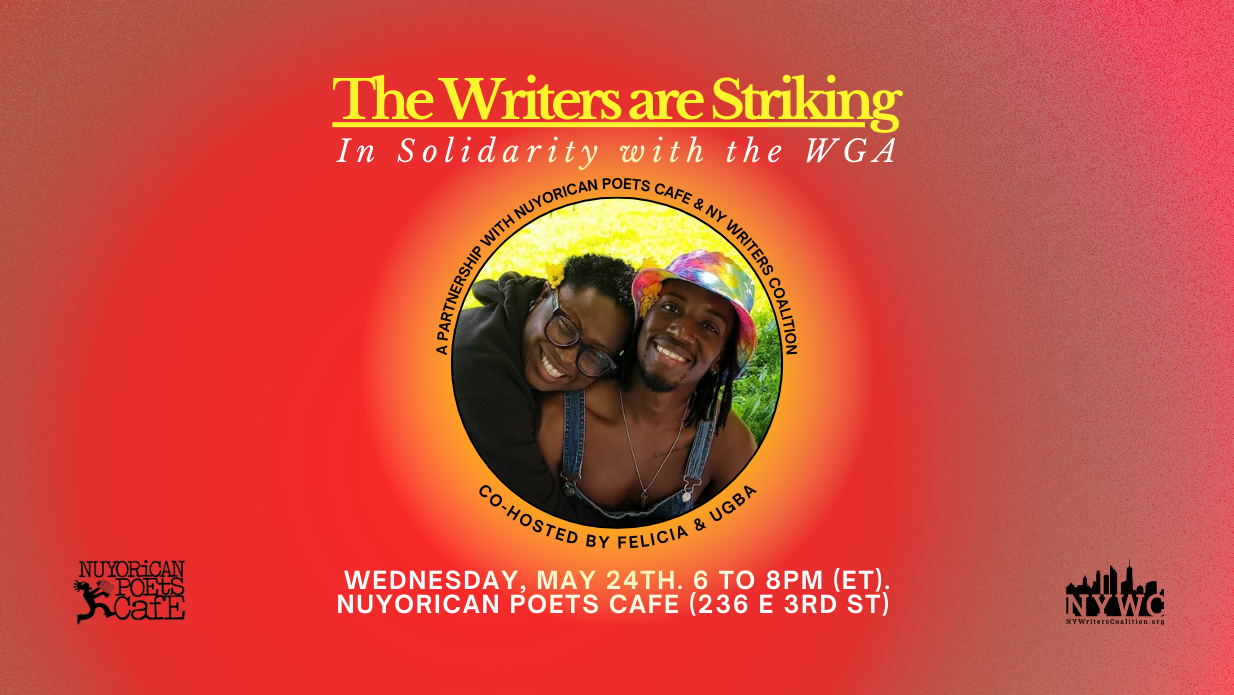 The Writers are Striking: In Solidarity with the WGA
Join us at  Nuyorican Poets Cafe as we roar the best way writers know how to—with our pens! "The Writers are Striking" is a space for writers to share both their grievances and their gifts on the mic.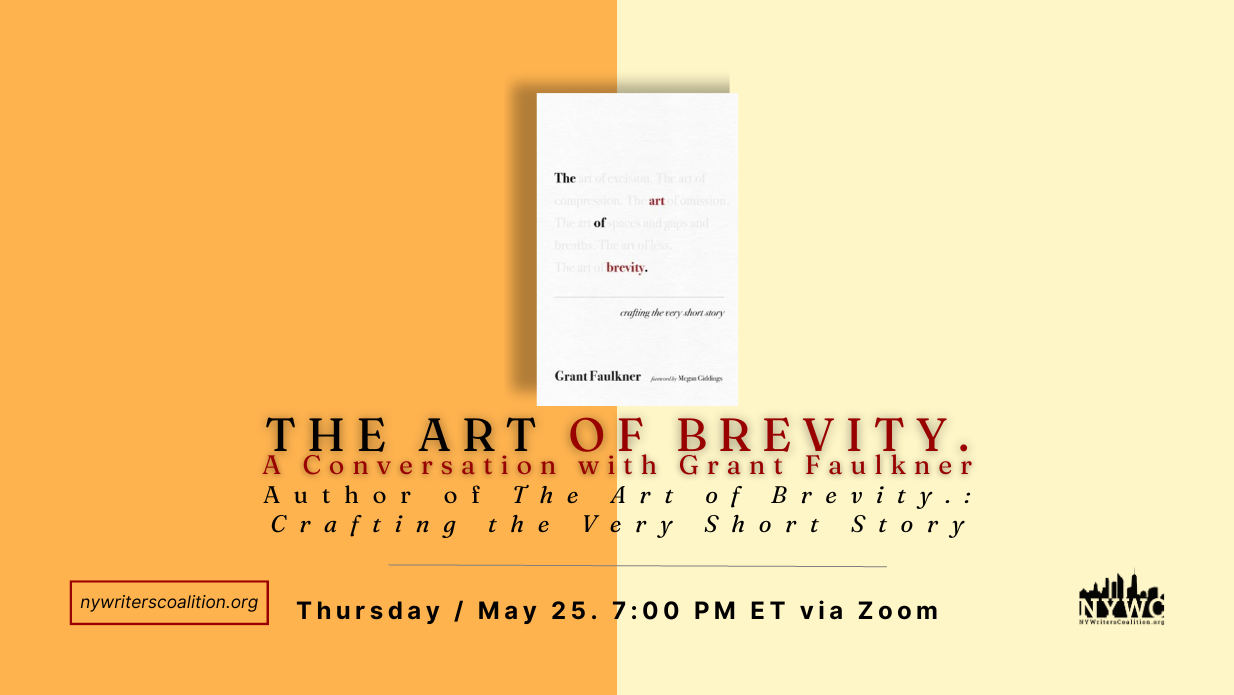 THE ART OF BREVITY: NYWC In Conversation with Grant Faulkner
Join NYWC's Founder and Executive Director Aaron Zimmerman on Thursday, May 25 at 7 p.m. ET for a virtual conversation with Grant Faulkner, the Executive Director of National Novel Writing Month (NaNoWriMo) and author of THE ART OF BREVITY, about crafting compelling short fiction.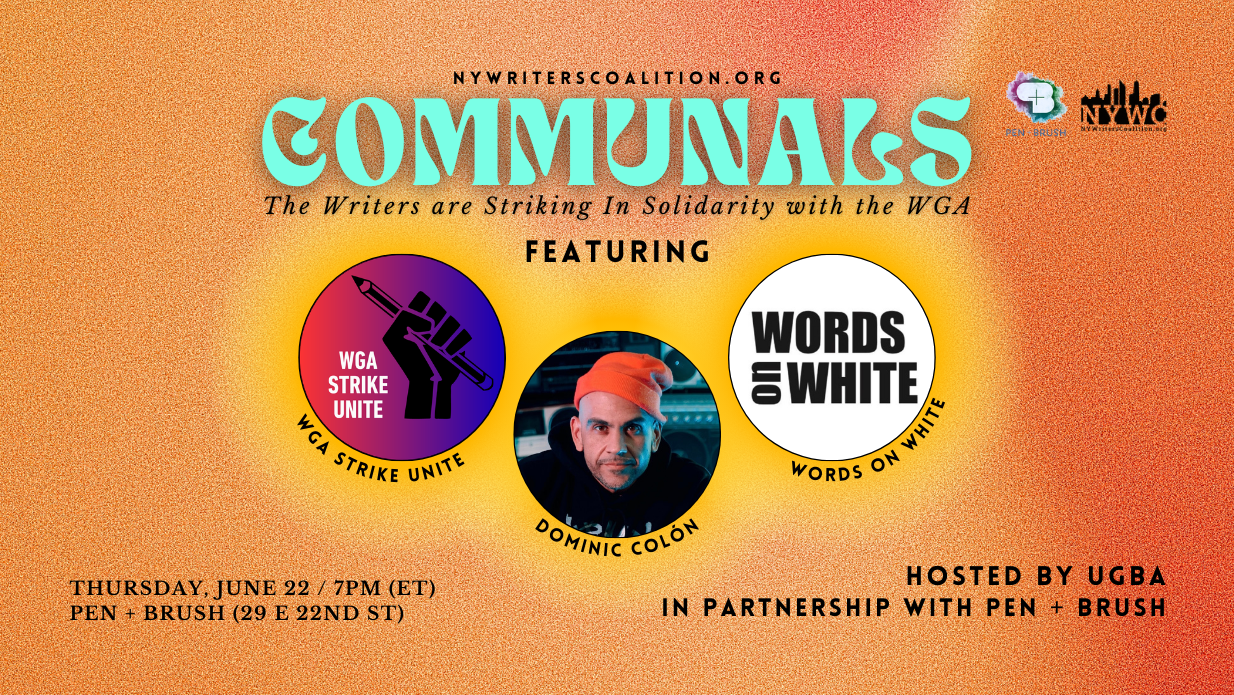 Communals: The Writers Are Striking
This month we present a very special Communals entitled "The Writers are Striking." This is a space for writers to share both their grievances and their gifts on the mic. Tell us about your experience being a writer. Tell us about why you still write. Write a piece on the spot with us that best articulates your soul's growl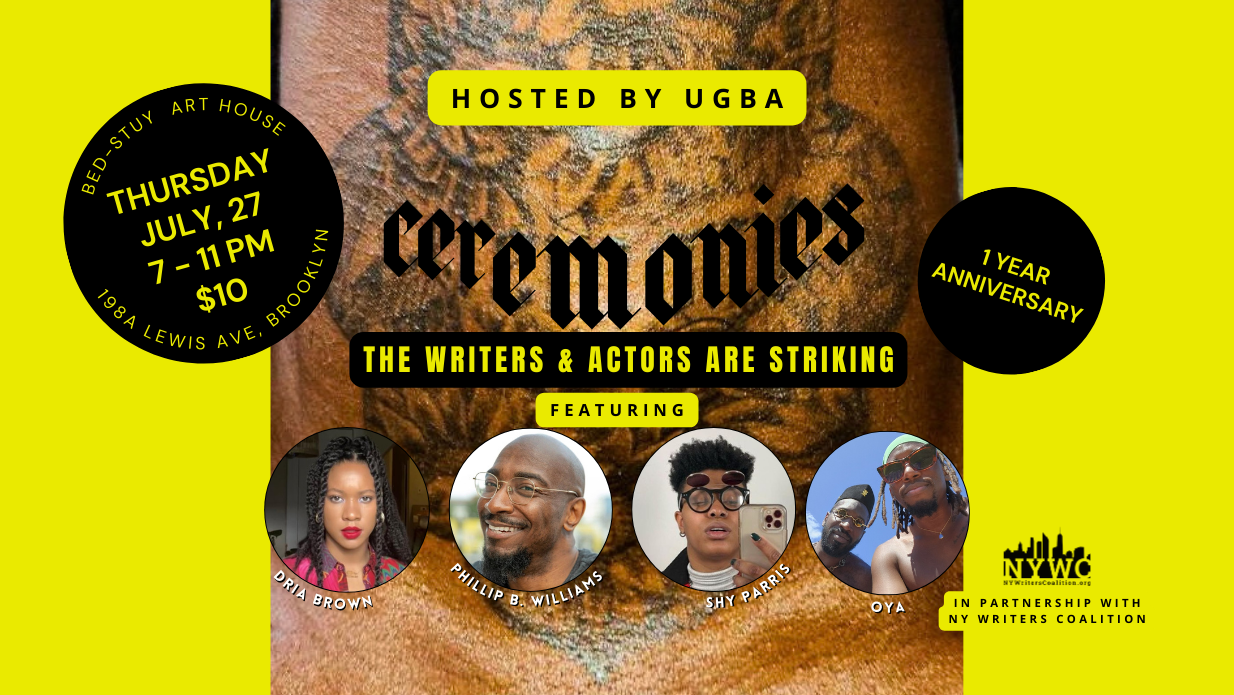 Ceremonies
Party with us as NYWC's Artistic Director UGBA celebrates the 1-year anniversary of CEREMONIES, the monthly performance series he created to showcase the incredible talent of Black and Queer artists*.
This won't be just any birthday party! In partnership with NY Writers Coalition and in solidarity with the WGA & SAG-AFTRA movements, this mighty occasion honors artists and all we do to push the world forward.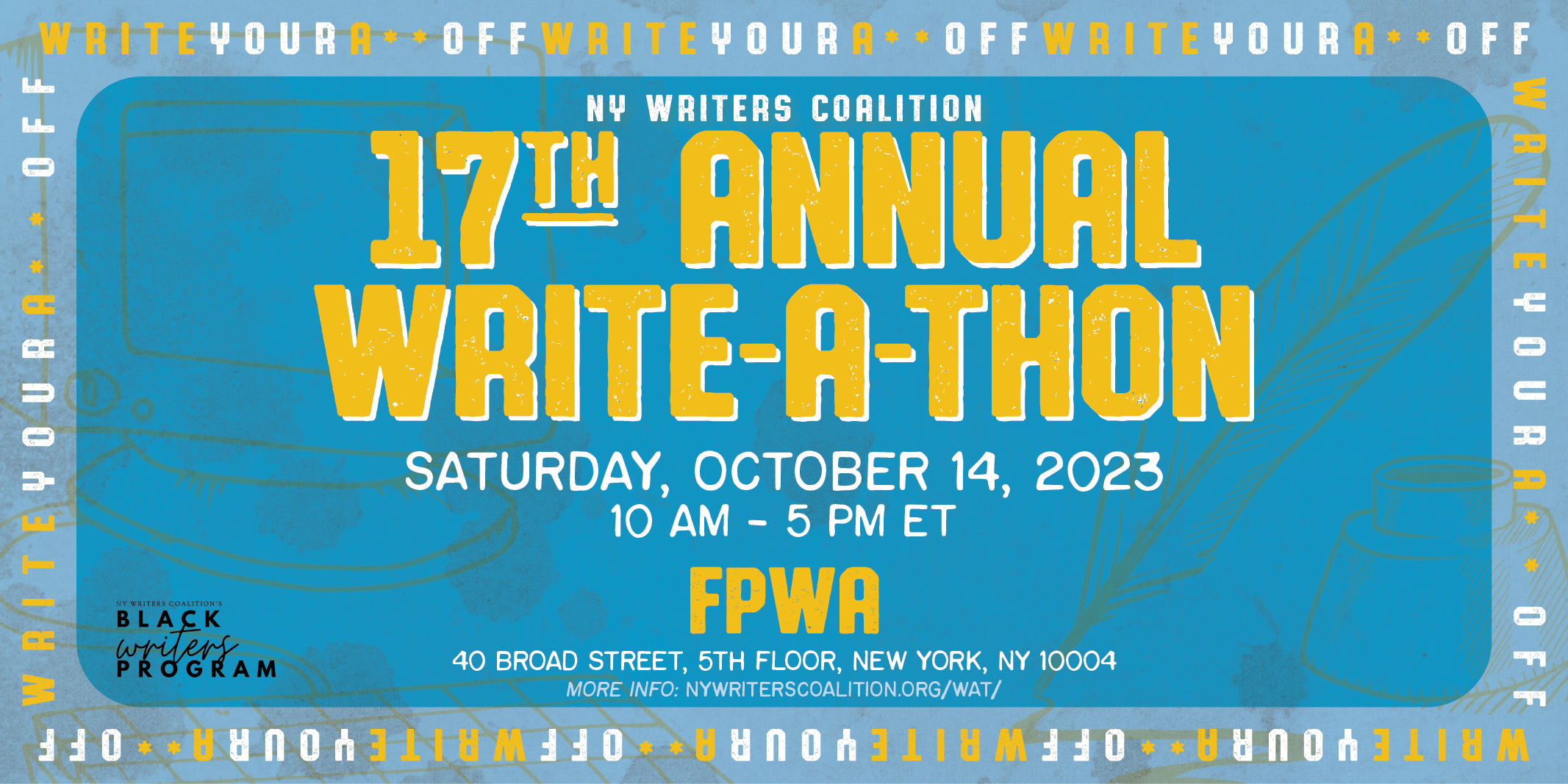 Write-A-Thon
NY Writers Coalition's annual Write-A-Thon is a daylong fundraiser and writing retreat all in one. Join us this month on Saturday, October 14 from 10 AM – 5 PM (ET) in-person and virtually!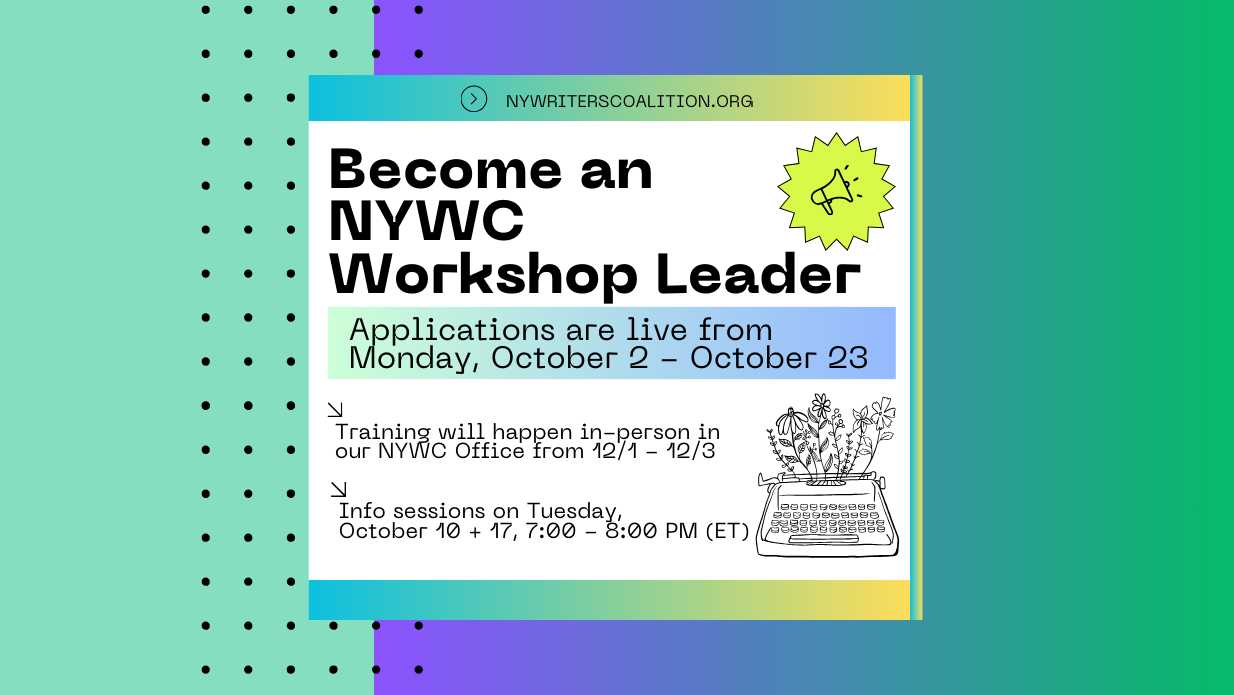 Become An NYWC Workshop Leader
Registration is now LIVE to apply to be an NYWC Workshop Leader