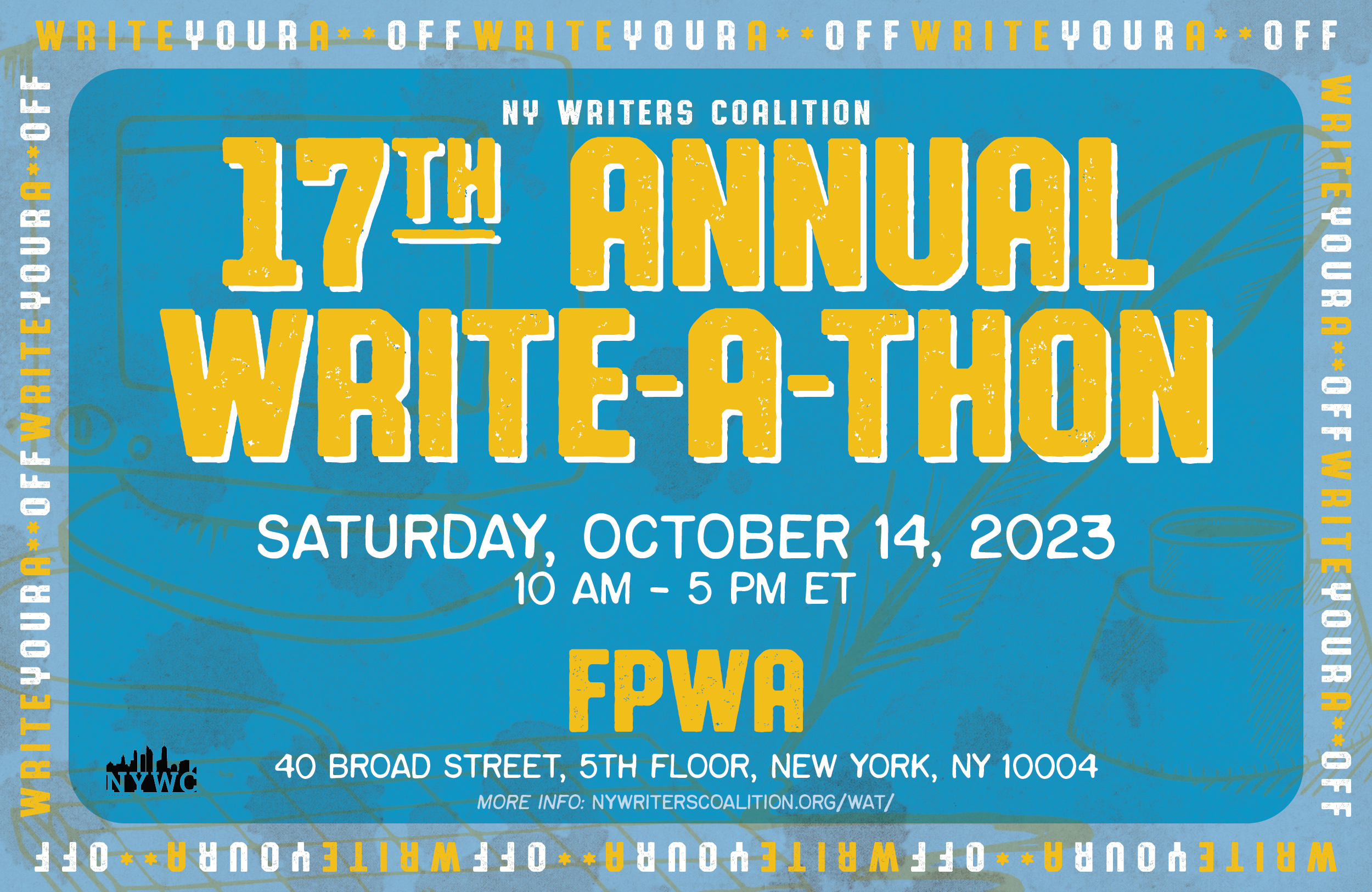 Join us on Saturday, October 14h for NY Writers Coalition's 17th-annual Write-A-Thon!
Write-A-Thon is back in person this year and we can't wait to write with you in the flesh—and if you can't make it in person, you can attend the panel discussions and keynote conversation virtually. This year's event is a smorgasbord of prompt-based writing workshops, panels that'll give you the info you need to succeed—plus a keynote conversation with Pulitzer Prize-winning playwright

James Ijames

, author of

Fat Ham

!
★☆★☆★☆★☆★☆
What is Write-A-Thon? 
NYWC's Write-A-Thon is a daylong writing event featuring dedicated space and time to write with others, generate new work, delve into the specifics of craft, and hear an inspirational keynote talk. There are a few ways to join: in person at FPWA in Lower Manhattan, where you'll have access to the panels and workshops, or online, which will give you access to the panels only. The ticket options are below:
Earlybird In-Person Ticket:

$200 (through October 1)
Regular In-Person Ticket:

$250
Earlybird Online Ticket: $75 (through October 1)
Regular Online Ticket: $100
What does this year's Write-A-Thon schedule include?
There will be four programming blocks at Write-A-Thon, with an opportunity to write or attend a panel in each block. These blocks include:
Keynote Conversation:

This year's keynote speaker is James Ijames! Ijames' play Fat Ham won the 2022 Pulitzer Prize for Drama—and will be in conversation with NYWC's Artistic Director UGBA.
WAT Sprints:

Write-A-Thon Sprints are perfect for writers seeking lots of inspiration and generating a ton of new writing. There will be a dedicated room for participants in which the facilitator offers a new prompt every 30 minutes. You can attend as you like throughout the day!
Expert Panels:

Looking for guidance on specific topics? These three talks will feature industry experts sharing knowledge in the following panels:
how to apply for writing retreats and residencies

how to find, start, and/or join a literary community

advice on preparing and submitting your work for publication
Traditional NYWC Workshops: Create fresh new writing in sessions with our talented teaching artists and workshop leaders.
What does an online Write-A-Thon ticket include? 
Virtual tickets include access to all of the panels and the keynote conversation with James Ijames, the playwright/author of Fat Ham.
Can I donate to support someone who can't attend? 
Yes! As a social justice organization committed to bringing the power of creative writing to everyone, we want to make this event as accessible as possible. If you'd like to pay it forward and help another person attend for free, view the sidebar in the link to donate.
If I can't afford to attend, how can I join? 
Email

writeathon@nywriterscoalition.org

to apply for a scholarship. Please include your name, contact information, and any information about your previous involvement with NY Writers Coalition.
A limited number of comped tickets will be issued, and priority will be given to prior NYWC participants from underserved communities. The deadline to request a scholarship is Saturday, October 7; scholarship recipients will be notified by Monday, October 9.
New to NYWC? Here's a bit about who we are and what we do.
NY Writers Coalition (NYWC) is a Brooklyn-based 501(c)3 not-for-profit organization. We launched in 2002 and are now one of the nation's largest community writing organizations. Each year, we provide more than 1,000 free creative writing workshops for people not heard from often enough in our society. Our workshop members include youth, people with disabilities, court-involved and incarcerated individuals, seniors, women, LGBTQ communities, people in recovery, and many others. We are unique in the breadth and scope of our work and have been a model for other organizations bringing the power of creative writing to those in need.
Immediately after the global pandemic forced us to curtail our in-person programs, NYWC stepped into the virtual space and began to provide free workshops that extended our hallmarks of connection, community, and creativity to those sheltering in place. We've since re-launched about 30% of our outreach workshops virtually and created new workshops for those from underserved communities—most notably our

Black Writers Program

, a high-quality series of workshops, panels, and craft talks for Black writers of all backgrounds, at all levels of experiences—at no cost to participants.
What do funds raised at Write-A-Thon support? 
NYWC has provided free community-based (and now, virtual!) creative writing workshops to participants for two decades. All Write-A-Thon funds will support our ongoing work of providing more—and more in-depth—workshops and programs to the public, particularly underrepresented and marginalized writers. Our Public Workshops are free to the public but not free for us to create; your contributions will help us sustain, and grow, our work as we move forward.
Write-A-Thon Keynote Speaker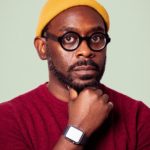 James Ijames is a Pulitzer Prize winning and Tony Award nominated playwright, a director and educator.
James' plays have been produced by Flashpoint Theater Company, Orbiter 3, Theatre Horizon, Wilma Theatre, Theatre Exile, Azuka Theatre (Philadelphia, PA), The National Black Theatre, JACK, The Public Theater (NYC), Hudson Valley Shakespeare Theater, Steppenwolf Theatre, Definition Theatre, Timeline Theater (Chicago IL) Shotgun Players (Berkeley, CA) and have received development with PlayPenn New Play Conference, The Lark, Playwright's Horizon, Clubbed Thumb, Villanova Theater, Wilma Theater, Azuka Theatre and Victory Garden.
James is the 2011 F. Otto Haas Award for an Emerging Artist recipient, and two Barrymore Awards for Outstanding Direction of a Play for The Brothers Size with Simpatico Theatre Company and Gem of the Ocean with Arden Theatre. James is a 2015 Pew Fellow for Playwriting, the 2015 winner of the Terrance McNally New Play Award for WHITE, the 2015 Kesselring Honorable Mention Prize winner for ….Miz Martha, a 2017 recipient of the Whiting Award, a 2019 Kesselring Prize for Kill Move Paradise, a 2020 and 2022 Steinberg Prize, the 2022 Pulitzer Prize in Drama recipient and a 2023 Tony nominee for Best Play for Fat Ham.
James was a founding member of Orbiter 3, Philadelphia's first playwright producing collective.
He received a B.A. in Drama from Morehouse College in Atlanta, GA and a M.F.A. in Acting from Temple University in Philadelphia, PA. James an Associate Professor of Theatre at Villanova University. He resides in South Philadelphia.
Headshot by Justin DeWalt
Write-A-Thon Workshops & Panels
FINISHING LINES: A Six-Week Prose Workshop & Writing Community
Led by Aaron Zimmerman
Finishing Lines is a 6-week virtual intensive program designed to support writers intending to start, continue, or complete a specific prose project (a novel, memoir, essay, short story, or collection of stories). This workshop is for you if: You already have a writing project in mind or in progress; you want to start a new writing project but need motivation; you want to dedicate more time and energy to your work; you need help achieving your writing goals and staying accountable to yourself; or you're returning to a project you previously set aside.
This group meets twice a week on Sundays and Mondays for a total of 18 sessions between Sunday, September 4th, and Friday, November 3rd. Sunday writing workshop sessions will serve as an incubator for generating new material in a safe and supportive environment. Monday feedback sessions will allow you to receive exactly that on your works-in-progress. You may also attend the optional Friday Work Rooms, which provide a silent workspace to write, journal, and fill out applications—whatever!—in the company of other artists.
Additionally, with Aaron's support, each cohort member will create an individualized plan for what they hope to accomplish during the six weeks and leave with a plan for continuing their project after the workshop ends.
Space will be limited to 8 writers and participants will be

selected by application

to ensure each writer receives as much attention and support as possible. Sign-ups are first come, first served. You won't be expected to completely finish your manuscript in six weeks; instead, you'll get the tools you need (with the accountability of a committed group) to develop long-term structures that will help you cross the finish line.
Finishing Lines Includes: 
Six 2-hour generative writing workshops where you can write more material for your project or just keep your creativity flowing

Six 2-hour long group sessions share draft pages with the group in advance and receive feedback. (Each participant will have the opportunity to share work up to three times during the six weeks.)

Six 1-hour Work Room sessions where you'll write in community with others—without sharing or feedback. (Work Room is open to the public—even those not enrolled in Finishing Lines—for free.)

Two 45-minute one-on-one conferences with Aaron for personalized goal setting and review
Schedule & Dates:
Generative Writing Workshops: 

Sundays, September 24 – October 29 // 11 a.m. – 1 p.m. ET

Feedback Sessions:

Mondays, September 25 – October 30 // 7 – 9 p.m. ET

Work Rooms (Optional):

Fridays, September 29 – November 3 // 12 – 1 p.m. ET
Cost:
$1,000
Rebate:

Writers who attend 15 or more sessions will receive a $75 rebate. Writers who attend all 18 sessions and the two conferences will receive a $150 rebate. 

Scholarships:

Two free scholarship spots will be reserved for writers from historically under-resourced groups. If you are interested, please specify that in the application. Priority will be given to members of NYWC's existing community.