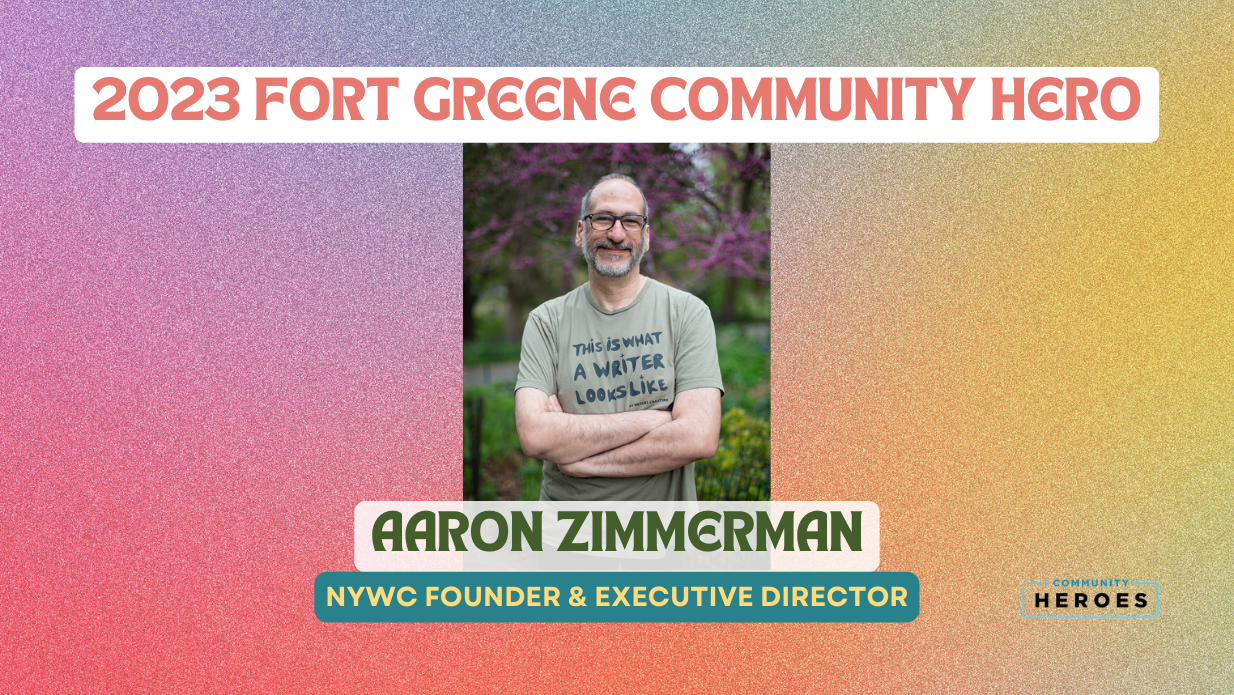 We're proud to announce that Aaron Zimmerman, Founder & Executive Director of NY Writers Coalition, has been named a 2023 Fort Greene Community Hero! 
The Community Heroes Exhibition is an annual community-based public art project celebrating everyday heroes in neighborhoods across New York City. Co-founded by Jasmin Chang and Zac Martin, in partnership with the Fort Greene Park Conservancy and Friends of Commodore Barry Park, and organized and produced by Photoville and Trellis, Community Heroes highlights the incredible work of cultural leaders at 12 incredible organizations—including NYWC! 
"From workshops for those incarcerated in Rikers Island Jail to online options for members of the LGBTQ+ community who did not feel safe sharing their stories where they lived, [NY Writers] coalition has genuinely created a community that allows writers to grow in a compassionate environment." 
If you find yourself in Fort Greene Park (along the Brooklyn Hospital fence), be sure to check out the exhibition, which includes a wonderful portrait of Aaron by Zahra Mirmalek and text about our work written by Elizabeth Harris. The exhibition will stay up through June 2024, but you can read the full feature below in English, Spanish, and Mandarin.
Like the shirt Aaron's wearing?
Each purchase from our shop supports our creative writing workshops and events.