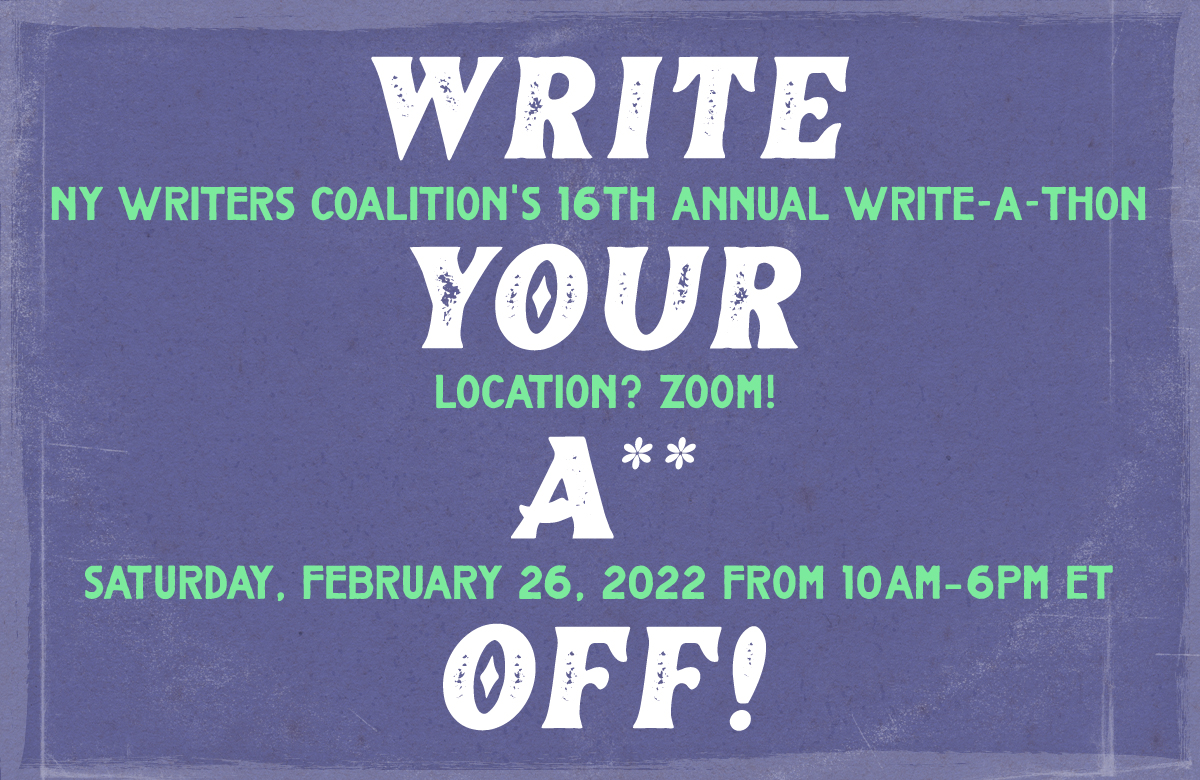 EVENT DETAILS
Please join us on Saturday, February 26 for our 16th annual—and virtual—NYWC Write-A-Thon! It will be a day long celebration of writing, writers, and literature. All funds raised will directly boost NYWC's

WORKSHOP LEADER EMERGENCY FUND

, supporting the working writers, freelancers, and activists who have been running free virtual NYWC workshops throughout the pandemic shutdown.
★☆★☆★☆★☆★☆
What happens at the NYWC Write-A-Thon? 

We will host workshops, give prompts, write together as a community, host events, and hold readings and author talks throughout the 24 hours. Most events will happen through Zoom, and additional materials will be made available online via our website. 
Several participation levels are available: the All-Access Pass allows you to attend all or any part of the entire Write-A-Thon—the best value for your wallet and creative muse! You can also purchase tickets for specific 6-hour blocks of programming, or for special prime-time programming. 
What is NY Writers Coalition? What do the funds that are raised support?
NYWC is a 501(c)3 not-for-profit organization launched in 2002 and one of the nation's largest community writing organizations. Each year, we provide more than 1,000 free creative writing workshops for people not heard from often enough in our society. Our workshop members include youth, people with disabilities, court-involved and incarcerated individuals, seniors, women, LGBTQ communities, people in recovery, and many others. We are unique in the breadth and scope of our work and have been a model for other organizations bringing the power of creative writing to those in need. 
Immediately after the global pandemic forced us to curtail our in-person programs, NYWC stepped into the virtual space to provide free workshops open to anyone, to help bring connection, community, and creativity to those experiencing isolation. We've also re-launched about 30% of our in-person workshop virtually and created new workshops for those from underserved communities. 
One-hundred percent of the funds raised through the NYWC Write-A-Thon will go directly to our new Workshop Leader Emergency Fund, which provides stipends to our workshop leaders, many of whom are freelance writers, teaching artists, and others economically impacted by the current crisis. 
Who is scheduled to appear? 
This year's speaker is Madeleine George.
Madeleine George's plays include Hurricane Diane (Obie Award), The (curious case of the) Watson Intelligence (Pulitzer Prize finalist; Outer Critics Circle John Gassner Award), Seven Homeless Mammoths Wander New England (Susan Smith Blackburn finalist), Precious Little, and The Zero Hour (Jane Chambers Award, Lambda Literary Award finalist).  Her honors include a Whiting Award, the Princess Grace Award, and a Lilly Award.  Madeleine's translation of Chekhov's Three Sisters is set to premiere at Two River Theater in 2022, and her audio adaptation of Alison Bechdel's comic strip Dykes to Watch Out For is forthcoming from Audible Originals.  Madeleine is a founding member of the Obie-Award-winning playwrights' collective 13P, the Mellon Playwright in Residence at Two River Theater, and a writer on the Hulu mystery-comedy Only Murders in the Building.  Since 2006, she has worked with the Bard Prison Initiative at Bard College, where she currently serves as Director of Admissions. 
Madeleine grew up writing in Amherst Writers & Artists workshops and was certified in the AWA Method in 1999.  She trained as a NYWC leader in 2004 and led a number of NYWC workshops around the city over the years, including at Hopper House, an alternative-to-incarceration program for women; a pre-trial intervention program run by the Brooklyn DA; a senior citizen center in Fort Greene Park; and the Ali Forney Center, a shelter for homeless LGBTQ youth.  She was a member of Aaron Zimmerman's Tuesday night NYWC workshop for four years.