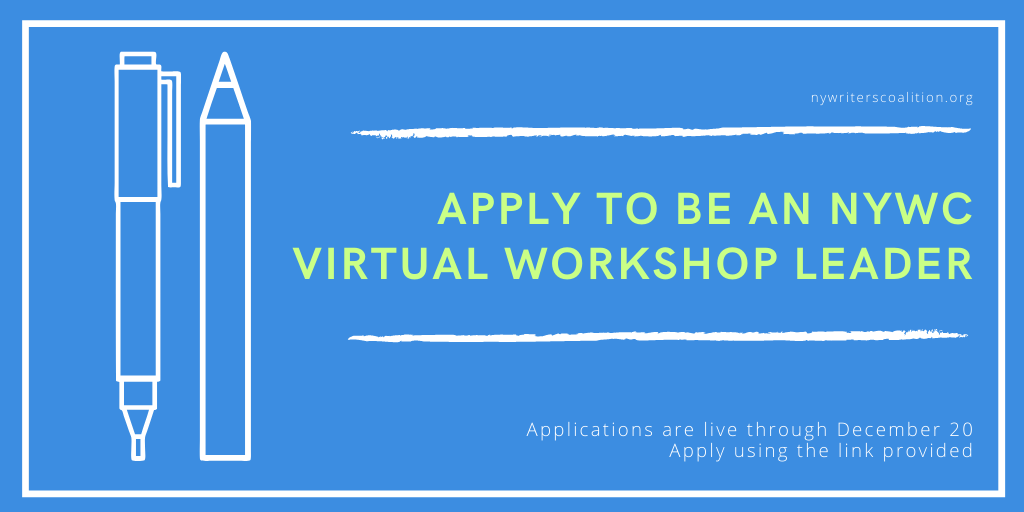 Interested in becoming a virtual workshop leader? NYWC is looking to expand its group of workshop leaders and will be hosting training in the new year, and we want writers like you to apply and lead the charge in this transformative work.
Wherever you live, your passion to build a community, provide a safe space, and get the voices of others heard is what we're after. If you have a passion for creative writing and social justice, feel encouraged to apply!
Applications are now closed!
Thank you to all who applied
About Us
NY Writers Coalition (NYWC) provides free and low-cost creative writing workshops throughout New York City to people from groups that have been historically deprived of voice in our society. By creating a community of writers and leaders from all economic backgrounds, races, ages, and sexual orientations, we encourage people to gain confidence and a stronger sense of self, find and expand their voices, and discover the value of their own stories. We have also been providing virtual creative writing workshops since the onset of COVID-19. Learn more here.
About You
Ideal candidates will have:
Prior experience facilitating and/or attending writing groups
A demonstrated history of community involvement
Facilitation, leadership, and/or teaching experience
A commitment to and understanding of NYWC's philosophy of creating a respectful and positive atmosphere for writers of all backgrounds and levels of experience
Flexible availability
Ability to commit to leading an ongoing weekly or biweekly workshop
Interests and passions that align with NYWC's programmatic needs
About the Position & NYWC Workshop Training
Volunteer workshop leaders are required to participate in our extensive training and support program before leading NYWC workshops. Accepted applicants are expected to:
Read Pat Schneider's Writing Alone and with Others
Complete our NYWC Workshop Leader Training
Plan and execute one NYWC Practice Workshop before his/her formal workshop placement
Attend meetings with NYWC staff and other workshop leaders
Maintain regular contact with NYWC support personnel
Complete any necessary paperwork for his/her workshop in a timely manner (Example: monthly attendance reports)
Because supporting each workshop leader requires a great deal of resources, workshop leaders are asked to commit to leading his/her weekly NYWC workshop for at least 9 months.
Questions?
Email info@nywriterscoalition.org for any questions relating to the application or training process.