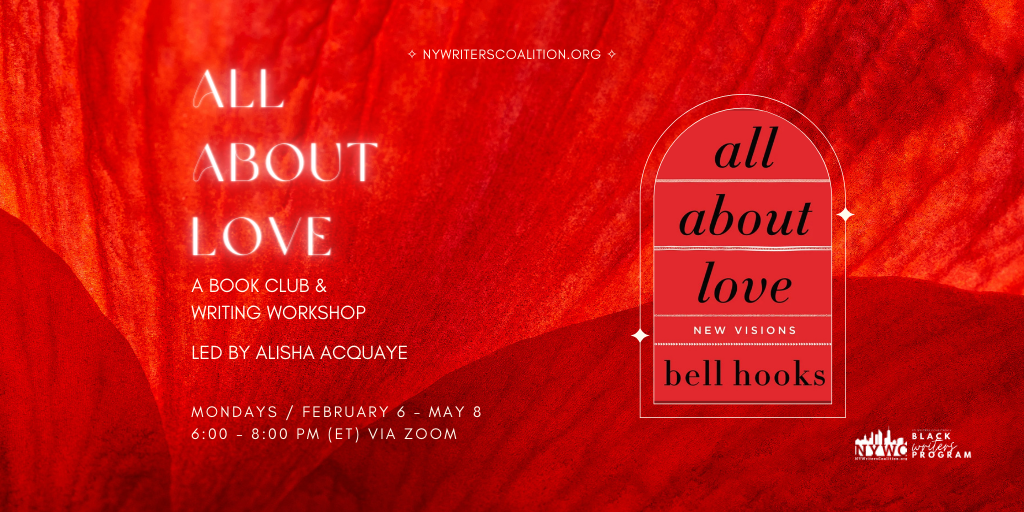 READING & WRITING ALL ABOUT LOVE with Alisha Acquaye
Mondays / February 6 – May 8, 2023
6:00 – 8:00 PM (ET) via Zoom
In this book-club style writing workshop, we'll read and discuss bell hooks' seminal text, All About Love: New Visions. 
Each chapter presents piercing and insightful questions and anecdotes that deeply inquire into the roles love plays in our lives. hooks inspires us to contemplate how we define "true" love within the spectrum of relationships we have—spiritual, romantic, familial, and social, to name a few. This workshop is for anyone dedicated to the journey of untangling and reconstructing their views on love. First-time and seasoned readers of the book are welcome—although if you do NOT identify as Black we ask that you NOT sign up. We'll read roughly a chapter a week (pdfs will be provided) and write to prompts inspired by each chapter's themes. (6-8 participants)
 Registration for this first-come, first-served drop-in workshop will take place weekly—so if you don't secure a spot one week, don't worry! The Eventbrite registration link will be posted on our website and sent out through the Black Writers Program newsletter, so make sure you've subscribed.
Questions? Email us at bwp@nywriterscoalition.org.
WORKSHOP DATES
February 27 (workshop will not meet this week)
March 6
March 20
March 27
April 3
April 10
April 17
April 24
May 1
May 8