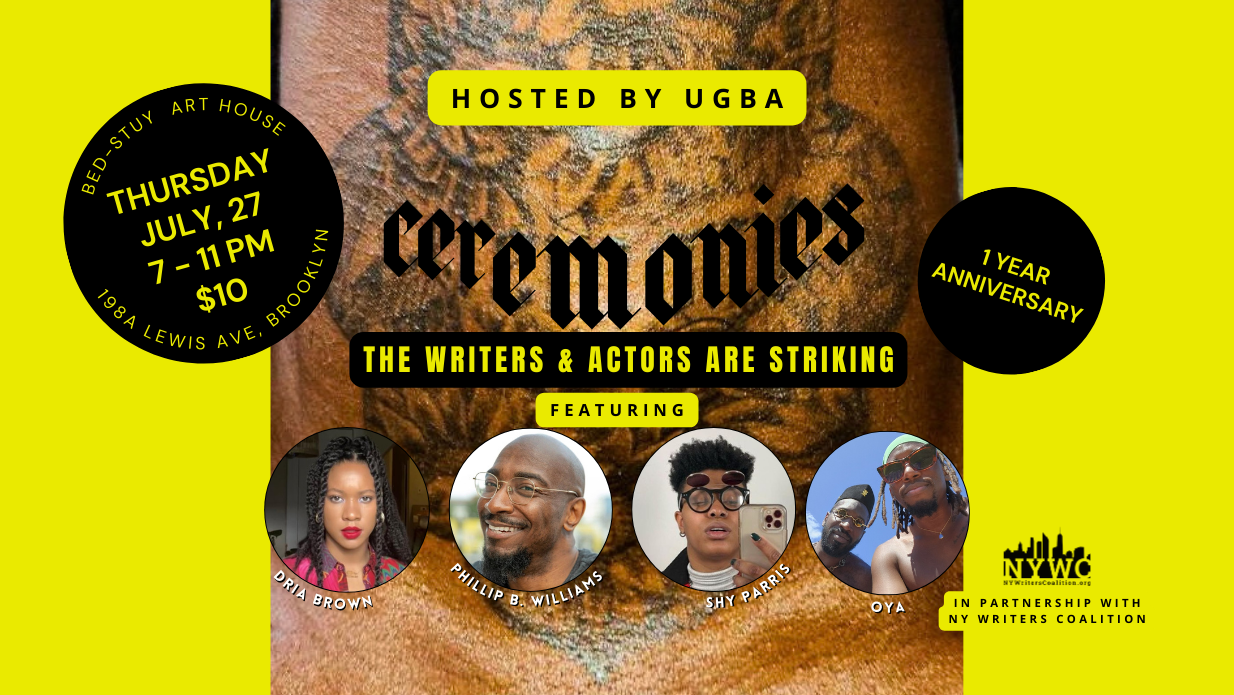 Thursday, July 27 • 7:00 PM – 11:00 PM (ET) 
Party with us as NYWC's Artistic Director UGBA celebrates the 1-year anniversary of CEREMONIES, the monthly performance series he created to showcase the incredible talent of Black and Queer artists*.
This won't be just any birthday party! In partnership with NY Writers Coalition and in solidarity with the WGA & SAG-AFTRA movements, this mighty occasion honors artists and all we do to push the world forward.
Featured guests include: Dria Brown, Phillip B. Williams, Shy Parris, & OYA.
*NOTE: This edition of CEREMONIES is open to people of all identities and backgrounds!
ABOUT OUR HOST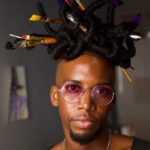 Ungrateful Black Artist (UGBA – 'oog ba') (pronoun inclusive) is a queer poet, rapper, playwright, actor, and activist based out of Brooklyn, NY. His essays and poetry can be found in The Rumpus, The Root, Afropunk, Black Youth Project, The Grio, THEM and elsewhere. UGBA is the founder/host of CEREMONIES—a Brooklyn based monthly Black-Queer artist showcase held in honor of Essex Hemphill. UGBA is also the founder of "Dark-Skin Support Group" a virtual support network for dark-skin Black Americans in need of a space to discuss the realities of colorism. In the summer of 2018, UGBA debuted his one-man show NEPTUNE as the headliner for Dixon Place's annual "Hot Festival." Following rave reviews and sold-out performances, NEPTUNE was then restaged as the 2019 kick-off event for Brooklyn Museum's acclaimed "1st Saturday'' series. In 2020, UGBA was named a "Black LGBTQ+ playwright you need to know '' by Time Out NY. UGBA is the current script assistant for the Pulitzer Prize winning Broadway show Fat Ham. He is an alumnus of the Public Theater's #BARS program. He is a current member of the Public Theater's Emerging Writers Group 2020-2023 cohort. He is a 2023 Artivism Fellow through Broadway Advocacy Coalition, a 2022 MAP Grant recipient, a 2020-2021 BAM Resident, and current Artistic Director at NY Writers Coalition.
ABOUT OUR FEATURED READERS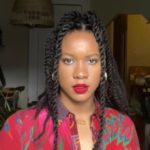 Dria Brown is an artDoula (creative producer, facilitator, artist) from South Carolina, living and working in Lenapehoking (Brooklyn). Dria's multi-hyphenate practices center the lush and freedom-filled possibilities that exist in a world where all Black people, and specifically Black women and femmes are centered and cared for. Dria is currently the Co-Director of Programming at the Tony award winning arts advocacy non profit, Broadway Advocacy Coalition, a Theater of Change Facilitator at Columbia Law School, the Senior Creative Producer of Britton & The Sting – a funk liberation band based in NYC and a Creative Producer on a new Terence Nance project premiering at The Whitney Museum in the fall. Dria finds sanctuary in culinary food rituals that nourish her loved ones and lives with her co-dependent dog daughter Mooriah Carey in crown heights.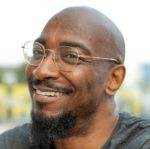 Phillip B. Williams is the author of Mutiny, winner of the 2022 American Book Award, and Thief in the Interior, which was the winner of the 2017 Kate Tufts Discovery Award and a 2017 Lambda Literary award. He is also the author of the chapbooks Bruised Gospels and Burn. Williams's work has appeared or is forthcoming in Boston Review, Callaloo, Kenyon Review, The New Republic, The New Yorker, and others. He is the recipient of a 2020 creative writing grant from the National Endowment for the Arts, a 2017 Whiting Award, and a 2013 Ruth Lilly Fellowship. He serves as a faculty member at Bennington College and Randolph College low-res MFA.