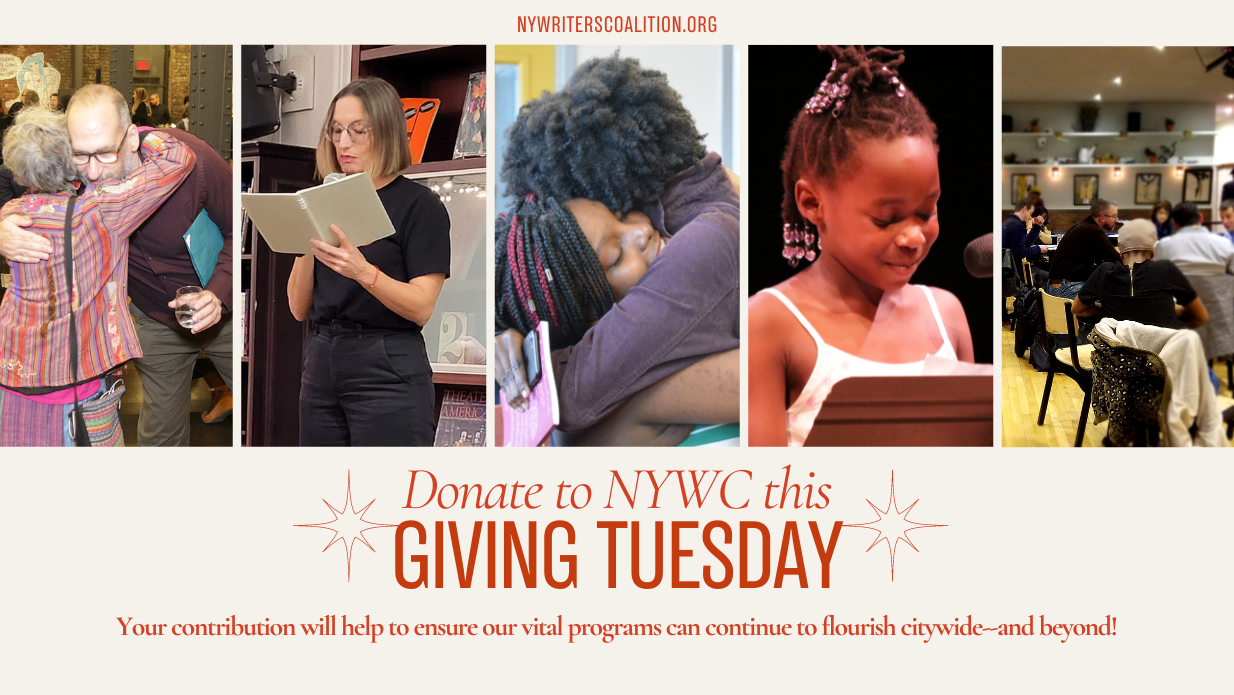 Dear Friends,
As we approach the end of our 20th Anniversary year, we're reflecting on the past year of community, creativity, and craft, and making big plans for what's next. We hope you'll consider a Giving Tuesday donation to support NYWC's vital work.
We are very proud of our impact this past year. Our virtual programming has continued bringing together people from all over the world and we also began relaunching in-person programs in NYC. Here's a quick look back on some of our 2022 highlights:
Starting the year off with a series of Winter Write-Ins
Holding weekly Work Rooms hosted by our Executive Director Aaron Zimmerman
Relaunching our Leader Training virtually, and welcoming 8 new leaders into our community
Announcing our year-round Black Writers Program
Continuing to in-person workshops and events with Sunday Rituals (a workshop for queer BIPOC writers), our public workshop at Brooklyn Public Library, summer youth workshops in Prospect Park, and Writing Aloud
Debuting our "This is What A Writer Looks Like" merch
Celebrating our anniversary with a fundraiser and party at Pen + Brush gallery
If you've attended an NYWC workshop or reading and heard a piece that left you stunned, or if you've written with us and consider us to be one of your writing homes, a donation is a great way to let us know that our work impacted you.
Moving forward, we are hard at work developing a strategic plan that will guide us into the next phase of NY Writers Coalition. In particular, we're exploring how we can sustain the powerful virtual programs we've developed during lockdown, expand upon the success of our Black Writers Program, and use lessons learned during the last few years to deepen and enrich our in-person Outreach Programs. We are also going to increase our presence in New York City through more public workshops and events, and become even more accessible to more people.
We will be reaching out to our community in early 2023 to invite your input on our plans. We're poised to bring our writers' work out of the shadows and challenge elitism in the literary world so that our slogan "This Is What A Writer Looks Like" applies to everyone who puts pen to paper.
Thank you again for making NYWC the community that it is, and for your year-end donation.
With affection,
NYWC