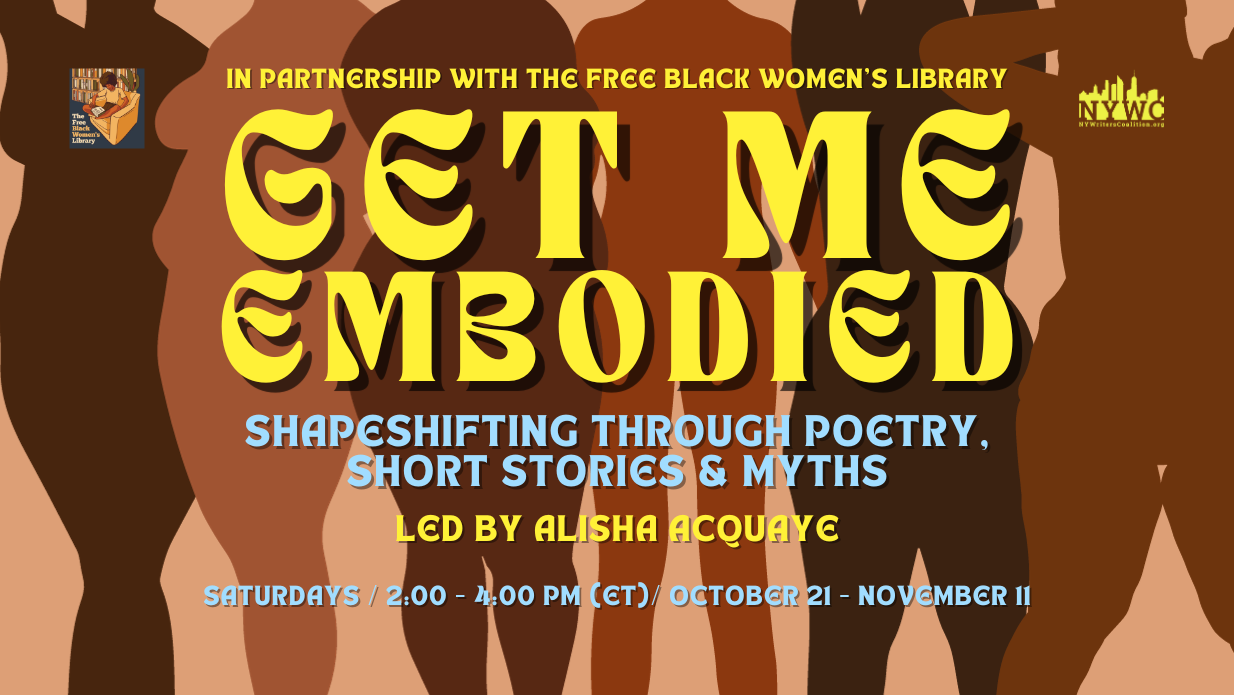 Get Me Embodied: Shapeshifting through Poetry, Short Stories, & Myths 
Dates: Saturdays, October 21 – November 11.
Time: 2:00 – 4:00 PM EDT
Location: The Free Black Women's Library in Bed-Stuy
This workshop is in partnership with The Free Black Women's Library.
What does shapeshifting mean as a Black femme? What spells are necessary to inspire more harmony between the body and soul, in a society that is at odds with the multiplicity of Black femme and nonbinary bodies? What does it mean to be self-possessed? This space investigates these ideas and so much more, through speculative literature from Black femme and nonbinary writers. Together we'll discuss enchanting works of art that challenge white, heteropatriarchal ideas around embodiment. We'll answer for ourselves what it means to reside in our bodies, how to expand our existences, and the endless possibilities of who—or what—we can become.
This workshop is open to Black femme and non-binary writers. We'll meet every Saturday afternoon at The Free Black Women's Library in Bed-Stuy (226 Marcus Garvey Boulevard, Brooklyn, NY ). The workshops take place from October 21st through November 11th at 2-4 p.m. and will end with a public, celebratory reading from participants on November 18th.
This is a DROP-IN workshop that will be capped at 25 participants per session. 
You must also identify as a Black writer to take this workshop. If you are not a Black writer, please do not register.
Registration for this first-come, first-served workshop will open soon on Eventbrite. The registration link will be posted on our website and be sent out through the Black Writers Program newsletter, so make sure you've subscribed. Questions? Email us at bwp@nywriterscoalition.org.
Registration opens on Friday, October 6 at 12PM EDT*
*Registration will open on a weekly basis. The first day to register will be 10/6 at 12pm (EDT). Afterwards, registration will take place at 3pm (EDT) on Thursdays.
ABOUT THE LEADER

Alisha (she/they) is a creative writer, poet, workshop bae and community organizer from Brooklyn, NY. Alisha is immensely inspired by community care, mutual solidarity, Black creative expression, and the power of queer BIPOC healing. Their art contemplates Black femme pleasure and joy, time travel, shape shifting, ancestral magic and infinite healing.
Alisha's work is in Catapult, Carve magazine, Teen Vogue, Allure, Airbnb.org and more platforms. She is the proud recipient of NYSCA's 2023 Support for Artists Grant, which uplifts her writing her first book, and her work as lead teaching artist at NY Writers Coalition. As a teaching artist, she curates loving and imaginative writing spaces for Black writers to explore different realms within themselves through the power of world building, poetry and imagination.
ABOUT THE FREE BLACK WOMEN'S LIBRARY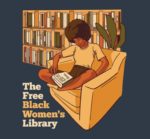 The Free Black Women's Library is a grassroots social art project that centers on and celebrates the brilliance, creativity, and diversity of Black women and Black non-binary writers, artists, and scholars from all over the world. Their Reading Room features a collection of over 5,000 books and is located in Bedford-Stuyvesant, Brooklyn. This literary hub, social site, and community care space offers free public programs in the form of workshops, film screenings, presentations, cultural conversations, and performances, as well as a space to read, write, work, rest, and daydream.
All are welcome to join their virtual reading club, and book swap sessions. Visit their website at freeblackwomenslibrary.com to learn more. Follow them on Eventbrite to learn of upcoming events. Join the community via Instagram @thefreeblackwomenslibrary.