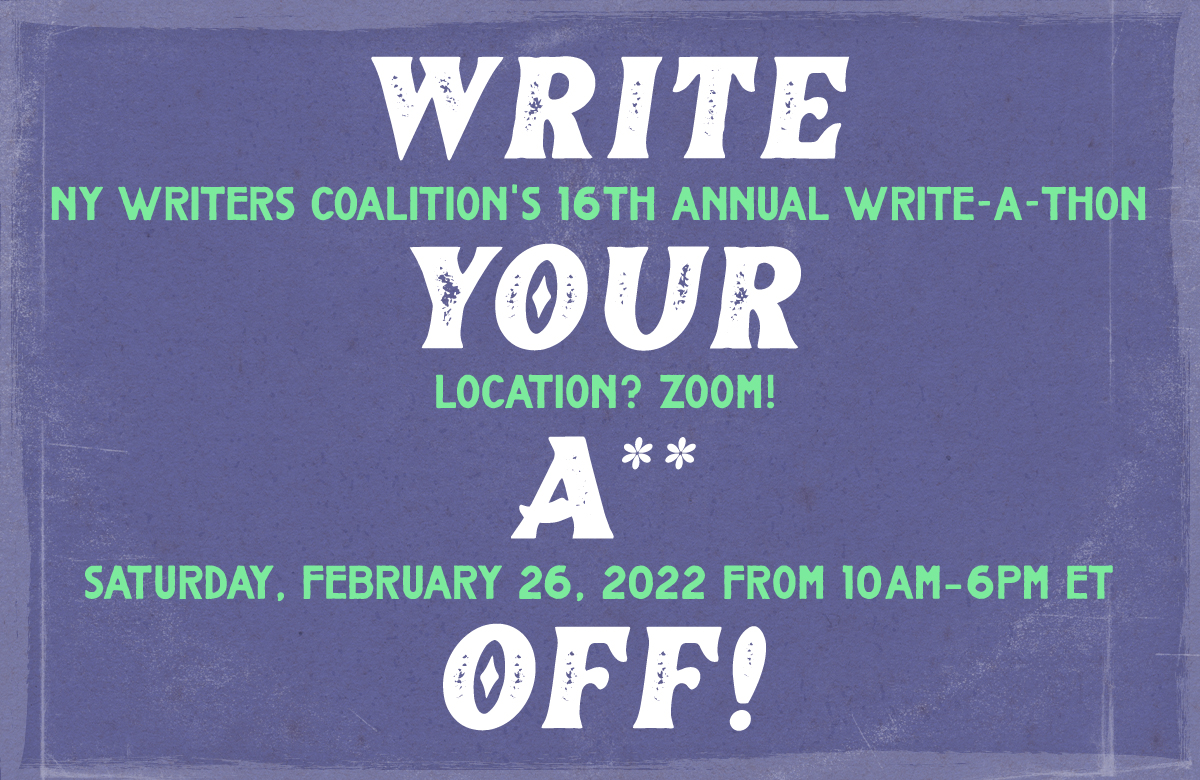 Join us on Saturday, February 26th for NY Writers Coalition's 16th-annual NYWC Write-A-Thon!
Write-A-Thon will be entirely virtual again this year—but that doesn't mean you can't write with others. This year's event will be an eight-hour goodie bag of craft and prompt-based writing workshops, plus a keynote conversation with Madeleine George, a 2014 Pulitzer Prize finalist (The (curious case of the) Watson Intelligence) and writer on the hit Hulu show Only Murders in the Building. Click the button below to view our schedule for the day and purchase your ticket!
What is Write-A-Thon?
NYWC's Write-A-Thon is a daylong writing event featuring dedicated space and time to write with others, generate new work, delve into the specifics of craft, and hear an inspirational keynote talk.
There are two ways to join: 1) buying a ticket outright for $100 (see the sidebar on the right) or 2) creating your own fundraising page and raising money from friends and family who want to support your day of writing. Once you've purchased your Write-A-Thon ticket or met your $100 fundraising goal, your spot will be confirmed. NYWC staff will then follow up with a link to sign up for your specific workshops; workshop registration will open on Wednesday, February 16th. (Participants who raise $200 or more will receive free NYWC merch! Stay tuned for more details.)
Workshops will occur simultaneously, so each participant will have the option of signing up for ONE traditional NYWC workshop—and then attending as many of the other programming events that day as they like.
What does this year's Write-A-Thon schedule include?
Traditional NYWC Workshops: NYWC's traditional workshops are generative, prompt-based opportunities for writers of all genres and levels of experience to flex their creative muscles. During each two-hour workshop, the facilitator/teaching artist will provide a prompt, give participants a set amount of time to write, and then invite them to share their new work. Each workshop will be capped at 10 participants and every Write-A-Thon participant will be able to sign up for one of these workshops at 10:30 a.m. ET, 2:30 p.m. ET, or 3:30 p.m. ET.
Craft Workshops: Looking for guidance on specific topics while still generating new work? These craft workshops will feature craft talks from experienced writers and teaching artists on specific genres. Even better, every participant will leave having generated either new work and/or a concrete action plan to help them with existing work. These sessions will not have capped attendance.
Uncapped Writing Spaces: These spaces are perfect for writers seeking lots of inspiration and generating a ton of new writing. In each session, the workshop facilitator will periodically share a new prompt and give participants time to write. After each round, a few volunteers will read. These sessions will not have capped attendance.
Keynote Conversation: This year's keynote speaker is Madeleine George! George's play The (curious case of the) Watson Intelligence was a finalist for the Pulitzer Prize for Drama in 2014. In 2016, she won the 2016 Whiting Award for Drama; and more recently, wrote for the hit Hulu series Only Murders in the Building.
Can I donate to support someone who can't afford to attend?
Yes! As a social justice organization committed to bringing the power of creative writing to everyone, we want to make this event as accessible as possible.
If you'd like to pay it forward and help another person attend for free, view the sidebar on the right to donate—and then email us as soon as possible at writeathon@nywriterscoalition.org to let us know your purchase is going toward a Write-A-Thon sponsorship.
If I can't afford to attend, how can I join?
Email writeathon@nywriterscoalition.org to apply for a scholarship. Please include your name, contact information, and any information about your previous involvement with NY Writers Coalition.
A limited number of comped tickets will be issued, and priority will be given to prior NYWC participants from underserved communities. The deadline to request a scholarship is Saturday, February 19; scholarship recipients will be notified by Monday, February 21.
New to NYWC? Here's a bit about who we are and what we do.
NY Writers Coalition (NYWC) is a Brooklyn-based 501(c)3 not-for-profit organization. We launched in 2002 and are now one of the nation's largest community writing organizations. Each year, we provide more than 1,000 free creative writing workshops for people not heard from often enough in our society. Our workshop members include youth, people with disabilities, court-involved and incarcerated individuals, seniors, women, LGBTQ communities, people in recovery, and many others. We are unique in the breadth and scope of our work and have been a model for other organizations bringing the power of creative writing to those in need.
Immediately after the global pandemic forced us to curtail our in-person programs, NYWC stepped into the virtual space and began to provide free workshops that extended our hallmarks of connection, community, and creativity to those sheltering in place. We've since re-launched about 30% of our outreach workshops virtually and created new workshops for those from underserved communities—most notably our Black Writers Program, a high-quality series of workshops, panels, and craft talks for Black writers of all backgrounds, at all levels of experiences—at no cost to participants.
What do the funds at Write-A-Thon support?
2022 is NYWC's 20th anniversary! We have provided free community-based (and now, virtual!) creative writing workshops to participants for two decades. All Write-A-Thon funds will support our ongoing work of providing more—and more in-depth—workshops and programs to the public, particularly underrepresented and marginalized writers. We have big ambitions for the future but want to ensure that our workshops remain accessible to all. Your contributions will help us sustain, and grow, our work as we move forward.