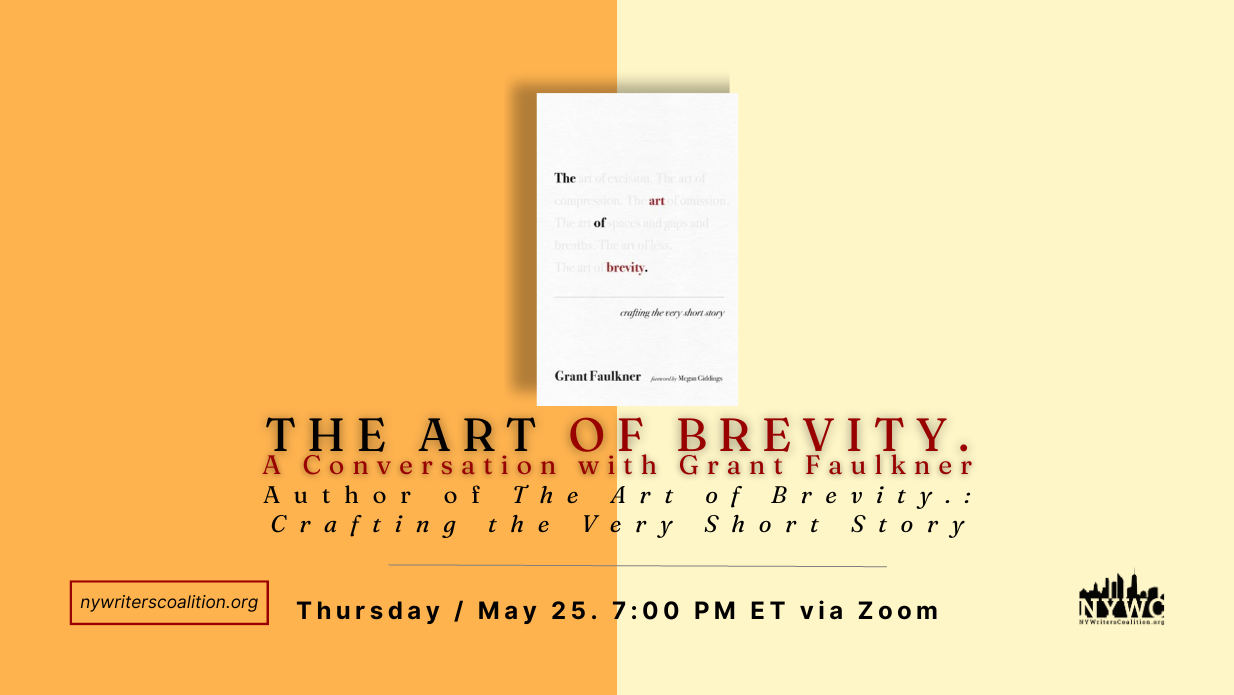 If you've written in a NY Writers Workshop or other generative sessions, you probably have *lots* of short pieces you're wondering what to do with. Sure, some of those small gems might be expanded into longer stories—but they might also be perfect little experiences as they are. Why not turn them into short-shorts or flash fiction? 
Join NYWC's Founder and Executive Director Aaron Zimmerman on Thursday, May 25 at 7 p.m. ET for a virtual conversation with Grant Faulkner, the Executive Director of National Novel Writing Month (NaNoWriMo) and author of THE ART OF BREVITY, about crafting compelling short fiction. They'll explore the ins and outs of this sometimes neglected form—and will even host a brief flash fiction writing exercise before taking questions! You'll leave with a greater understanding of how flash fiction works and how to create your own 100-word masterpieces. 
Purchase The Art of Brevity through NYWC's Bookshop to get your own copy and support our work in the process!
Thursday, May 25 / 7:00 PM (ET) via Zoom
Grant Faulkner is the Executive Director of National Novel Writing Month (NaNoWriMo) and the co-founder of 100 Word Story. He recently published The Art of Brevity: Crafting the Very Short Story. He's also published Fissures, a collection of 100-word stories; All the Comfort Sin Can Provide; Nothing Short Of: Selected Tales from 100 Word Story; and Pep Talks for Writers: 52 Insights and Actions to Boost Your Creative Mojo. Grant's stories have appeared in dozens of literary magazines, including Tin House, The Southwest Review, and The Gettysburg Review, and he has been anthologized in collections such as Norton's New Micro: Exceptionally Short Fiction, Flash Fiction America, Best Small Fictions, and Best Microfiction. His essays on creativity have been published in The New York Times, Poets & Writers, Literary Hub, Writer's Digest, and The Writer.
Find Grant online on Facebook, Twitter, and Instagram. Listen to his podcast Write-minded and subscribe to his newsletter Intimations: A Writer's Discourse.