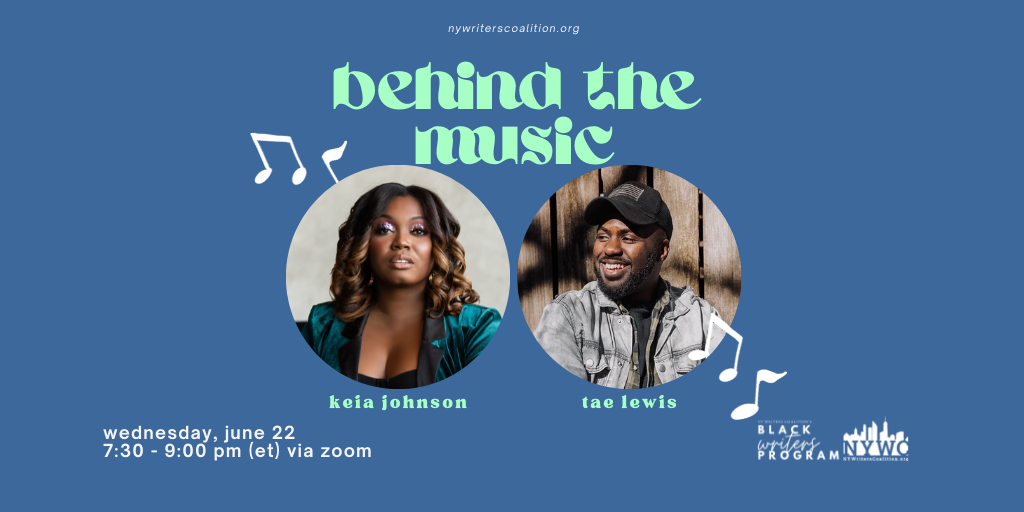 BEHIND THE MUSIC with Keia Johnson and Tae Lewis
Have you ever wondered how your favorite songs were written? For writers in other disciplines, song creation can be a bit perplexing: Does one start with lyrics that come from life's inspirations and then devise a rhythm, or do gripping melodies birth matching lyrics? In this panel discussion, talented musicians Keia Johnson and Tae Lewis will delve into the magic of music-making.
*Wednesday, June 22 | 6:30 – 8: PM (CT) / 7:30 – 9 PM (EST)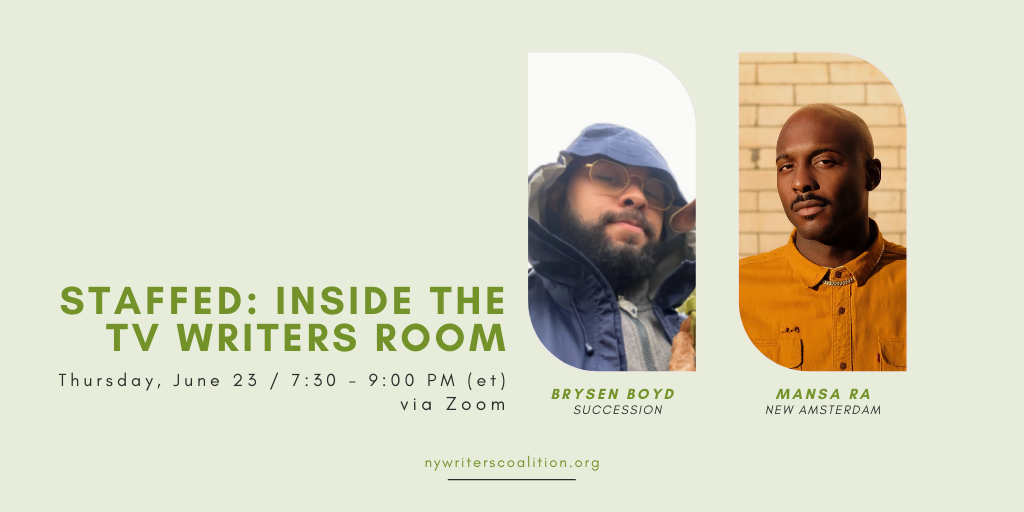 STAFFED: Inside the TV Writers Room with Brysen Boyd and Mansa Ra
Being in a "golden age" of television not only means there is a glut of shows for viewers, but that there are many ways to make it into a TV writers room if you want to work behind the scenes. Want to know what it's really like to help create the programming that keeps us all glued to our screens?
Join writers Mansa Ra (New Amsterdam, NBC) and Brysen Boyd (Succession, HBO) as they discuss their pathway to and experiences in the writers room. They'll share what it's like to keep up with the pace of TV today, the process of pitching ideas, what it's like to write collaboratively, writing a drama for cable versus network TV, and much more.
Moderated by Calley Anderson (former Showrunner's Assistant on One of Us Is Lying, Peacock).
*Thursday, June 23 | 7:30 – 9 PM (EST)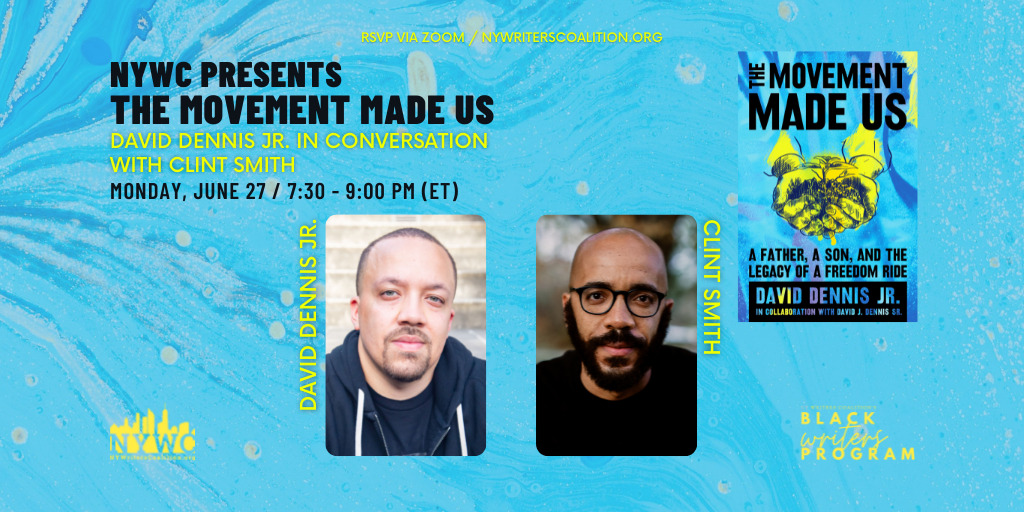 NYWC PRESENTS THE MOVEMENT MADE US: David Dennis Jr. in Conversation with Clint Smith
A dynamic family exchange that pivots between the voices of a father and son, THE MOVEMENT MADE US by David J. Dennis, Jr. and David J. Dennis, Sr.is a unique work of oral history and memoir, chronicling the extraordinary story of the Civil Rights Movement of the 1960s and its living legacy embodied in Black Lives Matter. David Dennis Sr., a core architect of the movement, speaks out for the first time, swapping recollections both harrowing and joyful with his son, David Jr., a journalist working on the front lines of change today.
Taken together, their stories paint a critical portrait of America, casting one nation's image through the lens of the unique relationship between two individual Black men. Playful and searching, anxious and restorative, fearless and driving, this intimate memoir features scenes from across David Sr.'s life as he becomes involved in the Movement, tries to move beyond it, and ultimately returns to it to find final solace and a new sense of self—revealing a survivor who travels eternally with the ghosts of friends long gone.
A crucial addition to Civil Rights history, The Movement Made Us is the story of the hopes, struggles, setbacks, and triumphs of modern Black life and a nation reckoning with change. This is it: the extant chronicle of why we live, why we move, and what we are made for.
NYWC's Program Manager Calley Anderson will host. There will also be a brief Q&A.
You can purchase THE MOVEMENT MADE US through NYWC's affiliate link on Bookshop.
*Monday, June 27 | 7:30 – 9 PM (EST)
BLACK WRITERS PROGRAM WRITE-IN
The Spring 2022 Black Writers Program will end the way it began: writing in community! Black writers of all genres and levels of experience are invited to write and share work in response to optional prompts. This write-in will be hosted by NYWC's Program Director Timothy DuWhite. Space is unlimited and we look forward to experiencing the collective power of our voices. (You do not have to have participated in prior BWP workshops to attend.)
*Saturday, June 25 | 11:00 AM – 1:00 PM (EST)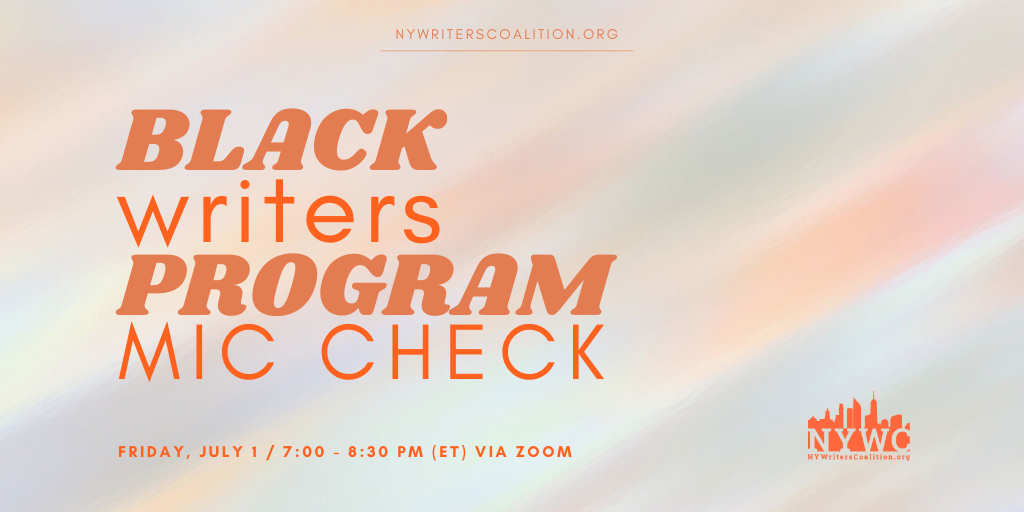 BLACK WRITERS PROGRAM MIC-CHECK
NY Writers Coalition (NYWC) is giving our Spring 2022 Black Writers Program participants and leaders the opportunity to share writing they've created in our virtual workshops with the NYWC community—and the public. Come out and support them as they approach the virtual mic! Each reader will share for roughly three minutes. Click the button below to register as a non-reading guest
*Friday, July 1 | 7:00 – 8:30 PM (EST)