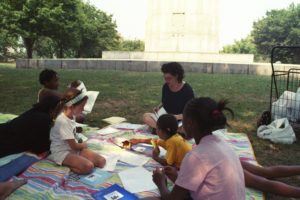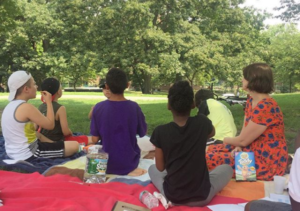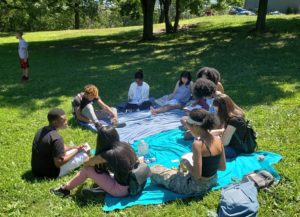 NYWC is celebrating its 20th anniversary this year, and we're excited to share photos from our archives and the stories behind them. This week we're highlighting our Summer Youth Program, which started in 2005 in Fort Greene Park, Brooklyn. Below, Founder and Executive Director of NY Writers Coalition Aaron Zimmerman takes us through the history of our Summer Youth program and its significance to our organization.
There is a long tradition of writers making Fort Greene their home. Walt Whitman lived in the neighborhood in the mid-19th century and was instrumental in the creation of Fort Greene Park—where Richard Wright wrote part of Native Son. Pulitzer Prize-winning poet Marianne Moore spent nearly 40 years in Fort Greene, and in more recent years, the area has become an enclave for numerous contemporary writers, including Jennifer Egan and Jhumpa Lahiri.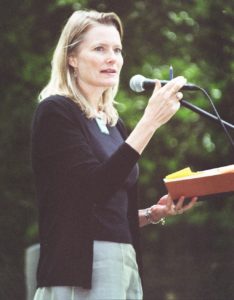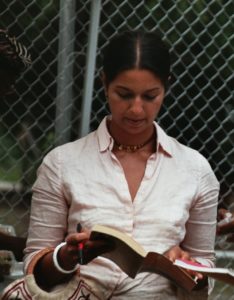 In 2004, NYWC moved from being run out of the homes of volunteers to 80 Arts, a newly-opened office building in Fort Greene for non-profit arts organizations. While we knew the opportunity was an exciting one, we also recognized it as the beginning of a sort of cultural gentrification plan for the neighborhood, with a lot of talk about creating a new "Cultural District." We were cautious about this concept, knowing that there was already a vibrant cultural history in this part of Brooklyn. Our goal was to support existing traditions—not to replace them in any way.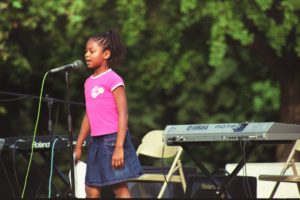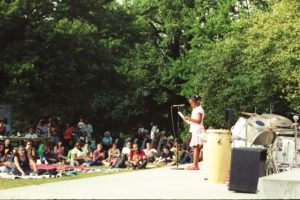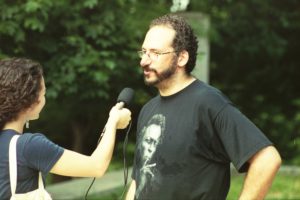 As we looked for opportunities in the area to do just that, we met with Fort Greene resident Johnny Temple, the publisher/editor of Akashic Books. Johnny was involved in honoring the legacy of Richard Wright and is a huge proponent of the power of literature and community. At the time, he was also in the early stages of helping to create the Brooklyn Book Festival, which has become a major literary gathering.
Combining Johnny's vision for literary events in Fort Greene Park with our desire to provide free writing workshops for young people in the neighborhood, and partnering with poet, educator, and activist Angeli Rasbury and the Fort Greene Park Conservancy, we launched NYWC's Summer Youth Program. The program included six weeks of workshops for 7 to 18-year-olds, ending with a culminating event in the park, our Fort Greene Literary Festival (LitFest), in which our young writers read their work alongside literary stars.
The Summer Youth Program was our largest undertaking at that point—and an unqualified success. The workshops filled up fast, with about 70 young people writing together by age groups. It was deeply gratifying to see so many youths and their parents excited about creating literature, and our leaders' enthusiasm enhanced the experience: They incorporated the park environment into their prompts, taking kids on adventure walks before writing or having kids close their eyes and listen to the sounds around them.  Each week, we'd gather the notebooks, type up the writing, and give the printed versions back to the participants. We soon learned how much talent there was in our groups and just how much these young writers had to say.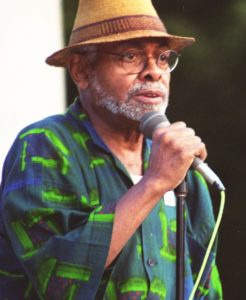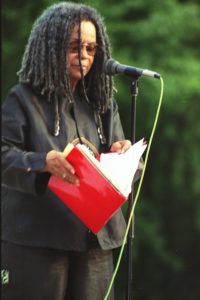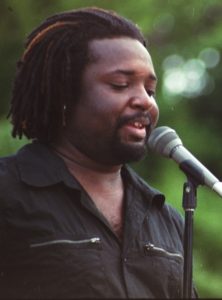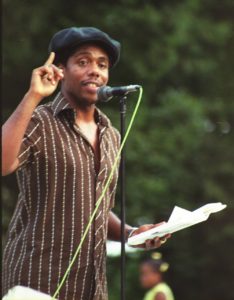 We were also thrilled that our participants would have the chance to share the stage with a slate of legendary writers. Our first LitFest readers included Amiri Baraka, Sonia Sanchez, Marlon James, and Carl Hancock Rux! Danny Simmons, a poet, painter, and one of the founders of Def Poetry Jam, served as our MC. The plaza around the famed monument in Fort Greene Park was completely packed.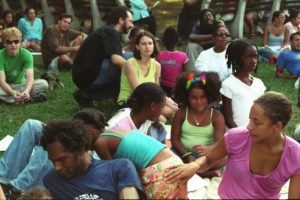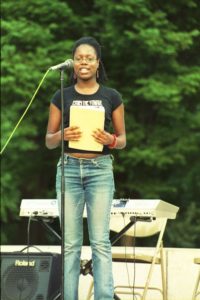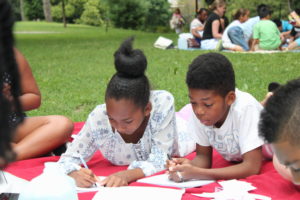 Over the years, the Summer Youth Program became our signature public program. Young people who wrote with us that first summer returned year after year, turning the first week of each summer cycle into a giant reunion. To this day, it has been incredible to see writers who nervously shared poems about basketball or cats at age 8 return with increasing confidence and share powerful pieces touching on love, family dynamics, social justice (and maybe a few more cat poems still thrown in for good measure). Workshop participant Najaya Royal was 7 years old when she joined our first summer. Michele Gilliam was 16 when she joined our teen group in the park; now she leads multiple online workshops with us at NYWC as part of our Black Writers Program and launched Pushing Through, a workshop with prompts that help us express ourselves during these difficult times. And we can't forget to shout out the Regist family, a group of FIVE talented siblings who all attended for many years.
There are so many young people who became like family to us—way more than we can name here. Many of our youth have gone on to have work published, performed, and earned degrees in Creative Writing. We know there are a ton of success stories we haven't heard, so if you participated in our Summer Youth Program, please reach out to us, say hi, and let us know what you've been up to and how we impacted you.
And please check out the years of great writing that have come through our workshops! In 2020, because of the pandemic, we held our Summer Youth Program virtually on Zoom. You can read some of the writing from that year in NYWC's Journal. In 2011, we published Making The Trees Shiver, a book-length anthology of writing from the first six years of the program. You can read a selected piece from that anthology below—and are also welcome to purchase a copy! 
Finally, if you share our commitment to the power of community and creativity, please consider making a one-time or recurring donation. Your support will help ensure that we keep providing free creative writing workshops for 20 more years.
Summer
Zselyke Tarnai, age 11


Summer
my summer
              is
like the laughter
             of roses
the wind rising then
slowly dropping
             the
sound of excitement
when my heart beats
it's like the thunder
             pounding its fists
on my door
Summer
             this summer
is slow and calming
like the sound of my
mom singing lullabies
            at night
            or
            the birds in the morning
Summer
           my
           summer is a whisper of joy.