Life Doesn't Frighten Me At All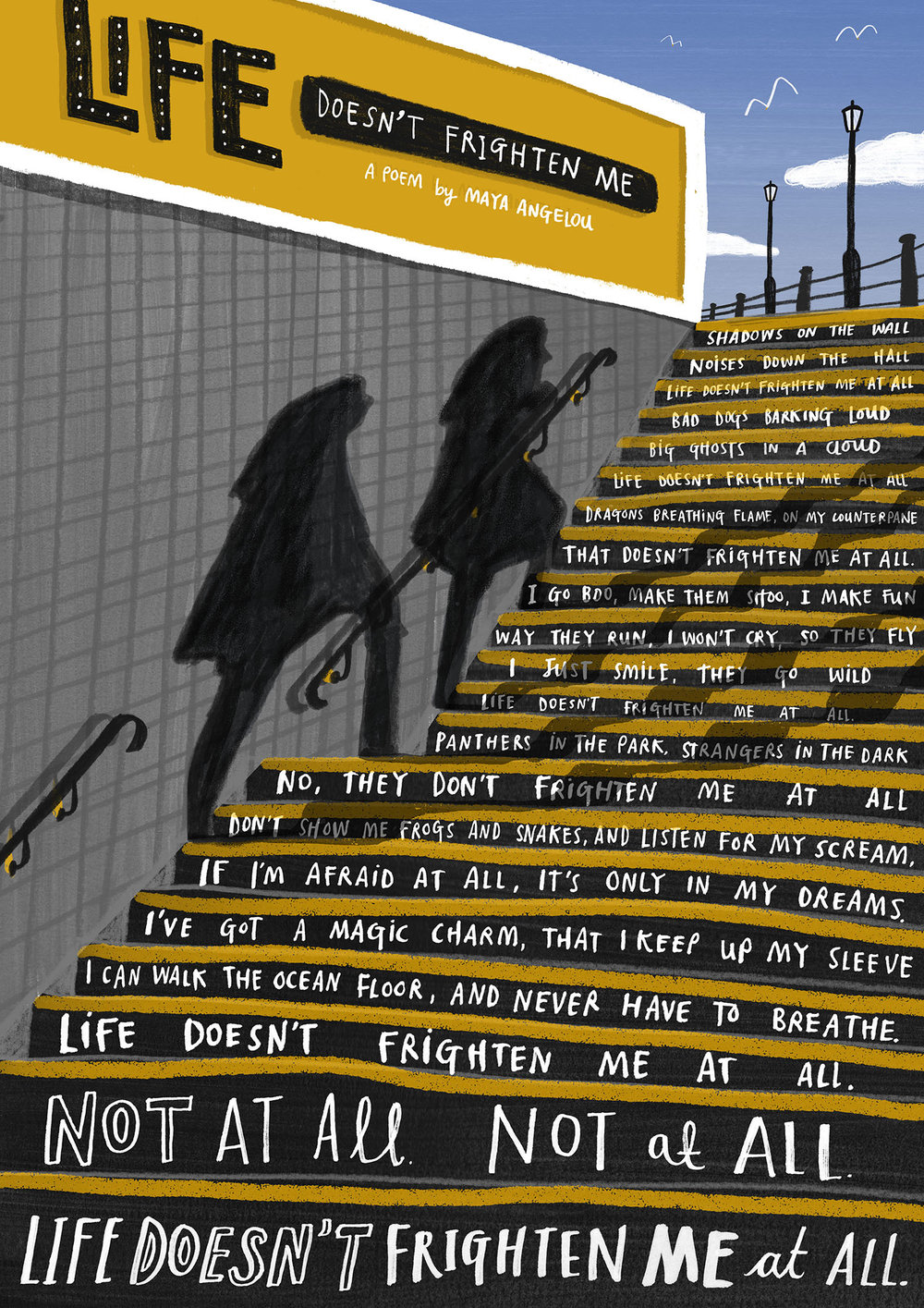 by Doris Weil
Sara was eight years old. She read this poem by Maya Angelou, a poet whom she respected and loved.
___But Sara was frightened. Her school had been shut down. Everyone in the street was wearing a mask even though it wasn't Halloween or Carnival or Purim. They stood apart from one another when they talked. Her parents wouldn't let her watch the news but she heard the ambulances screaming down the street and she knew something was wrong.
___What would Maya Angelou do in this situation? What advice would she give Sara?
___Maya had a magic charm up her sleeve.
___The only thing up Sara's sleeve was a skinny arm. Nothing up her other sleeve either. Maybe Maya would suggest that Sara also write a poem.
Sara's poem
Where is my magic charm?
What will keep me from harm?
Maya, I'm not strong like you.
What do you think I should do?
I know you're not near me
But can you hear me?
___Just then Sara felt a breeze, smelling of lavender, rub against her cheek. When she looked in the mirror she saw her own face, not Maya's, but it looked different. It was calmer than it had been for weeks.
___Sara folded up Maya's poem and put it up her sleeve.
Manuel
Manuel was considered small even for a Mexican boy. He was eight years old and lived with his parents and two sisters on an avocado farm.
___He was enrolled in a Catholic school. His family was poor but because he was so serious about his studies he was granted a scholarship. His mother was insistent that he go to school every day and study hard.
___He would wear his uniform; a starched white shirt and navy shorts. When he came home he would change into work clothes to help his father pick the avocados. He only had one uniform, which his mother washed in the evening and ironed in the morning.
___In December, his teacher, a nun, taught the children about the origin of Christmas. It was about a baby whose family was forced to travel to Bethlehem from Nazareth. He was born in a manger surrounded by animals because there was no room at the inn when his mother's labor started.
The teacher taught that three kings, guided by a star, came with expensive presents. But also, poor people came to see the child. They brought simple gifts; one boy gave the child his drum.
___Manuel wondered what he would have given this wondrous child if he had been in Palestine at the beginning of the first millennium. He couldn't afford to go to the local tienda to buy a gift.
___Then his whole face lit up as he realized what he would have brought: a basket of ripe avocados which the Holy Family could enjoy that evening for Christmas dinner.
A Bad Diagnosis
Even though she had half expected it, Maria gasped when her doctor gave her a life threatening diagnosis.
___He outlined a plan of treatment but she hardly heard it. "Later" she said to herself, "Later I'll process this."
___She went home, got into comfortable clothes and made herself a cup of tea.
___She had always thought about problems by talking out loud. "Okay" she said to her cat which was lurking about. "What does this mean? How does this make my life different?"
___"Of course," she continued, "I will have to make time for visits to the clinic. But what about the rest of my day-to-day activities?
___Maria knew people who, in this situation, had made frantic plans to do everything on their bucket lists. She knew others who turned inward and basically resigned themselves to the worst outcome.
___She sipped her tea and felt that she didn't have to make any decisions right away. She would wait and see how she felt after the regimen started.
___But she did make a promise to herself: "I'll try to figure out what's important to me to keep doing and which people I want to keep in my life. I won't radically change my activities. But perhaps I'll take a few more risks (not medical of course) and plan some adventures I've always wanted to do sooner than later.
___Maria felt much calmer as she made herself another cup of tea and cut herself a large piece of the cake on the kitchen counter.