9/10/2021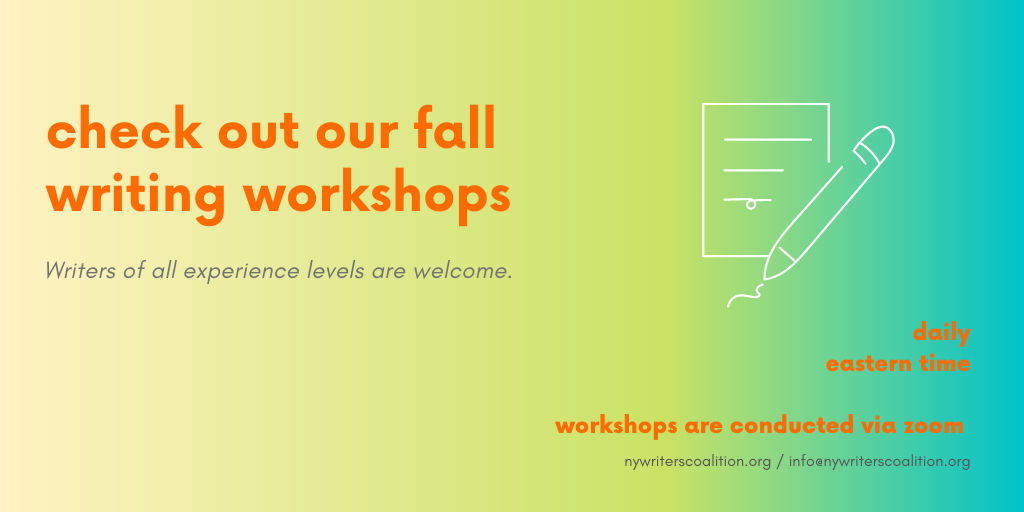 After a brief summer hiatus—which has given us the opportunity to regroup and reflect upon what the past year and a half meant to us and our community, in addition to what the future might look like—we're thrilled to say that we're back with our regular scheduled (virtual) programming.
Our workshops, however, will be looking a little different. Rather than the drop-in format we've previously offered, we are now going to be running our writing workshops in 6-week segments, with the same participants joining each week. This format will thus require a weekly commitment from each participant, and will allow each respective workshop to grow and flourish with its repeating members—as such, space in each workshop will be limited, so make sure you keep note of our sign-ups!
Please find our forthcoming virtual workshop schedule below:
Mondays (9/20 – 10/25) with Tim at 7 p.m.
Tuesdays (9/21 – 10/26) with Marcie at 10 a.m. & with John at 3 p.m.
Wednesdays (9/22 – 10/27) with Alison at 7 p.m.
Thursdays (9/23 – 10/28) with Tasha at 10 a.m.
Saturdays (9/18 – 10/23) with James and Marae at 2 p.m.
Sundays (9/19 – 10/24) with Marae at 10 a.m.
All times are in Eastern Daylight Time. All workshops will
operate once a week at the same time for six weeks, and
require a 6-week commitment from all participants.
Registration for the first half of these workshops (Monday-Thursday) will begin this Sunday, 9/19, at 8 p.m. Registrations for the second half of workshops (Saturday-Sunday) will begin on Wednesday, 9/15, at 8 p.m. (Please only sign up for one of the weekly workshops offered; if not, you risk being removed from them.)
Although writing workshops can often be expensive and exclusive, these workshops are pay-what-you-can, with suggested donations being $50, $25, or $0—whatever you feel comfortable with. Unable to make these times, or did a workshop fill up before you were able to register? Don't worry—after this 6-week period concludes, another cycle will start up.
Please click here to access our Eventbrite page. The first half of our writing workshop series (Monday-Wednesday) will appear there this Sunday, 9/12, at 8 p.m. et.