NYWC Workshop Leader Spring 2018 Cohort!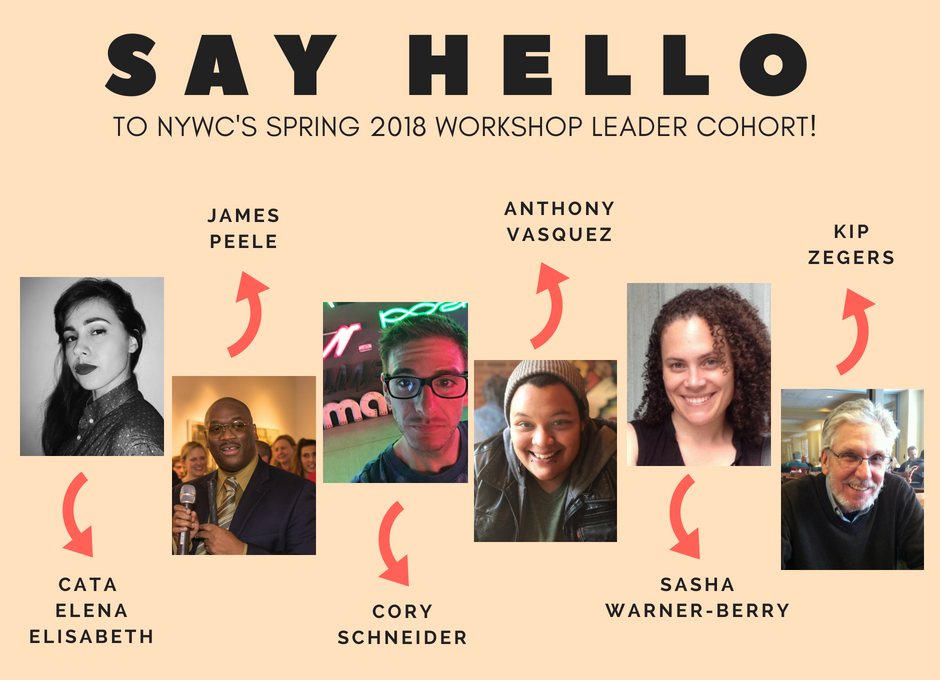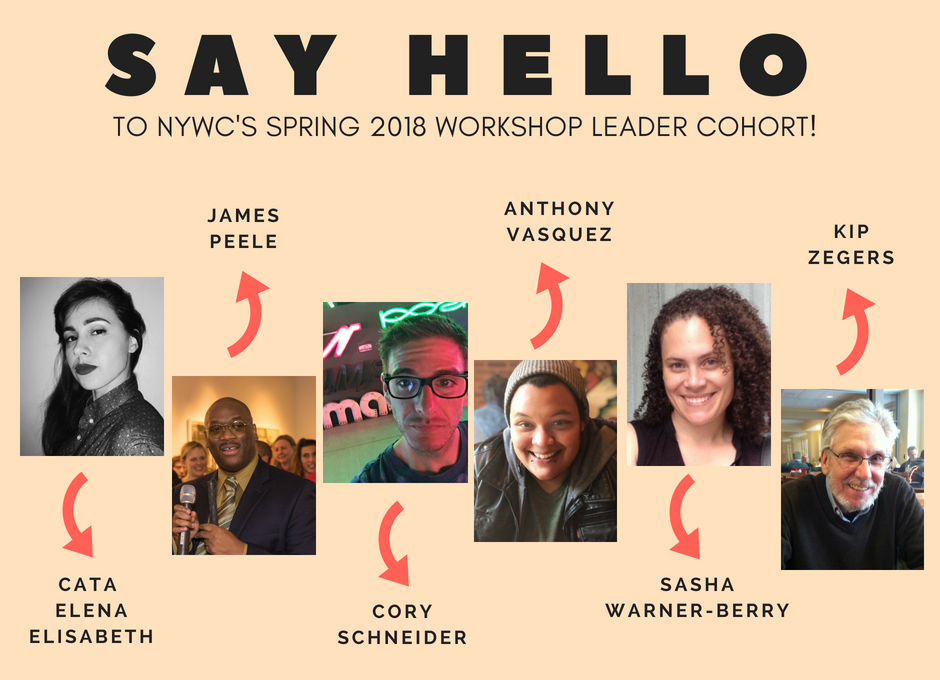 We're excited to welcome our Spring 2018 cohort to NYWC's workshop leader community: Cata Elena Elisabeth, James Peele, Cory Schneider, Anthony Vasquez, Sasha Warner-Berry, & Kip Zegers.
After an extensive interview process, these talented writers and activists were chosen for NYWC's spring training and are already getting to work facilitating our signature creative writing workshops in New York City. Meet NYWC's Spring 2018 Workshop Leader Cohort:
CATA ELENA ELISABETH is a mixed-race xicana queer from L.A., California. As a cultural producer, writer, and artist–Cata believes in the power of visionary fiction, as described by Walidah Imarisha, to change our world by challenging ourselves to create the world we want to see. Cata is also a passionate girls empowerment activist through a bike education group they launched called BiCi, which currently operates in Bushwick, NY.
JAMES PEELE has been a writer for over 10 years. He was a participant of NYWC workshops for six years before becoming a workshop leader himself. The author of After an Eon, a collection of short stories, James is currently working on the second part: After an Eon and Beyond. He is also working on a cookbook with his sister and is collaborating with a fellow Andrew Heiskell Library participant on an action novel. As a visually impaired writer James believes that if he can do it, everyone can. He considers himself an enigma wrapped in a riddle, as an author who cannot read or write. James lives in Brooklyn, NY.
CORY SCHNEIDER is a teacher and writer living in Brooklyn. By day, he teaches middle school English in Manhattan. By night (or weekends…or whenever), he writes short fiction and personal essays. He's worked in the social justice space of education for several years, developing programming that helps students and schools build partnerships with nonprofit organizations. In a previous life, he worked in publishing. Since then, he realized he's better off writing books and not editing others'.
ANTHONY VASQUEZ is a Brooklyn native and self-employed dog walker. When he isn't busy spending time with his furry pals, he enjoys a good brisket sandwich, writing poetry, and trying the latest DIY project.
SASHA WARNER-BERRY is a poet and fiction writer from Cambridge, MA. She has a background in community organizing and adult education, and currently works in hospitality. She lives in Brooklyn, NY.
KIP ZEGERS is from Chicago, educated at John Carroll University and Northwestern University. He was a VISTA volunteer living and working in Central Harlem from 1966-67 and then attended Union Theological Seminary, applied for and received Conscientious Objector status.He has published four full length volumes and six chapbooks, most recently The Poet of Schools, Dos Madres Press, 2013 and The Pond in Room 318, Dos Madres, 2015. He taught at Hunter College H. S., a public high school for gifted students, for 33 years, and his work continues to grow out of New York City, school, and kids.
Think you'd like to join NYWC's ranks as a Workshop Leader?
Learn more about the position here – and sign up for our newsletter
to receive updates and alerts about NYWC's upcoming Fall 2018 Workshop Leader Trainings.