NYWC Workshop Leader Winter 2018 Cohort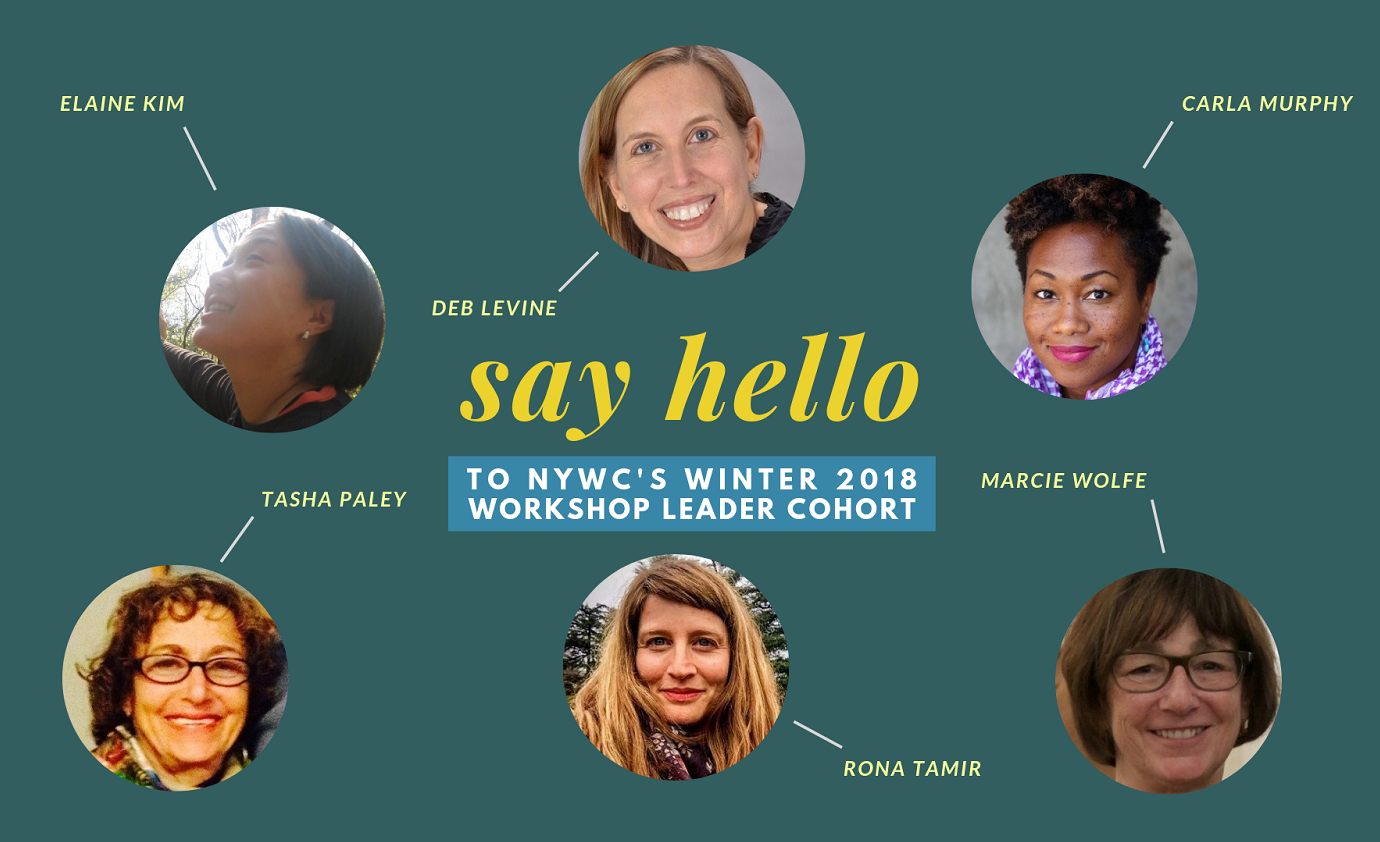 We're excited to welcome our Winter 2018 cohort to the NYWC Workshop Leader Community: Elaine Kim, Deborah Levine, Carla Murphy, Tasha Paley, Rona Tamir & Marcie Wolfe.
After an extensive interview process, these talented individuals were chosen for NYWC's Winter training and will be getting ready to facilitate our signature creative writing workshops in New York City soon. Meet NYWC's Winter 2018 Workshop Leader Cohort:
ELAINE H. KIM is a queer Korean American fiction writer born and raised in the Midwest. She won a Fulbright Foundation Research Fellowship Grant to South Korea, and has won grants from the New York Foundation for the Arts and the Jerome Foundation. She's been a resident with the Lower Manhattan Cultural Council Workspace program; the Edna St. Vincent Millay Colony for the Arts, where she was a Wallace Reader's Digest Fellow; the Edward F. Albee Foundation; and the Blue Mountain Center. Kim's fiction has been published in Guernica, So to Speak and upstreet. Kim has taught writing at CUNY York College and SUNY Purchase and regularly convenes a women of color writing group. She has an MFA from Sarah Lawrence College and has worked as an organizer, trainer and director for various social justice organizations. Kim lives in Brooklyn with her partner and their twins and is at work on a novel, And You, the Living, Follow.
*****
DEB LEVINE's writing for children, adults, and everyone in between has appeared in books, magazines, and online. Her books include the middle grade novels "The Saturday Cooking Club #1: Kitchen Chaos" (Aladdin, 2015), "The Saturday Cooking Club #2: The Icing on the Cake" (Aladdin, 2015), "Love Miscellany" (Skyhorse, 2012), and "Parker Picks" (Simon & Schuster, 2002). Deb is also the head of content & marketing for the global education network, Teach For All, and and was the editorial director for Nickelodeon's award-winning website, Nick.com, for over a decade. She lives in Brooklyn with her husband, two kids, and two cats.
*****
CARLA MURPHY is a storyteller and intrepid social justice journalist who, for more than a decade, has been telling stories that explore the interconnections of race, class, status and power in low-income communities of color. Born in Barbados and educated in New York and London, she has reported in Haiti and the Haitian diaspora in the wake of the 2010 earthquake, tracked economic development and labor organizing in the US and abroad, reported on police violence long before it became a major headline, covering criminal justice policies in New York, Baltimore and other cities, and addressed race and class bias in the press. She has been a fellow of The Investigative Fund of The Nation Institute, a staff reporter for Colorlines.com and a producer for the talk radio host Brian Lehrer. Her work has appeared in The Nation, Columbia Journalism Review, The Chicago Reporter, The Christian Science Monitor, O and other publications. She is an editor for Echoing Ida, a project of Forward Together that aims to amplify non-mainstream voices of black women and non-binary writers in media.
*****
TASHA PALEY has participated in NYWC writing workshops since, as she puts it "I was knee high to myself!" She loves the power and joy of writing and sharing in a group, appreciates wholeheartedly the NYWC protocol; and writes plays, poetry, flash fiction, performance pieces, and just maybe, a future novella. She has also written and illustrated two children's books. Because she also thrives on acting, she is writing a solo show.
Tasha has worked as a creative arts therapist with all age groups, helpings others , along with herself, to find joy and healing through creative drama , writing, playfulness, and art.
Tasha is a member of Village Playback Theater which practices a form of improvisational theater that invites the audience to share their real life stories which are instantly woven into theatrical pieces using movement, spoken word, and music. The intention is to capture the heart of the story so that the audience can feel a sense of empathy and community with one another. Playback Theater, like NYWC, works especially with marginalized groups, honoring the stories of those folks who too often go unheard in the larger society.
Because Tasha is now retired she has time to travel and lives part time in San Miguel De Allende, MX. She is tickled pink to be a facilitator with NYWC!
*****
RONA TAMIR is an Israeli-born, Brooklyn-based screenwriter for TV and film, writing—mostly comedy— in English and in Hebrew. Before moving to the US, Rona was a staff writer on various political satire and sketch comedy shows on Israeli TV and hosted Israeli radio shows. As someone who by definition works alone, Rona cherishes every opportunity she gets to write alongside other people.
*****
MARCIE WOLFE is an educator who has written alongside adults and youth in a variety of settings including high schools, community-based programs, and universities. Formerly the director of the Institute for Literacy Studies at Lehman College, CUNY and writer of an endless number of reports, academic articles, grant proposals, and budgets, she is now somewhat retired and struggling to create mixed media art. Marcie is originally from Brooklyn, but since the 1990s her heart and home have been in Washington Heights.
Think you'd like to join NYWC's ranks as a Workshop Leader?
Learn more about the position here – and sign up for our newsletter
to receive updates and alerts about NYWC's upcoming 2019 Workshop Leader Trainings.