Let's have an (art) riot!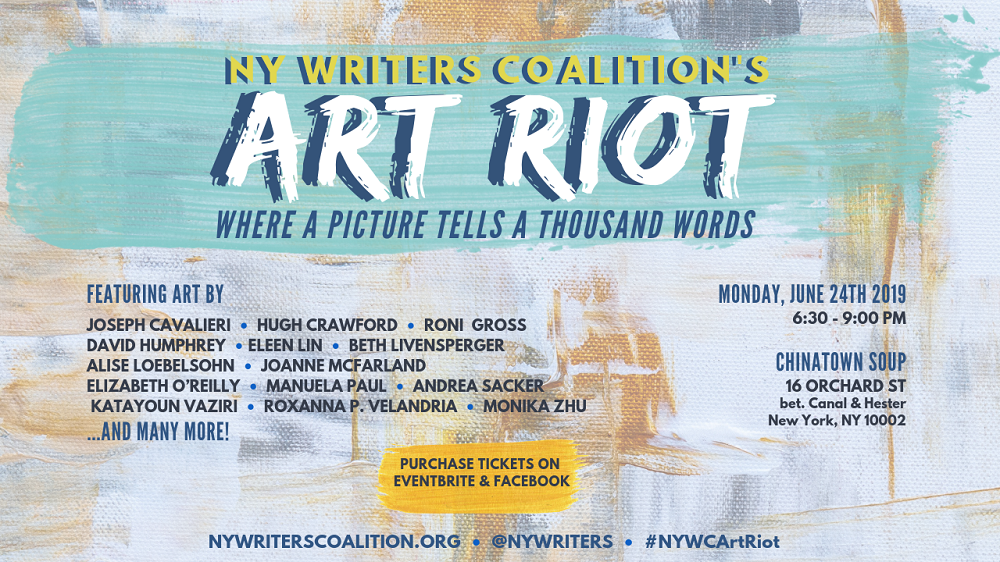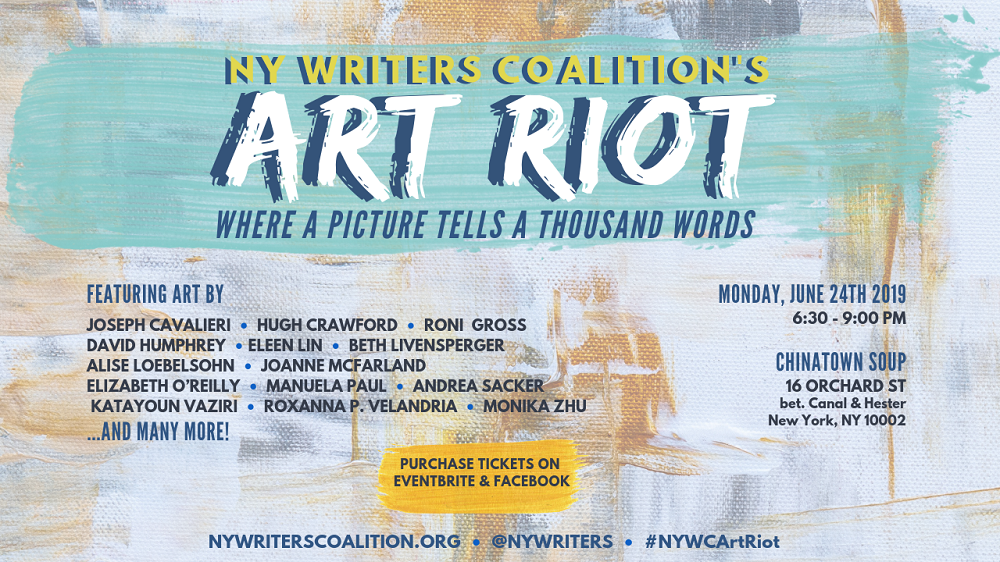 Buy a ticket. Get an incredible work of art. Support free creative writing workshops.
NYWC's Art Riot is an exhibition of donated artwork from renowned artists—with a twist! You'll get to explore the creative vision of artists in New York City, participate in a fundraiser that champions the written word as a form of art, and leave with a fantastic piece of art for just $300. All proceeds from the raffle will directly support NY Writers Coalition's free creative writing workshops, anthologies, and readings across the city.
How It Works
You will receive a random number upon arrival at Chinatown Soup. That will determine who picks a piece of art first, second, and so on. All of the art is worth at least $300 (and some much more), so you are guaranteed to win, no matter what your number is.
The artwork will be wrapped at the end of the night for recipients to take home. (Buyers must be prepared to leave with their purchase. At the moment, the largest artwork measures 30″x 22″.)
Doors open at 6:30 p.m.; the raffle begins at 7:30 p.m.
Tickets
Space is limited, so purchase your tickets as soon as possible! A minimum of 25 and a maximum of 30 pieces will be raffled off,
CLICK HERE to look at donated works of art
Ticket Options
Art Buyer ($300): Includes entry for one person, one artwork, refreshments, and an NYWC chapbook
Art Buyer + Guest ($325): Includes entry for two people, one artwork, refreshments, and one NYWC chapbook per guest
✫✫✫✫✫✫✫✫✫
When: Monday, June 24th from 6:30 – 9:00 PM
Where: Chinatown Soup (16 Orchard St between Canal & Hester)
✫✫✫✫✫✫✫✫✫
Purchase your ticket on Eventbrite or Facebook