Virtual Mic Check 4/16/21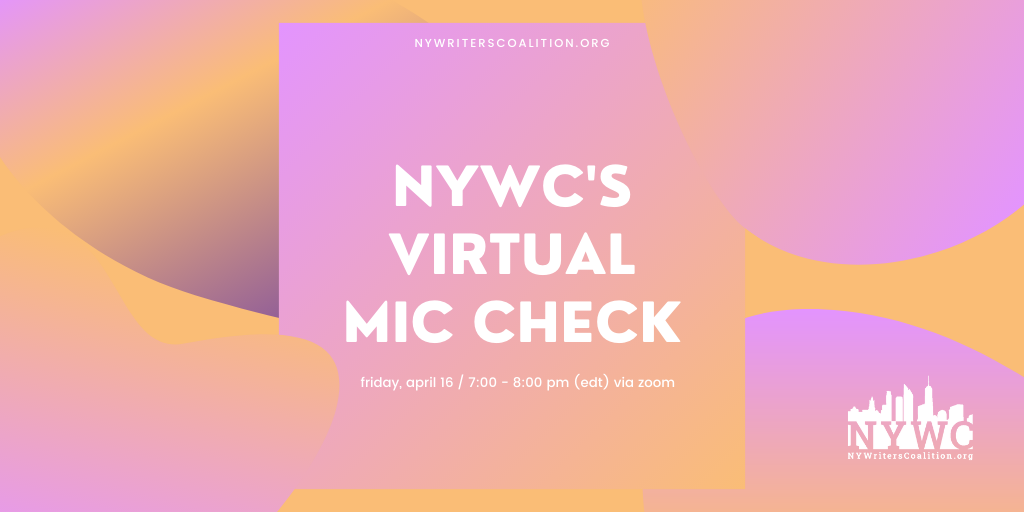 NY Writers Coalition (NYWC) is hosting a virtual open mic night on Friday, April 16, from 7 – 8 pm EST.
In the spirit of our mission, we're giving our workshop attendees and leaders the opportunity to share the writing they've created in our virtual workshops with the entire NYWC community—and the public!
To attend as a guest, register for the Zoom webinar, CLICK HERE
In our Mic Check events, workshop participants and leaders will have the chance to share what they've written with the public. Celebrated poet Jon Sands will be our MC for the night.
NY Writers Coalition work amplifies the voices of historically unheard and under-resourced individuals in our society; we welcome people of all backgrounds into our free virtual creative writing workshops. No writing experience is necessary, and writers of all levels of experience are welcome. In each workshop, participants write a piece in response to optional prompts provided by the workshop leader. NYWC's workshops are based on the Amherst Writers and Artists workshop method developed by Pat Schneider and are led by an experienced, trained workshop leader.