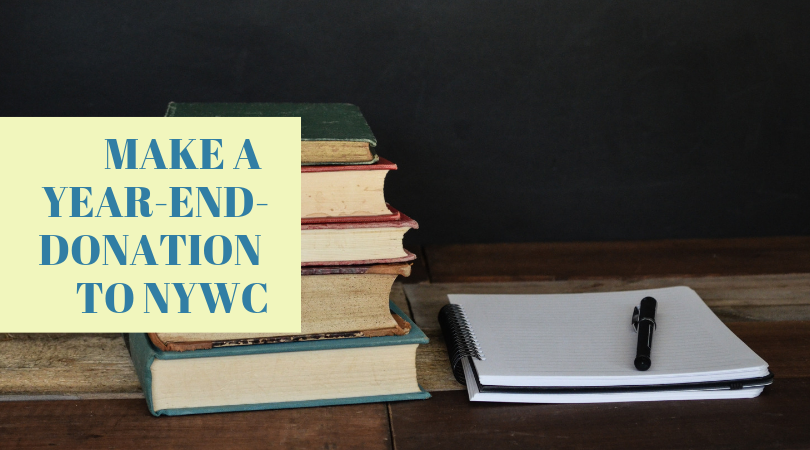 You may already know that NY Writers Coalition's community of writers comes from a wide range of backgrounds. But did you know that many of our workshop participants become leaders in the very same communities that inspired them to write in the first place?
More than 20% of NYWC's current workshop leaders are former workshop participants, and in the coming year, we will create more opportunities for our workshop members to lead groups and amplify their voices. This feels especially important in an age of demagoguery, stereotyping, and increasing income inequality. We hope you will support our efforts with a tax-deductible year-end donation.
Among our newest leaders is James Peele. James is a long-time member of the workshop at Andrew Heiskell Braille and Talking Book Library. He currently leads that workshop as well as one at VISIONS, a senior center for blind and low-vision New Yorkers.
James understands firsthand the barriers to a writing life that blind and visually impaired people can encounter, and he uses that knowledge to enhance workshops for other writers with disabilities.
Last year, with NYWC's support, James published his first book of short stories, entitled After an Eon, which was mostly comprised of pieces he wrote in workshops by dictating to volunteers. Now that James is a NYWC workshop leader, he nurtures the creativity of others twice a week.
Another leader is Micky Shorr, who told us that during her time as a participant at the Creative Center for survivors of cancer and other major illnesses, "I never felt as a participant that I had less authority than the leader. It encouraged me to self-publish a chapbook; it really got me writing again. So my primary goal right now is to encourage people to write."
That sense of shared ownership in this community is something we've heard from other participants-turned-leaders like James and Micky — and it's due to the trust and respect of their fellow writers, as well as the financial support that comes from our larger community of partners, donors, fundraisers, and lovers of writing like you, that we're able to make that happen.
Your donation keeps our programs strong and our participants confident in their own voices and power through the art of creative writing. To contribute, please donate below.
Thank you again for being part of our community.
Yours,
Aaron Zimmerman
Founder and Executive Director
**********
Click here to read our post with workshop participant turned leader, Barry Blitstein
Click here to read our post with workshop participant turned leader, Janet Stephens
Make A General Contribution
---
Our Programs
Below is a list of our outreach workshop program areas. You can find a full listing of all of our outreach workshop sites here, organized by program.
If you choose to donate to a specific program, we'll keep you updated on special news and events from that program. If you give $50 or more over a one-year period, you'll also receive free copies of any new publications released in that program for a whole year after your donation! Consider it like a subscription! Most importantly you'll be helping to support the artistic expression of all the workshop participants who frequent these programs.
And if you choose to give a general donation, don't worry! Give $50 or more over a one-year period and we'll send you a free NYWC Press publication as well.
Criminal Justice Program
Health & Wellness Program
Homeless & Formerly Homeless Writers Program
LGBTQ Writers Program
Women & Girls Program
Youth Writers Program
Giving Levels
Check out all the different bits of community greatness your donation to NYWC can bring!
We offer four different giving levels (what level you're at depends on how much you've given during any calendar year) that givers are able to donate into through one-time contributions, monthly giving, yearly giving, or donating to one of our NYWC events or fundraising drives.
Each level gets you a free NYWC tote bag and mentioned as one of our supporters in NYWC publications and on our website.
Dickinson Level Contributor: $50 – $250
Covers the cost of supplies at one of our workshop sites.
Baldwin Level Supporter: $250 – $1,000
Woolf Level Donor: $1,000 – $5,000
Supports about 20 sessions at one of our workshop sites.
Shakespeare Level Patron: $10,000 & Up
Sponsors an entire workshop site for one year.
Supports our bi-yearly workshop facilitator trainings
And remember you can always mail a check, if you prefer, to:
NY Writers Coalition
80 Hanson Place #604
Brooklyn, NY 11217