Winter 2022 Writing Workshops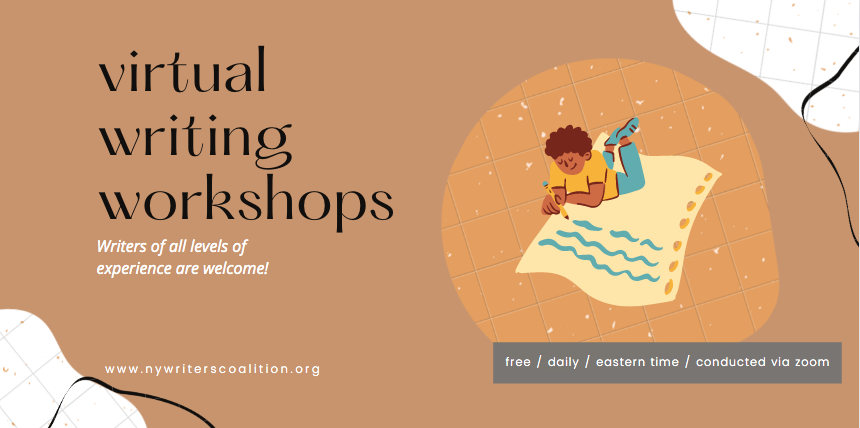 Our next workshop cycle is beginning Monday, January 24th!
We are continuing to run our writing workshops in our 6-week segment format, with the same participants joining at the same time each week, for all six weeks. This format thus requires a weekly commitment from each participant, and will allow each respective workshop to grow and flourish with its repeating members—as such, space in each workshop will be limited. Stay in the loop about workshop updates by signing up for our newsletter or by visiting our Eventbrite page here.
To learn more about this workshop format, please click here.
┌━━━━━━━━━━━━━━━┐
Mondays (1/24 – 2/28) at 7 p.m. with Timothy
Tuesdays (1/25 – 3/1) at 10 a.m. with Marcie
Wednesdays (1/26 – 3/2) at 7 p.m. with Alison
Thursdays (1/27 – 3/3) at 1:30 p.m. with Tasha
Saturdays (1/29 – 3/5) at 11 a.m. with Michael and at 2 p.m. with James & Marae
Sundays (1/30 – 3/6) at 10 a.m. with Marae
Workshops are two hours long and all times are in Eastern Time unless otherwise stated.
All workshops will operate once a week at the same time for six weeks and require a 6-week commitment from all participants.
┗━━━━━━━━━━━━━━━┛
Workshop registration will take place on Sunday, 1/16, at 8 p.m. and Wednesday, 1/19, at 8 p.m. Participants who were unable to join a workshop in our previous cycles will be given priority. Although writing workshops can often be expensive and exclusive, these workshops are pay-what-you-can, with suggested donations being $50, $25, or $0—whatever you feel comfortable with.
Sign up to our newsletter to get informed on when registration goes live in your inbox, by clicking here.