NYWC Summer Youth Program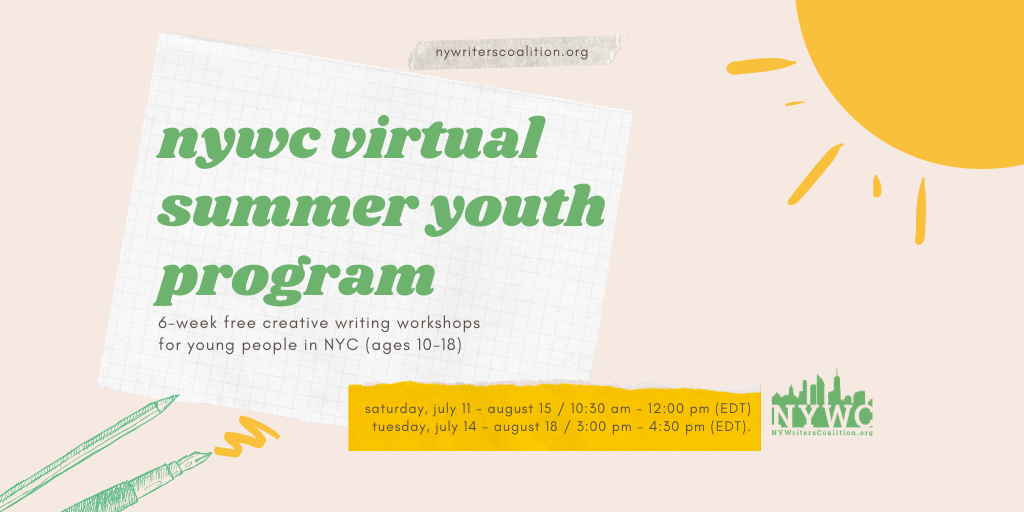 We're happy to announce our NYWC Virtual Summer Youth Program! We'll be offering a series of FREE creative writing workshops for New York City youths ages 10-18, but virtually through Zoom!
It will span for 6 weeks, with our first workshops starting on Saturday morning, July 11th. We'll have another set of workshops on Tuesday afternoons starting on July 14th. We do want to note that kids and teens will be divided into different groups.
SCHEDULE
Saturdays / 10:30 am – 12:00 pm / July 11th – August 15th
Tuesdays / 3:00 pm – 4:30 pm / July 14th – August 18th
Please also share this news, with anyone who may be interested. It's a great way to engage and encourage the creativity of kids and teens as they await the new school year.
At the moment we have reached capacity for the number of kids and teens to join. Sometimes there are participants who drop-out, which leaves spots open, so please fill out our form if you are still interested in having your child(ren) attend. This doesn't guarantee a spot, but we will email ASAP if a spot opens up.
Email us at summeryouth@nywriterscoalition.org regarding any questions.