A note on our summer programming …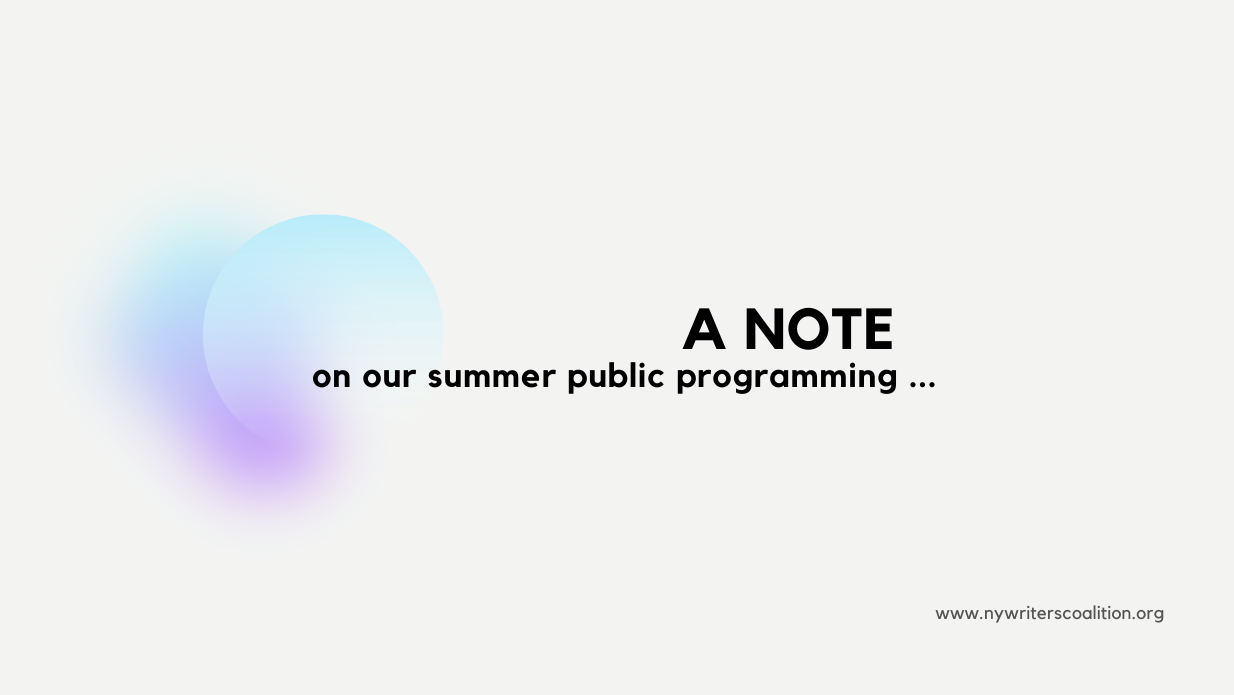 July 20, 2021
At the beginning of the pandemic in March 2020, NY Writers Coalition pivoted quickly to providing a robust schedule of online writing workshops; within two days of the NY State PAUSE order, we launched our very first virtual workshop, and since then, we have provided close to 1,000 online workshop sessions. We are incredibly proud of our work, of which so many of our participants have told us has been a lifeline through the isolation, uncertainty, and loss of the past year and a half.
As we turn our attention towards returning to in-person programming, we are writing to update you on NYWC's plans for the remainder of summer's virtual writing programs and beyond. Most notably, many of our programs throughout the month of August will be on hiatus—that is to say, not running. This will allow us to regroup from the last 18 months, and evaluate and revamp our current systems for administering our programs. We also will take time for much-needed reflection and planning for NYWC in a soon-to-be-post-pandemic world.
Below are more details about what to expect for the rest of our summer programming:
Virtual Public 

Programs

/

Summer

 Youth 

Program

 Hiatus: Our virtual public workshops will be on hiatus for the month of August. During the break, we will fine-tune our plan to continue these workshops as part of our permanent 

programming

. One of our intentions at the moment is to shift our workshop model from "drop-ins" model to multi-week cycles. This will help simplify our registration process and create schedules that will enable workshop members to plan in advance. Similarly, we will not be holding our signature 

Summer

 Youth 

Program

 this year. We look forward to our youth 

programs

 returning in-person next year.
Black Writers 

Program

 Drop-In Workshops: An exception to the above will be made for our Black Writers 

Program

 drop-in workshops. Thanks to the generosity of our GoFundMe donors, we are thrilled to be able to continue to provide BWP drop-in workshops throughout 

summer

. These workshops will be first-come, first serve and open to Black Writers of all genres and levels of experience. If you're interested, make sure to join our email list about the BWP.
Outreach Workshops: If you are a member of a virtual writing group that is targeted towards a specific demographic or a part of a partner organization (e.g. SAGE, CIDNY), your workshop leader will be in touch with you about your 

summer

 schedule. Some workshops may continue, whereas others may take a break for August.
We understand the importance of our virtual community that has emerged throughout the pandemic, and we intend to do all we can to ensure that it continues to be a space for creativity and connection for as many people as possible. We thank you for staying by throughout all this time, and stay tuned for more information regarding next-steps in late September!
---