Fall & Winter 2021 Workshops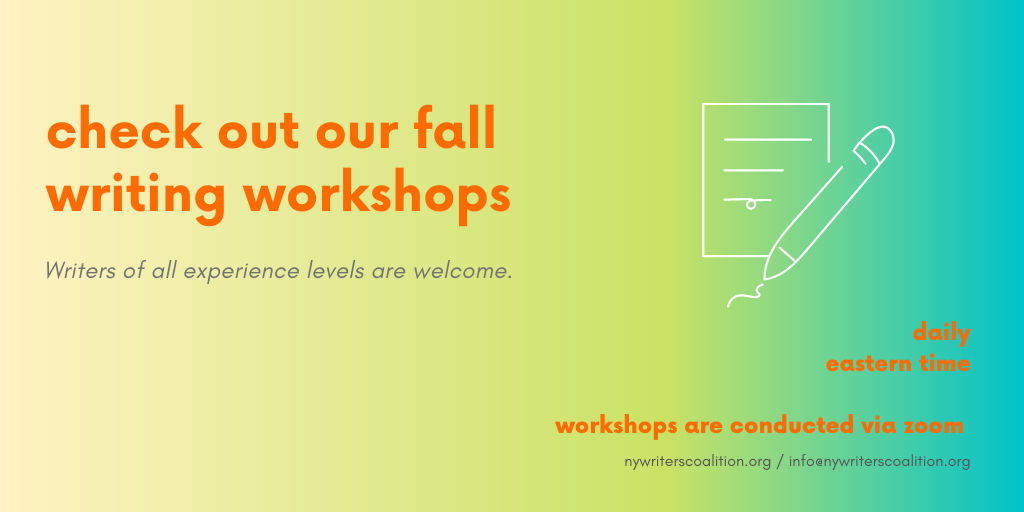 Sign-ups for the next round of 6-week workshops open on Sunday, November 7!
Our current virtual workshop cycles work a little differently than they did in the past. Rather than the drop-in format we've previously offered, we are now implementing 6-week workshop cycles in which groups meet once a week at the same time, with the same participants joining each week. This format requires a weekly commitment from each participant, enabling each workshop group to flourish and deepen their writing practices with repeating members. As such, space in each workshop will be limited. Stay in the loop about workshop updates by signing up for our newsletter or visiting our Eventbrite page here.
To learn more about this workshop format, please click here.
Please see our upcoming virtual workshop schedule below:
┌━━━━━━━━━━━━━━━┐
Mondays (11/15 – 12/20) with Tim at 7 p.m.
Tuesdays (11/16 – 12/21) with Marcie at 10 a.m.
Thursdays (11/18 – 12/23) with Tasha at 10 a.m.
Saturdays (11/21 – 12/18) with Michael at 11 a.m.
*Michael's workshop will run for 5 weeks, skipping Christmas Day.
Saturdays (11/20) with James and Marae at 2 p.m.
Sundays (11/21) with Marae at 10 a.m.
All times are in Eastern Time unless otherwise stated.
All workshops will operate once a week at the same time for
six weeks and require a 6-week commitment from all participants.
┗━━━━━━━━━━━━━━━┛
Workshop registration will take place on Sunday, 11/7, at 8 p.m., and Wednesday, 11/10, at 8 p.m. (Please only sign up for one of the weekly workshops offered; if not, you risk being removed from them.) Although writing workshops can often be expensive and exclusive, these workshops are pay-what-you-can, with suggested donations being $50, $25, or $0—whatever you feel comfortable with.