Our 24-Hour Virtual Write-A-Thon!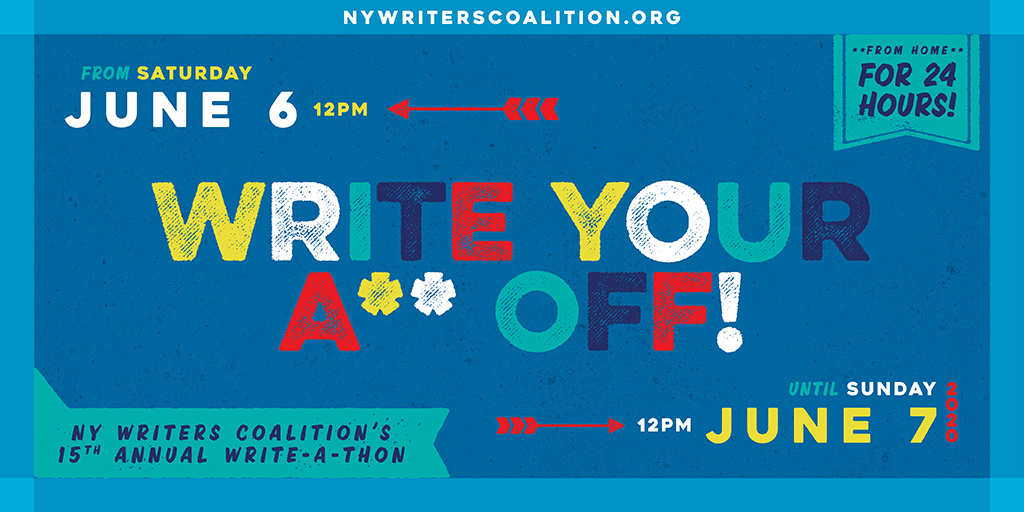 EVENT DETAILS
Please join us on Saturday, June 6-7 for the 15th annual—and first-ever virtual—NYWC Write-A-Thon! It will be a 24-hour long celebration of writing, writers, and literature. All funds raised will directly boost NYWC's

WORKSHOP LEADER EMERGENCY FUND

, supporting the working writers, freelancers, and activists who have been running free virtual NYWC workshops throughout the pandemic shutdown.
Click here to purchase your tickets outright.
To fundraise for your ticket, visit our peer-to-peer fundraising page here.
New!: Click here to see the full list of programming for our 24-hour Write-A-Thon
★☆★☆★☆★☆★☆
What happens at the NYWC Write-A-Thon? 

We will host workshops, give prompts, write together as a community, host events, and hold readings and author talks throughout the 24 hours. Most events will happen through Zoom, and additional materials will be made available online via our website. 
Several participation levels are available: the All-Access Pass allows you to attend all or any part of the entire Write-A-Thon—the best value for your wallet and creative muse! You can also purchase tickets for specific 6-hour blocks of programming, or for special prime-time programming. 
What is NY Writers Coalition? What do the funds that are raised support?
NYWC is a 501(c)3 not-for-profit organization launched in 2002 and one of the nation's largest community writing organizations. Each year, we provide more than 1,000 free creative writing workshops for people not heard from often enough in our society. Our workshop members include youth, people with disabilities, court-involved and incarcerated individuals, seniors, women, LGBTQ communities, people in recovery, and many others. We are unique in the breadth and scope of our work and have been a model for other organizations bringing the power of creative writing to those in need. 
Immediately after the global pandemic forced us to curtail our in-person programs, NYWC stepped into the virtual space to provide free workshops open to anyone, to help bring connection, community, and creativity to those experiencing isolation. We've also re-launched about 30% of our in-person workshop virtually and created new workshops for those from underserved communities. 
One-hundred percent of the funds raised through the NYWC Write-A-Thon will go directly to our new Workshop Leader Emergency Fund, which provides stipends to our workshop leaders, many of whom are freelance writers, teaching artists, and others economically impacted by the current crisis. 
NYWC and the Write-A-Thon sound amazing. Tell me more about the event!
Write-A-Thon includes access to the following programming:
Creative writing workshops

: A range of workshops to help support your writing practice. This includes chances to write together and share your new work with others in an NYWC-style workshop and attend craft talks and genre-specific workshops led by a diverse set of guest instructors. 

Mic Check

: An open mic for you to share aloud something you wrote during the Write-A-Thon! Takes place at the end of each 6-hour block.

Virtual Co-Working Space

: A Zoom room where you can write in community with fellow writers from all over the world. We will share a writing prompt every 30 minutes to help you keep going, as well as low-key writing challenges to help keep you motivated. 

Inspiration Station

: A place to find all kinds of audio, visual, and text-based writing prompts, poems, links, and reading lists, for whenever you need a boost!

Special Events:

Readings, writer talks, live chats, and panel discussions with writers, editors, agents, and publishers. We are still developing our schedule so stay tuned for email updates!
Who is scheduled to appear? 
This year's speakers include: 
Libba Bray

, the New York Times bestselling author of The Gemma Doyle trilogy (

A Great and Terrible Beauty

,

Rebel Angels

,

The Sweet Far Thing

)

Jessica Bruder, a professor of narrative storytelling at Columbia Journalism School; New York Times contributor, and the author of Snowden's Box Trust in the Age of Surveillance, Burning Book, and Nomadland

T Cooper, the author of seven novels, including the best-selling The Beaufort Diaries and Lipshitz Six, or Two Angry Blondes, with television writing credits on Netflix's "The Get Down", BBC America's "Copper", and a writer and consulting producer on NBC's "The Blacklist"
Ricardo Cortés, an artist, writer,  New York Times best-selling illustrator (Go the F**k to Sleep by Adam Mansbach and Party: A Mystery by Jamaica Kincaid), and publisher
Glory Edim, the founder of Well-Read Black Girl (WRBG), a Brooklyn-based book club and digital platform that celebrates the uniqueness of Black literature and sisterhood.
Kaitlyn Greenidge

, a contributing opinion writer for

The New York Times

and the author of the award-winning novel

We Love You, Charlie Freeman

Tiffany D. Jackson, author of the NAACP Image Award-nominated YA novel Allegedly and the forthcoming title GROWN
Alexis Henderson, author of the YA novel The Year of the Witching
Marian Fontana, a writer, author (A Widow's Walk), and performer for over 25 years, whose work has appeared in The New Yorker, Vanity Fair, The Guardian, and more, and who has been featured on "This American Life", CNN, "Good Morning America", and "All Things Considered"
Mira Jacob, author of The Sleepwalker's Guide to Dancing, the graphic memoir Good Talk: A Memoir in Conversations, and cofounder of Pete's Reading Series in Brooklyn
Carley Moore, poet, essayist, and author of The Not Wives, 16 Pills, Portal Poem, and The Stalker Chronicles.
Mary Morris, author of numerous works of fiction, including the novels The Jazz Palace, A Mother's Love, and House Arrest, and of nonfiction, including the travel memoir Nothing to Declare: Memoirs of a Woman Traveling Alone
Arthur Nersesian, author of the best-selling novel The Fuck Up and The Five Books of (Robert) Moses
Elena Nicolaou, the Culture Editor of OprahMag.com and avid Bookstagrammer
Jennifer Pastiloff, creator of the hybrid yoga workshops "On Being Human", author of the 2019 novel of the same name, and founder of the online magazine The Manifest-Station
Carl Hancock Rux, an award-winning poet, playwright, novelist, essayist and recording artist
Vijay Seshadri, the author of the poetry books "Wild Kingdom," "The Long Meadow," "The Disappearances," (Harper-Collins India), "3 Sections," and "That Was Now, This Is Then" (forthcoming Fall, 2020), as well as many essays, reviews, and memoir fragments. His work has been widely published and anthologized and recognized with a number of honors, among them the Pulitzer Prize.
Nova Ren Suma

, the author of

A Room Away from the Wolves

and the #1

New York Times

bestselling

The Walls Around Us

, both finalists for an Edgar Award for Best Young Adult Novel

Amanda Stern, the author of numerous books, including The Long Haul and Little Panic, and a writer whose work has appeared in The New York Times, The New York Times Magazine, The Believer, and many more.
Johnny Temple

, the publisher and editor in chief of Akashic Books, an award-winning Brooklyn-based independent company dedicated to publishing urban literary fiction and political nonfiction
More names are being added every day, so check back here for updates!
How do I get friends and family to support my day of writing?
Glad you asked! If you'd prefer to participate with others' support (rather than purchase a ticket outright), you can create a fundraising page here! Enlisting supporters can be a great way to hold yourself accountable for writing a certain number of hours or words.
Can I donate to support someone who can't afford to attend? 
Absolutely. As a social justice organization committed to bringing the power of creative writing to everyone, we've created a special sponsorship ticket so that you can pay it forward so one of our workshop members and people economically affected by the global pandemic can attend for free.
If I can't afford to attend, how can I join?
Email us at writeathon@nywriterscoalition.org to apply for a scholarship. Include your name and contact info and information you feel comfortable sharing about yourself, your circumstances, and your writing practice that would help us allocate sponsored tickets. Priority will be given to members of NYWC in-person workshops from underserved/marginalized communities. 
Can I or my company become a sponsor of the event? 
Yes! See the "Sponsor tickets" section for more info and email judith@nywriterscoalition.org.
I'd like to volunteer and/or I am an author, agent, editor, or publisher interested in helping out. How can I get involved? 
Email us at writeathon@nywriterscoalition.org and let us know more about you and how you'd like to participate. We may need Zoom room moderators/hosts, people to help with technical support, and others to ensure the event runs smoothly.