It's Happening: The 14th Annual Fort Greene Summer Literary Festival!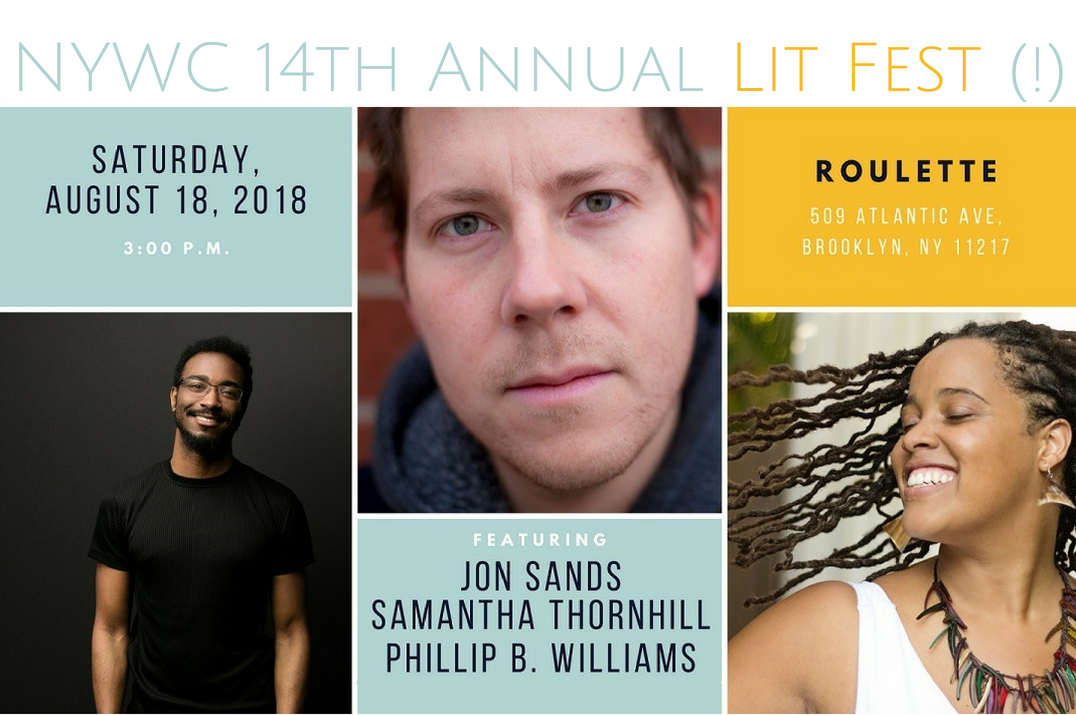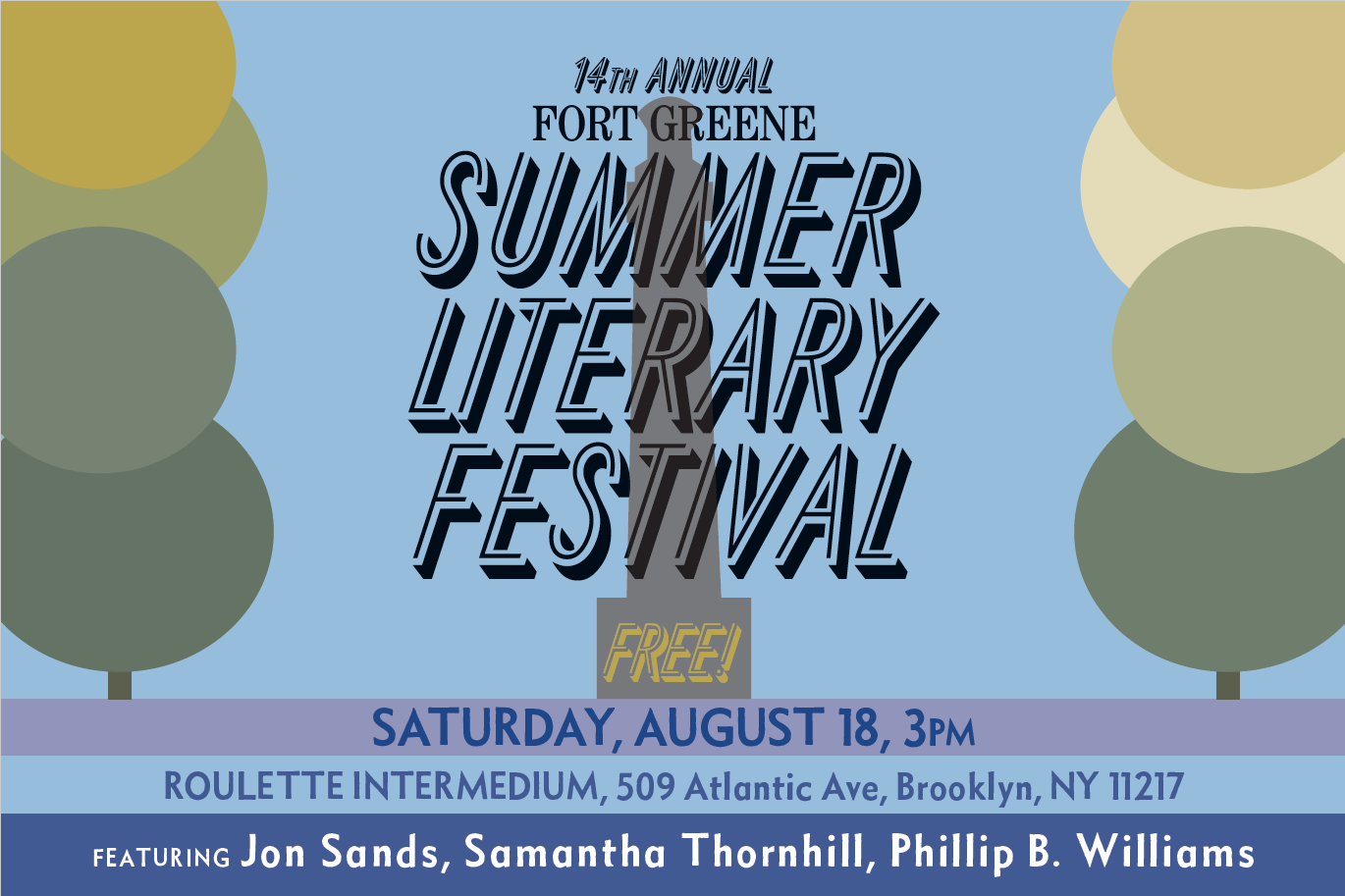 14th Annual Fort Greene Summer Literary Festival
Saturday, August 18 @ 3 PM at Roulette (509 Atlantic Ave.)
Presented by NY Writers Coalition, Akashic Books, and Greenlight Bookstore
Prospect Park, farmers markets, the Brooklyn Flea, and open-air dining at Habana Outpost are just a few perks of being in Brooklyn during the summertime. When it comes to a community tradition in this ever-changing neighborhood that readers and writers from all generations flock to, however, there's not much else that matches the allure of NY Writers Coalition's Fort Greene Park Summer Literary Festival — and this year we're celebrating our 14th anniversary!
We are excited to partner with Greenlight Bookstore and Akashic Books to present the 14th Annual Fort Greene Summer Literary Festival! This year, we unite in one of the neighborhood's premier artistic spaces Roulette (509 Atlantic Avenue) to celebrate a summer of storytelling. Along with featured readers such as Jon Sands, Phillip B. Williams, and Samantha Thornhill, we welcome the young writers in our summer youth program (ages 6-18 years) who will also read for an inspiring afternoon of literature, good times, and support.
This year's lineup features three highly acclaimed poets & novelists: Jon Sands, author of The New Clean, educator Samantha Thornhill, and Phillip B. Williams, author of Thief in the Interior. Writer Chris Prioleau returns as the MC of this exciting event with NYC-based musician Morgan Weidinger, bringing generations of writers together to build on the rich literary traditions of Fort Greene.
==
Jon Sands is the author of The New Clean (Write Bloody Publishing), as well as the co-host of The Poetry Gods Podcast. His work has been published widely, and anthologized in The Best American Poetry. He's a Youth Mentor with Urban Word-NYC, and teaches creative writing for adults at Bailey House in East Harlem (an HIV/AIDS service center). He's received fellowships from the Blue Mountain Center, the Brooklyn Arts Council, the Council of Literary Magazines and Presses, and the Jerome Foundation. He's a recent MFA Graduate in Fiction from Brooklyn College, where his work won the Himan Brown Award for short stories. He's represented New York City multiple times at the National Poetry Slam, and he lives in Brooklyn.
Samantha Thornhill is a poet, educator, producer and author of three children's books, including the poem in Tribute to Odetta: The Queen of Folk. Her work has been published in over two-dozen literary journals and anthologies, such as The Breakbeat Poets: New American Poetry in the Age of Hip Hop. A performer on stages across the United States and internationally, she holds an MFA from the University of Virginia. For ten years, Samantha lived in New York City where she taught poetry to acting students at the Juilliard School. She also served as a writer in residence at the Bronx Academy of Letters, where she taught creative writing seminars to youth. A co-founder of Poets in Unexpected Places, which was profiled in the New York Times for their surprising pop up poetry experiments all over New York City, Samantha also facilitates workshops for the Dialogue Arts Project, which ventures into professional settings and uses creative writing as a tool to navigate uncomfortable discussions around social identity. Samantha is a native of the twin island nation of Trinidad & Tobago. Her third children's book, A Card for my Father, was just released by Penny Candy Books this past May.
Phillip B. Williams is a Chicago, IL native and author of Thief in the Interior, winner of the 2017 Kate Tufts Discovery Award and a 2017 Lambda Literary award. He received a 2017 Whiting Award and 2013 Ruth Lilly Fellowship. Phillip is the co-editor in chief of the online journal Vinyl and currently teaches at Bennington College.
Chris Prioleau has published short nonfiction in The Awl, ZYZZYVA, and Apogee Journal, among others. He has taught at Columbia University, both undergraduate creative writing courses and in the Summer Creative Writing Program for teens, at the Benjamin Banneker Academy, the Brooklyn High School for the Arts, and the Globe Institute of Technology. He was the Development and Communications Manager for the NY Writers Coalition, a founding editor of Apogee Journal, and a current board member of the Wendy's Subway community writing center in Brooklyn. He holds a BA from the University of California-Santa Cruz, and an MFA in Fiction Writing from Columbia University.
Combining her passion for songwriting, arranging, and performing, Morgan Weidinger revels in a melodic strain of funk-pop. She is a St. Louis-native violinist, guitarist, vocalist, live loop-ist. Morgan attended Berklee College of Music on a 4-year, full-tuition scholarship, graduating in 2017. Five months later she released her debut album, Fairchild. Five months after the release she is established in Manhattan's East Village, performing weekly at Speakeasy Sessions.
==
The 14th Annual Fort Greene Summer Literary Festival is presented by NY Writers Coalition, Akashic Books, and Greenlight Bookstore, with additional support from Con Edison and the office of City Council Member Laurie Cumbo.
NYWC's Fort Greene Summer Youth Program & Literary Festival is generously supported by Amazon Literary Partnership, Con Edison, Cowan Slavin Foundation, City Council Member Laurie Cumbo, the Meringoff Family Foundation, and Tiger Baron Foundation. Lit Fest is funded in part by Poets & Writers through public funds from the New York City Department of Cultural Affairs, in partnership with the City Council.
For more information, please contact
NY Writers Coalition
(718) 398-2883
info@nywriterscoalition.org
www.nywriterscoalition.org