Writing Aloud X BREAK OUT: A Movement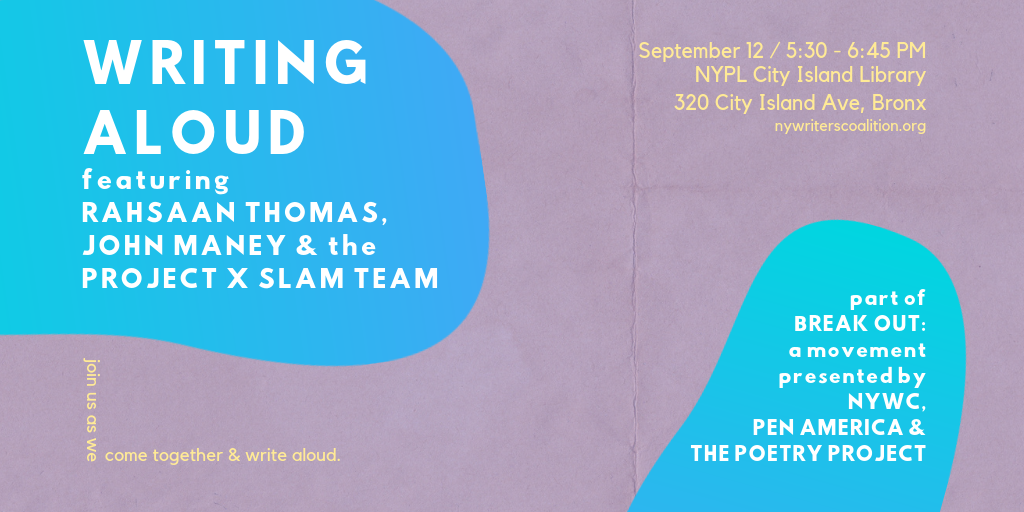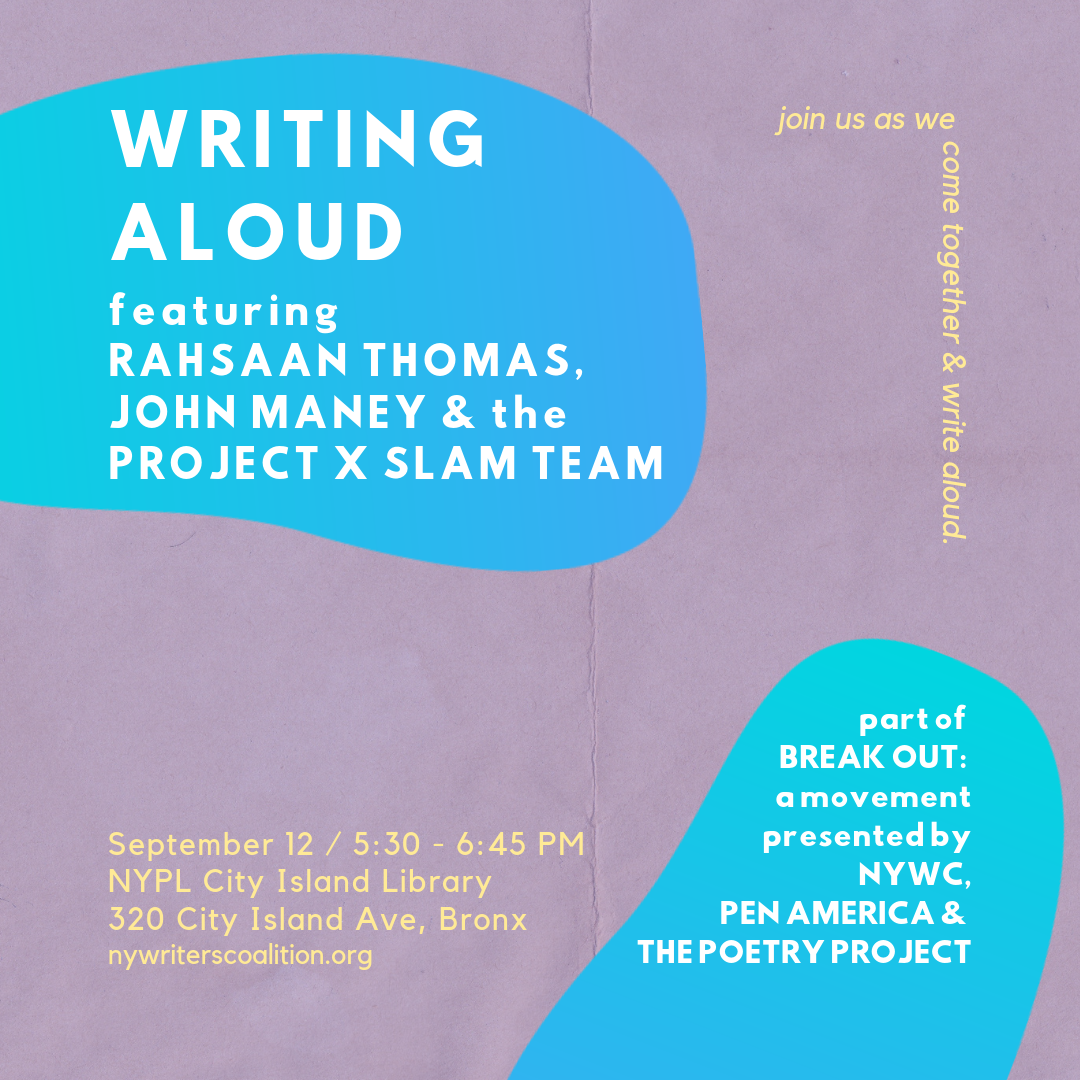 Join us as we come together and Write Aloud
Created by NY Writers Coalition in 2003, our Writing Aloud Reading Series is a free event that unites NYWC's community of writers and activists with prominent literary figures to share prose, poetry, and other writings in safe and inspiring places.
This will be a very special Writing Aloud event, as we have partnered up with PEN America & The Poetry Project as part of their public reading series, BREAK OUT: A Movement. They have been working with other reading events across the northeast to feature the work of a currently incarcerated writer, shining a spotlight on the immense literary talent that exists within the nation's prisons.
On that night, NYWC workshop leader John Maney, Jr. will read the work of Raahsan Thomas, an incarcerated writer. All in attendance will listen to the piece and then fill out a feedback form through their smartphone or on paper that will be sent to Raahsan. Comment on what you liked about his piece, what stood out, what you remembered.
Afterwards, we'll be graced by the Slam Team (Alejandro Heredia & Jackie Torres) of Project X, whose performances center around social justice. They will perform and then give out a prompt for all to write from. Once the writing time is done, everyone will have a chance to hit the mic and share their work–or feel free to just sit back and listen, too!
It will be a night where we will share and uplift the voices of many, because everyone is a writer! Find out more and see what other venues/organizations are participating for BREAK OUT: A Movement, by clicking here.
This event is free and open to the public. All are welcome to write and share in this safe space. Click here to share the event on facebook & invite others.
★★★★★★
Rahsaan "New York" Thomas is a writer from Brooklyn serving a life sentence in CA. He's a contributing writer for the Marshall Project and the co-founder of Prison Renaissance, a non-profit dedicated to connecting incarcerated artists to the community. Additionally, Rahsaan works with Initiate Justice to Restore voting Rights to system impacted people. Rahsaan also became a co-host for the podcast Ear Hustle, for season 4. You can write to Rahsaan at: Rahsaan Thomas T-99595 CSP-SQ 5-N-92 San Quentin, CA 94974.
John Maney, Jr. is a poet, freelance writer, photographer, and social activist. He is a graduate of Macalester College and is currently a workshop leader for NY Writers Coalition. John is a past Advisory Board Member for the BxArts Factory. He also was a 2018 and 2019 member on the Planning Committee for the Bronx Book Fair. John is also publisher of the online "Finding Your Voice Newsletter." John been featured in several readings throughout New York City and State, and is featured in the short film "Precious The Gift" by, Rene Sing. Currently John is the Poet In Residence at the Huntington Free Library, Bronx, New York, and conducts poetry workshops throughout New York City and State.
Alejandro Heredia is a Queer Afro Dominican writer from The Bronx. He is the 2019 Project X slam champion and a Dreamyard Rad(ical) Poetry Consortium Fellow. As a performer he has featured at the Bronx Museum of the Arts, New York Public Library, and Lehman College among others. Heredia teaches a workshop series in The Bronx for Queer and Trans Black Writers entitled Black Orbit.
Jackie Torres (she/her/hers) is an Afro Boricua poet, theater maker, writer, educator, and mal'criada whose work seeks to utilize storytelling as a method for personal healing and a demand for societal accountability, transparency, and reconstruction. Her poetry has been featured in sets at the ArtLovHer Artists Salon, the Living Gallery, Nuyorican Poets Cafe, Bowery Poetry Club, and as part of TOO QUEER: A Bi Visibility Cabaret in Toronto.
★★★★★★
HOSTED BY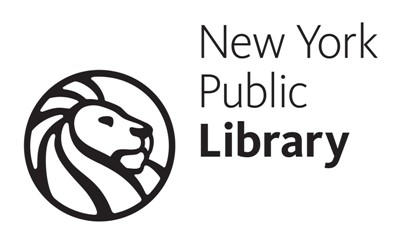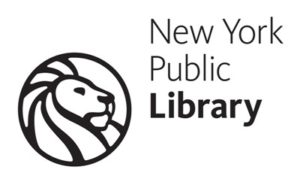 This event is FREE, wheelchair accessible and open to the public. All are welcome to write and share in this safe space. It will take place Thursday, September 12 from 5:30 – 6:45 PM at the City Island Branch of the New York Public Library (320 City Island Ave, the Bronx).