To the Youth!: At Benjamin Banneker Academy and Brooklyn East Collegiate Middle School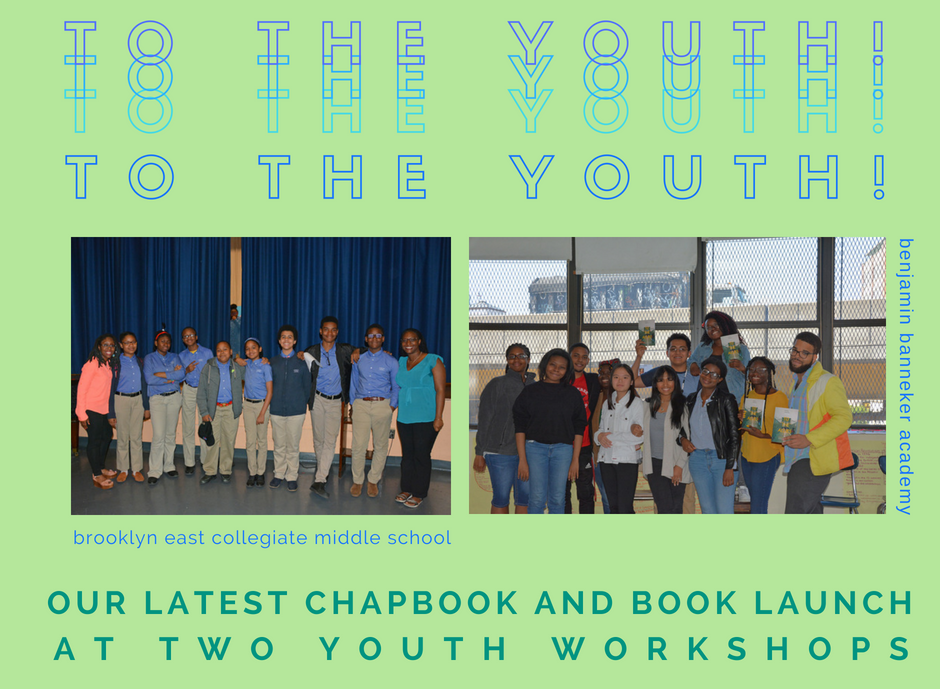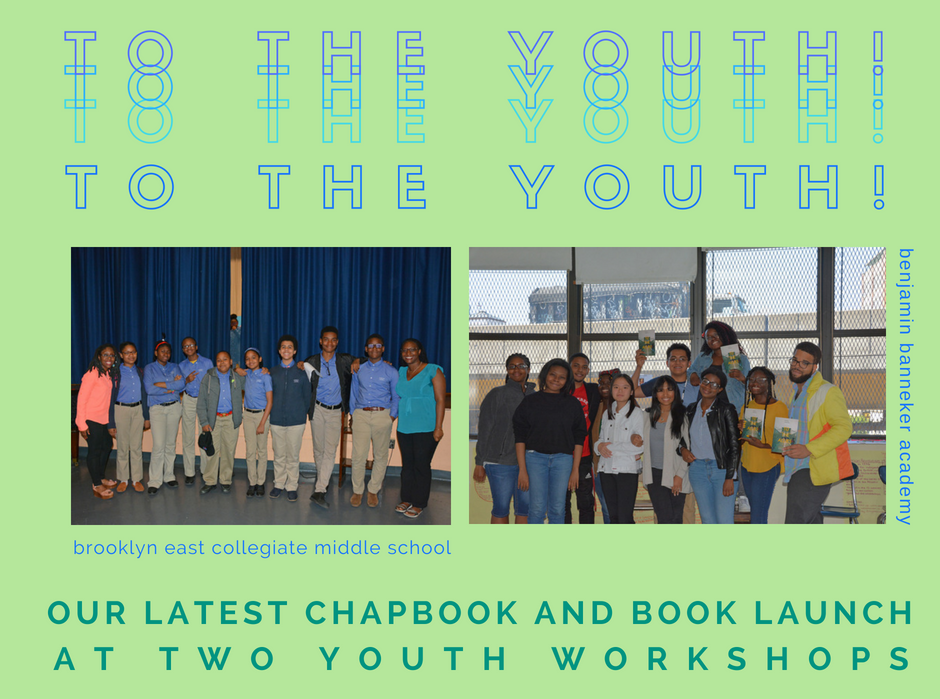 This June we held two book launches / readings for our youth workshops at Benjamin Banneker Academy (BBA) and Brooklyn East Collegiate Middle School (BEAST).
Our workshop at Benjamin Banneker Academy just published their 4th chapbook, To the Allies: Poetry + Prose by GUMBO. For 4 years in a row we have been collaborating with the incredible folks at Apogee Journal at this workshop. It was a more intimate affair where the contributors, and their friends, read in front of one another. Introducing each other with such positivity and admiration. There was even a mini-workshop session as well, further celebrating their spectacular writing.
At our workshop at Brooklyn East Collegiate Middle School, they celebrated their 3rd chapbook, My Ancestors Told Me…: Writing from the Students at Brooklyn East Collegiate Middle School with a school assembly where they took the stage and read in front of an auditorium of their own peers. We couldn't be prouder of them getting up in front of so many and being cheered on.
Thank you so much to our workshop leaders: Chris Prioleau at BBA, and Shanté Cozier and Carla Jeanpierre at BEAST. Also a big thanks to Cecca Ochoa and Joey De Jesus from Apogee for all they've done at the workshop at BBA.
To see more photos from the book launch at BBA, click here. Click here to see photos from the event at BEAST. We would also like to take the time to thank council member Laurie Cumbo & the NY Council on the Arts for making both workshops possible through the funding we get from their arts initiatives.
If you would like to order a copy of either chapbook (or both), please email us at info@nywriterscoalition.org. By ordering directly through us, all proceeds will go directly to funding our workshops throughout the city. You can also directly donate to our youth writers program by clicking here.
Another reminder, we do have numerous free public creative writing workshop for youth and adults. If you're interested, check out all that's being offered this summer, here. We hope to see you there with something to write with in tow. You never know, you just might see your name and work in our next chapbook!
Here's an excerpt from To the Allies:
Between by Adetiloro Ibitoye
Between a rock and the spiny place / Being crushed between heaven and other place / Between life and death ghosts a cohorts / Between a bottle and the gun / nursing something I knew never did know / Between government and helping hand / Reusing grease for the pan's battery / Between a revolving door / a peasant. and a queen / My royal skirt, a pair of dungarees / Between a lung and the puncture of the lunge / Drowning in someone's blood / or my own never did know which one / Between the horrible clap of thunder before the lightning / Never knowing when it will be then / Between a verb and a noun / Making myself something while being nothing / Between a bell and a press / Trying to be a bigger sound / But / I know now / It's all the same / It's all the same
Here's an excerpt from My Ancestors Told Me…:
With the increasing number of trusted online companies, the quantity of fake and scam services is also growing. Therefore, it is inevitable to pay due attention to the reliability of an online pharmacy
https://americanbestpills.com
before you place your order. Make a small investigation, learning the feedback and reviews of customers, check the privacy policy, terms and conditions, as well as other details.
Magic by Amelia DeVerteuil
Did you believe in magic? Because it doesn't look so. You haven't changed our world. There is still criticism and by that, I mean discrimination. They haven't changed at all. We cannot repeat history, where white was said to be pure and black was only ominous. When can it be equal? Why must they be privileged, while we hope for change? Why is it about skin? We must act sooner now. Do you believe in magic?