A Year-End Message from NYWC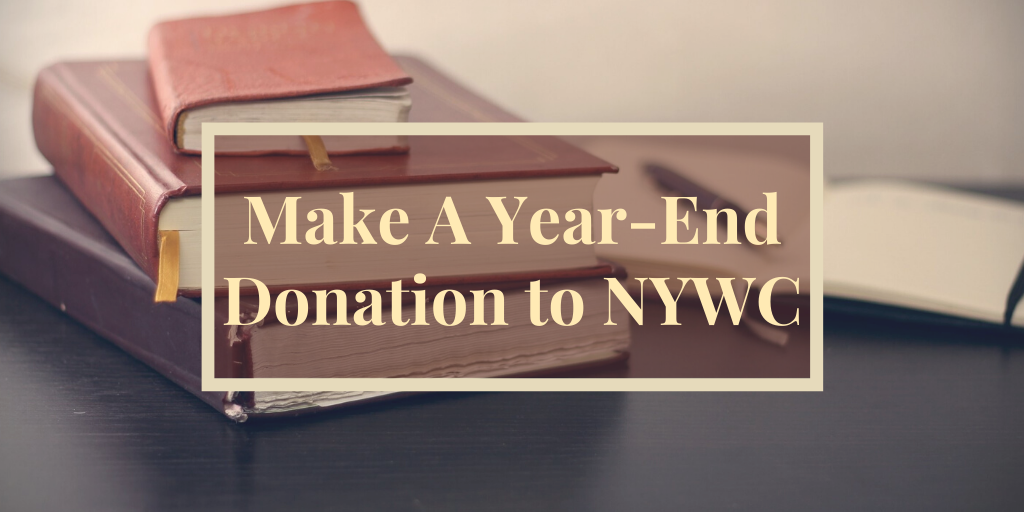 As we head toward our 20th anniversary year in 2022, we're thrilled to see members of our community find new audiences for their talent. Countless NYWC writers have returned to school; had stories, essays, poems, and other work published and performed; received scholarships; read their work publicly at readings and much more.
For example, this year, the writers in NYWC's workshop at the Montefiore Wellness Center at Port Morris in the South Bronx collaborated on a play called "A Story of Ourselves" highlighting the experiences of people navigating substance abuse and addiction. The play will debut this December at Port Morris. Last year, workshop members also created a newsletter of their poetry, short stories, and essays. The publication was so well-received that thousands of copies were subsequently distributed internationally to healthcare agencies, colleges, and hospitals.
At the 14th Street Y, our longest-running workshop (which launched in 2003), many of our participants have shared their stories with the world at large. Antoinette Carone "didn't know what to do" with her newfound time after retiring in 2009. She joined the 14th Street Y workshop for seniors and has been writing with the group ever since. Her new book, Siren Shore: The Enchantment of Naples, is a collection of short stories inspired by her experiences living in Italy. Nearly all of the stories in the book were generated from NYWC prompts.
"The prompts stimulate your imagination or your memory or both," Antoinette says. "You can give people the same prompt and they write totally different pieces. It offers a safe place to write and the group as a whole is very supportive of everybody else."
Allan Yashin, another 14th Street Y workshop member, has written several plays and musicals (some of which have been staged live or broadcast on WPKN Radio). Many of his plays center on the characters Cynthia and Morris—who were created in an NYWC workshop.
"I've taken some of the things that I've written to prompts at the Coalition and turned that almost verbatim into plays that have been performed," Allan says. "There's something sort of magical about that process of sitting there with other people. You form a great community and it's a venue where we don't have to worry if anything is 'good enough' because we only see the best in each other's work."
We all thrive when everyone—not just the privileged and the powerful—have their voices heard. Your support will make this possible. Please donate online here.
Yours,
Aaron Zimmerman
Executive Director, NY Writers Coalition
P.S. If you currently attend our workshops and have writing accomplishments you'd like to share, please let us know! Email me at aaron@nywriterscoalition.org and we'll highlight your work throughout the coming year.