The Nabe: Locals Get Ready for Lit Fest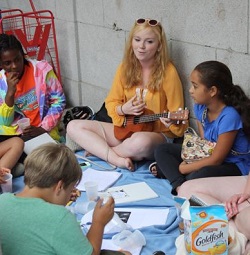 One of the rainiest Saturdays this summer was a source of inspiration for a catchy ditty on the ukulele, as youth gathered in — and around — Fort Greene Park's Visitors Center for another round of writing workshops.
The Nabe's Philippe Theise was on hand to catch every stray note and lyric during the August 3 workshop. Check out his piece "Young Writers Look Forward to Fort Greene Park Summer Literary Festival," featuring interviews with the kids and parents who make this program a community staple and audio recordings of youth reading the pieces they've written this summer.
Feature writers include: Samori Covington, Carlene Phillander, Najaya Royal and Mariah Thomas